Floralife, a division of Smithers-Oasis Company
Efficacy of New Tablet Dose of Floralife® PRG 100 on cut Gerberas
Introduction
The Gerbera is one of the most important cut flowers for the floriculture industry. Despite the many advances of breeding and improvement of postharvest techniques, customers still experience inconsistent vase life with gerberas. One of the successful treatments for gerberas is Floralife® PRG 100. This product comes in a pill format designed to treat 4 liters of water. Floralife recently introduced another size of the PRG tablet that treats 2 liters of water (same active ingredient as in the current pill). The objective of this experiment was to test the efficacy of the combination of Floralife® PRG 100 tablet for 2 L as pre-treatment and Floralife Crystal Clear® as vase treatment for cut gerberas.
Method
Three varieties of cut gerberas were sourced from a farm and transported dry to the Floralife laboratory. Immediately after the receipt of the flowers, they were unpacked, re-cut and placed in PRG solution (2 L tablet) or in water (control). There were 2 L of the solution and a total of 80 stems in a bucket. Flowers in buckets were stored in a cooler (2 - 3º C) for 3 days. Then, the buckets were taken out of the cooler and kept at room temperature for one day. Flowers were recut, and placed in vase solutions of 1 L (Floralife Crystal Clear® or water only). There were a total of 12 flowers in a vase (4 flowers per variety), and 3 vases per treatment combination. Vases were placed in a postharvest evaluation room (18 - 20º C, 12/12 hr light/dark) for vase life evaluation.
Results
The averages of vase life of flowers (in days) in each treatment combination.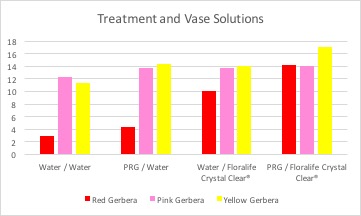 Conclusion
The treatment effects on vase life was dependent on the variety. The red and yellow varieties responded to treatments, whereas no significant treatment effect was seen with the pink variety. The red variety responded the best to treatments. The main reason for vase life termination in the red variety was stem bending which was prevented by Floralife Crystal Clear® treatment. The overall best treatment was PRG followed by Floralife Crystal Clear®.