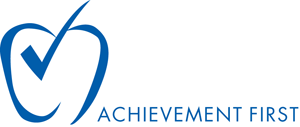 Dear Achievement First Family and Friends:
We have another round of exciting news to share with you. Connecticut has recently released the results of the 2008 Mastery Test, and all the Achievement First schools and scholars have a lot of which to be proud. Once again, they have shown that Connecticut's vexing achievement gap -- the largest in the country -- can be closed through high expectations, targeted support, and a lot of hard work.

As we reflect on the last year, we are incredibly grateful for the ongoing support, friendship, and faith of people like you. As we look ahead to next year, we are focused on what more we need to do to improve our efforts, expand opportunities for our students, and ensure that they are truly prepared to succeed in college, become leaders in their communities, and build a better tomorrow for all of us.

Thank you for continuing the climb with us.

Yours truly,

Dacia and Doug
Co-CEOs of Achievement First

To learn more about Achievement First, please visit www.achievementfirst.org.
---
RESULTS
• Amistad Academy High School showed exceptional results in its first year of testing, with the inaugural 10th-grade students achieving 93% proficiency (Level 3 or higher) in math and 100% proficiency in all three other subjects -- reading, writing and science. Further, 66% of Amistad Academy High students reached the mastery level (Level 4 or higher) in science, 52% mastery in math, 79% mastery in reading and 86% mastery in writing. By way of comparison, the state-wide mastery average was 47% in science, 50% in math, 46% in reading and 58% in writing. New Haven high school students attained 15% in math, 16% in science, 17% in reading and 27% in writing. These results position Amistad High's New Haven students as number one in the region for reading and number two for writing, outperforming students in both Madison and Guilford.

• Achievement First's New Haven 8th graders, our oldest middle school students, posted results that were more than double their New Haven peers and bested state-wide averages in all three subjects (reading, writing, and math) with 62% percent mastery in reading, 71% percent mastery in math, and 79% percent mastery in writing.

• Our oldest elementary school students -- 4th graders at Elm City College Prep -- demonstrated that they are ready to move on to middle school with an average of 67% of 4th grade scholars testing at or above mastery (Level 4) in math, reading and writing -- 33 percentage points higher than their New Haven peers and seven points higher than the state-wide average. When these students enter 5th grade next year, it will be the first time that an AF middle school receives students from an AF elementary school! Instead of being two years below grade level (as our entering 5th graders have historically been), many of these students will be a year ahead of grade level!

While we are proud of these results, we are reminded by how much more there is to do. We are especially concerned about our students' reading progress, which continues to lag behind math and writing achievement at almost every grade level. A team of principals and teachers from across the AF network has been working for the last few months to re-examine and revise our approach to teaching reading through the help of high-performing schools in NYC and our friends at Haskins Labs in New Haven. We look forward to taking on this challenge when students return in August. We are also working to make sure that our struggling students -- especially in middle and high school -- get the support they need to rise to our high, college-prep expectations.

---
GROWTH
• We are very happy to report that, after a long campaign and with a lot of help, Achievement First Hartford Academy will open this fall! Thanks to leadership from our parents, Governor Rell, Mayor Perez, Hartford Public Schools, and private donors, the AF Hartford team will soon welcome 252 students. Necessary funds were secured from the State of Connecticut, the Hartford Board of Education, the Hartford Foundation for Public Giving, the Olson Foundation, George Weiss, Jon Sackler and Mary Corson, the Hartford Steamboiler, the H.A. Vance Foundation, Michael and Joyce Critelli, the Imagineers Foundation, and anonymous gifts from a Greenwich foundation and individual donors.

• In addition, Achievement First Bridgeport Academy will add a 6th grade, Amistad Academy Elementary will add a 2nd grade, Elm City Middle will add a 9th grade and Amistad Academy High will add an 11th grade. In all, we will serve 1,600 students next fall at all of our Connecticut academies (up from 1,100 this year). Combined with our NYC enrollment, we will be supporting 3,700 students on their climb up the mountain to college.

---
OTHER HIGHLIGHTS
• Amistad Academy was recently highlighted by the U.S. Department of Education as one of seven schools in the country that are models for closing the achievement gap. Copies of the publication can be obtained at http://www.ed.gov/admins/comm/choice/charterk-8/index.html. Amistad Academy will start its 10th year of operation in August; please stay tuned for news of our 10th anniversary celebration!

• Our three-week summer academy concluded on July 25 for almost all of our students. We were also happy to expand the number of students who attended talented and gifted summer programs: seven students in the Center for Talented Youth program, seven students in the Breakthrough Collaborative at Hopkins, five students in the Ulysses S. Grant program at Yale, and five students in Explorations @ Yale. Also, 14 students received scholarship support to attend American Wanderer, a summer camping and enrichment program in our national parks.

• Elm City College Prep Middle is relocating to the former St. John's School on Dixwell Avenue, which was recently purchased and renovated by the school.

• The Amistad Orchestra and Achievement First Bridgeport Academy Jazz Ensemble participated in concerts in New Haven, Brooklyn, and Bridgeport.

• Community involvement was a hallmark of all schools by supporting numerous causes, including food banks, disaster relief in Myanmar and AIDS research.

---
THE ACHIEVEMENT FIRST MODEL
The Achievement First model is built on several strong pillars, including:

• Providing more time on task through a longer school day and year

• Implementing a standards-driven, rigorous, college-prep curriculum

• Creating a disciplined and joyful school culture where everyone is cared for and it's cool to be smart

• Using data to improve instruction and provide extra support to students who are struggling

• Building strong school-site ops teams to manage significant non-instructional tasks

• Investing families in the hard work of preparing their scholars for college; and

• Aggressively recruiting, rigorously selecting and significantly investing in the development of talented, mission-driven, "warm demanding" teachers and school leaders.

---
---
---