Art in the Park on 14 August
Type Title Here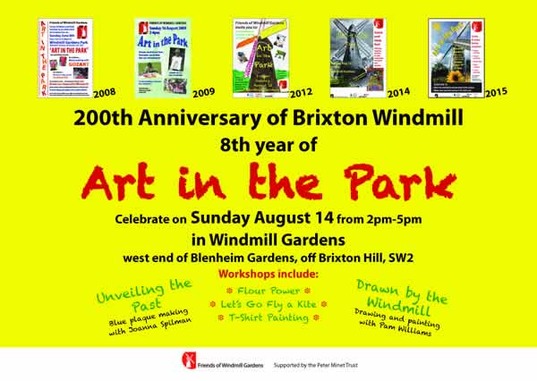 In the middle of the windmill bicentenary celebrations, Art in the Park returns to Windmill Gardens on
Sunday 14 August
for its own 8th birthday.
Workshops for adults, children and families will start from 2pm, offering the opportunity to develop your creativity, inspired by Brixton's historic windmill.
Unveiling the Past will lead you to design a blue plaque for a person of great importance for Brixton Windmill: can you guess who?

You might be drawn by the Windmill… but not in the way you think, as you devise interesting patterns for our bicentenary monument.

Let's go fly a kite! and T-shirt designing are two other workshops where you can have fun side by side with your children.
All workshops are free and will be led by welcoming and knowledgeable local artists.
Plus there will be many other opportunities to have fun, from badge making to finger painting and mask making. Or just sit quietly and enjoy painting the windmill!
---
Volunteer training for guides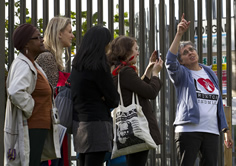 If you'd like to get more involved as a volunteer at Brixton Windmill, we're running some training sessions for guides and millers.
The training for guides is on Thursday 4 August, 6-8pm, in the building next to the windmill. Please email info@brixtonwindmill.org.uk if you are interested. More info on our website.
---
Free jam making workshop on 6 August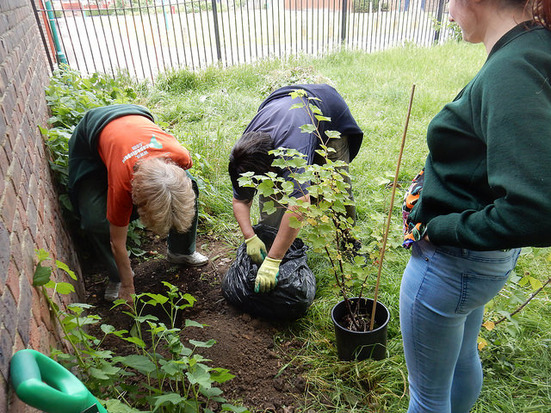 Come and learn how to make jam in a free workshop on Saturday 6 August, 2-4pm, in St Paul's Community Centre, 24 Blenheim Gardens, SW2 5BZ.
We will be using some fruit from our own bushes in Windmill Gardens (above), though we will probably have to supplement this, as foragers both human and avian have already feasted on much of the harvest!
---
New park bench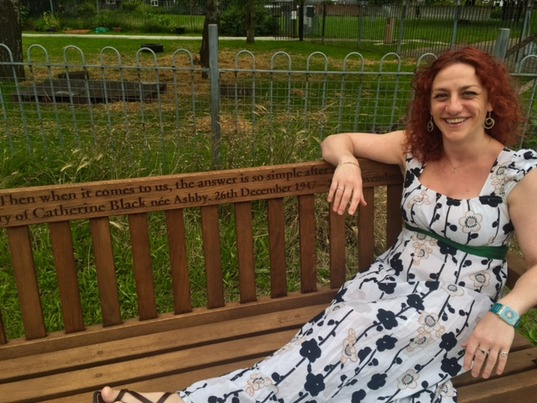 The Friends of Windmill Gardens are grateful to the children of Catherine Black née
Ashby for donating a new bench to Windmill Gardens in memory of their mother
Catherine.
Catherine, who sadly died aged only 60 in 2008, was a great genealogist and
traced her connection to Brixton Windmill back to Amos, the youngest son of the
first miller at Brixton. Her family have kindly shared the results of this
meticulous research into the history of the Ashby family with the Friends.
We would like to thank Eleanor Black (above) and her brother for their kind donation in
memory of their mother. The bench, which is sited close to the windmill, is being
well used by visitors.
The quotation on the bench - "T
hen when it comes to us,
the answer is so simple after all" -
is from the poem
So Many Different Lengths of Time
by Brian Patten.
---
September dates for your diary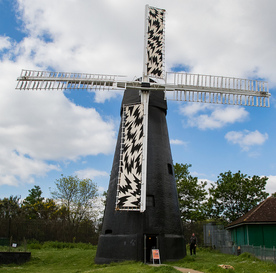 It's been a terrifically busy and successful 200th anniversary year so far - but there's still more to come before Brixton Windmill closes for the season in October.
London Design Festival also runs 17-25 September, and Brixton is an official Design District for the first time. We are delighted to be part of the Brixton Design Trail and are running special events on Sunday 18 September alongside our Harvest Festival. It's also Open House Weekend, so it's going to be busy!
So here are some dates for your diary in September.
---
News in brief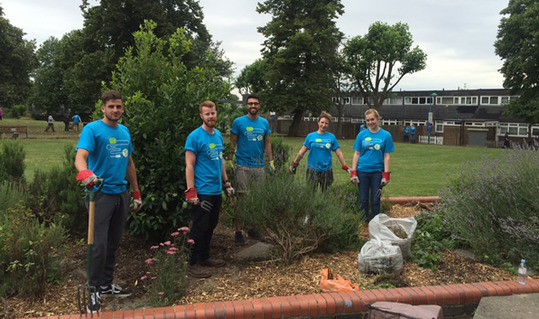 We're delighted that we've retained our Green Flag Community Award, which we gained last year for the first time. Big thanks to the Parks Group and corporate volunteers like those from Blackbaud Europe (above) who have worked so hard to keep the park looking its best.

Ever wondered what it's like to be a small cog in a big wheel?! Find out in our fifth article in the series

A History of Brixton Windmill in 16 Objects - on cogwheels.
Tai chi continues every Saturday morning in Windmill Gardens at 11am. These one-hour tutor-led

sessions provide a gentle breathing and stretching routine that is particularly

good for relieving stress and keeping the body supple. Because our latest

application for a grant to support this programme was unsuccessful we now ask

participants to make a small weekly donation towards the cost of the tutor.

What have you made with Brixton Windmill flour? If you're on Twitter, post a photo of what you've made, mention us (@brixtonwindmill) and we'll add your pic to our new gallery! If you're not on Twitter, just email the pic to us info@brixtonwindmill.org.uk
---
| | | | | |
| --- | --- | --- | --- | --- |
| | Open days & guided walk | | Windmill groups | |
Our next open days are on 13 and 14 August, 2-5pm. All long tours to the top of the mill are currently booked up, but you can still go on a short tour of the outside and up to the first floor - just turn up 2-4.30pm. Free spaces on long tours due to cancellations are advertised on Twitter @brixtonwindmill.




On 14 August you can also go on a guided walk of Brixton Hill with a Blue Badge guide. The walk starts from the windmill at 1pm and costs £5. More info here.




For more information phone 07587 170029 or email booking@brixtonwindmill.org.uk







To get involved in any of the groups, email

info@brixtonwindmill.org.uk

.

Communications

- Handles digital communications, exhibitions, website updates,

newsletters, press, merchandising

Events - Organises the annual parade and festival as well as other special events
Sustainability

- Oversees strategy for raising money

Parks

- Works to improve Windmill Gardens through planting bulbs, wheat, herbs and other activities





24 Prague Place | London SW2 5ED
Phone: 07587 170029
info@brixtonwindmill.org.uk