Beer and Bread Festival on 7 May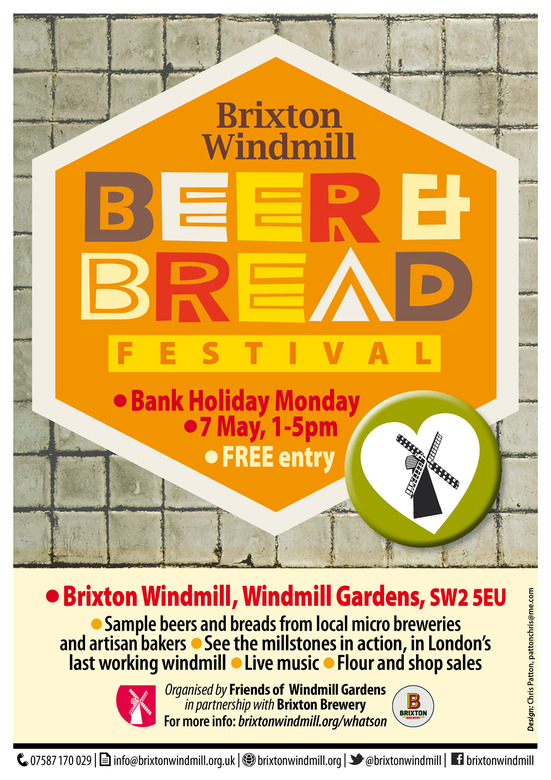 The weather forecast is currently set fair for bank holiday Monday, the date of our third Beer and Bread Festival, 1-5pm.
Our event partners Brixton Brewery are also joined this year by Canopy Brewery, based in Herne Hill, and the London Beer Lab, who brew in Loughborough Junction.
The Old Post Office Bakery returns and Moji Coker joins us with a wide selection of breads, bakes and pastries, along with F. Mondays café, who will be serving toasties, teas, coffees and juices.
Entertainment includes live music from the great salsa band Los Domingos, jazz pop fusion PD3, local BRB The Band and Australian singer songwriter Sarah Bird. Plus a performance by Tatterjacks Morris. There will also be craft workshops and games of skill for all to enjoy.
You can also meet our team of volunteer millers inside the windmill. who will be busy operating the electric-powered millstones and bagging up freshly milled flour that will be available to buy on the day.
---
Other events in May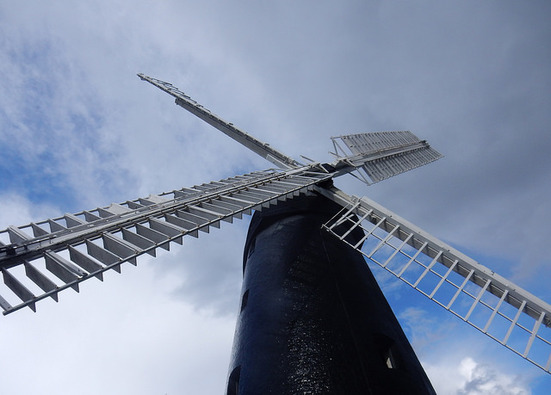 12 and 13 May: For National Mills Weekend Brixton Windmill will open one hour earlier than usual from 1 to 5pm. On Saturday our millwright Paul Sellwood will once again be on hand to turn the cap, release the brake and close the shutters on the sails so that they can turn if there is enough wind. On Sunday a guided walk of the Brixton Hill area with Blue Badge guide Liz du Parcq will leave from Brixton Windmill at 1pm.
17 May: Our first bat walk of the year with Dr Iain Boulton will start at 9pm in Windmill Gardens. Wear comfortable shoes - we will provide detection equipment.
For more information about upcoming events, see our website.
---
Wanted: Project Administrator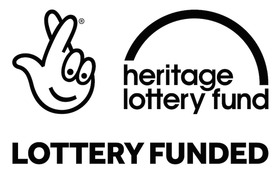 The Friends of Windmill Gardens are looking for a part time Project Administrator to support them through the step changes required to prepare for and open the new education building at Brixton Windmill. This 15-month post is funded by a grant from the HLF Resilient Fund.
This preparedness includes the establishment of the Friends as a Charitable Incorporated Organisation with a new Board of Trustees; reviewing and introducing new systems to ensure sustainable growth in volunteering, membership, trading and finance.
Reporting: The post reports to the Chair of the Friends of Windmill Gardens.
Days/hours: To work flexibly 2.5 days (17.5 hours) per week which will involve occasional evening or weekend commitments at the standard pay rate. Initially the post will be based at the Blenheim Gardens Resident Management Organisation office. Once the new Windmill Education Centre opens in January it will be based there. Additional hours may be worked by agreement if the service demands this.
Closing date for applications: 5pm on 28 May 2018.
For a full job description and application form, please see our website.
---
Coming next month: our crowdfunding appeal

As you know, the construction of a new education centre next to Brixton Windmill is due to start any day now and is due to be completed by Christmas.
The Friends will be responsible for managing the building, but we also need to raise around £29,000 to kit it out before we move in. Some of this will be paid for by grants, but we're also launching a crowdfunding appeal next month to raise £12,000.
We will need:
tables, chairs, projector and screen for education workshops
office equipment, computer and phone
kitchen utensils for baking and cooking classes
storage and shelving for storing grain and flour
crockery and cutlery for the visitors' cafe.
There will be lots of rewards available, especially for early donors, so look out for information so you don't miss out!
The crowdfunding scheme is all or nothing - if we don't reach our target of £12,000 we won't get anything, so be sure to share it with your family and friends.
---
Stay in touch with us!
As you are probably aware from emails you have been receiving from other organisations, on 25 May 2018 the General Data Protection Regulation (GDPR) will come into effect throughout the European Union, changing the laws surrounding email communication and data protection.
We need to check that you're happy for us to keep emailing you with newsletters, stories and information about Brixton Windmill. If you don't confirm your agreement to join our new mailing list, this will be the last newsletter you receive.
If you are currently a member, we still need you to sign up to our new mailing list to confirm you want to receive newsletters and membership renewal reminders.
Please click below and continue to support Brixton Windmill. It will only take about 20 seconds. You can unsubscribe at any time.
---
News in brief
Building work Brixton Windmill's sails are in a very poor state and are due to be removed at the end of May for restoration. They should be back in place in the summer. Other repair work on the building includes installing a sack hoist and improving drainage and ventilation to combat the damp problem.
New Instagram account We now have an Instagram account where we will post images of events and activities - do follow!
Tai chi classes Tai chi continues on Saturday mornings. at 11am We ask participants to donate £3 (waged) or £1 (unwaged) for each session so that we can continue to pay our tutors Nigel and Anna.
---
| | | | | |
| --- | --- | --- | --- | --- |
| | Windmill flour stockists | | Can you help? | |
Our stone ground wholemeal flour, made from local organically sourced wheat, can be bought during Windmill open days.

Other local stockists include:

Brixton Cornercopia, 65 Brixton Village, London SW9 8PS


Brixton Pound cafe, 77 Atlantic Rd, London SW9 8PU


Brixton Wholefoods, 59 Atlantic Road, London, SW9 8PU


Dugard & Daughters, Arch 286, Milkwood Road, London SE24 0EZ





All the tours of Brixton Windmill and other activities are run by our team of fantastic volunteers - why not join us?




Whether it's milling, guiding, baking, gardening, event organising, selling merchandise, setting up gazebos or making tea, there's always a wide range of tasks available, if you can spare a couple of hours a month. You can find out more about volunteering and download a volunteer application form

here

and email it to info@brixtonwindmill.org.uk




And if you want to get more involved, you can join one of our sub-groups covering communications, events, education, milling, the park, or fundraising - it would be great to have you on board!











24 Prague Place | London SW2 5ED
Phone: 07587 170029
info@brixtonwindmill.org.uk