Free Moulin Rouge film show on 4 June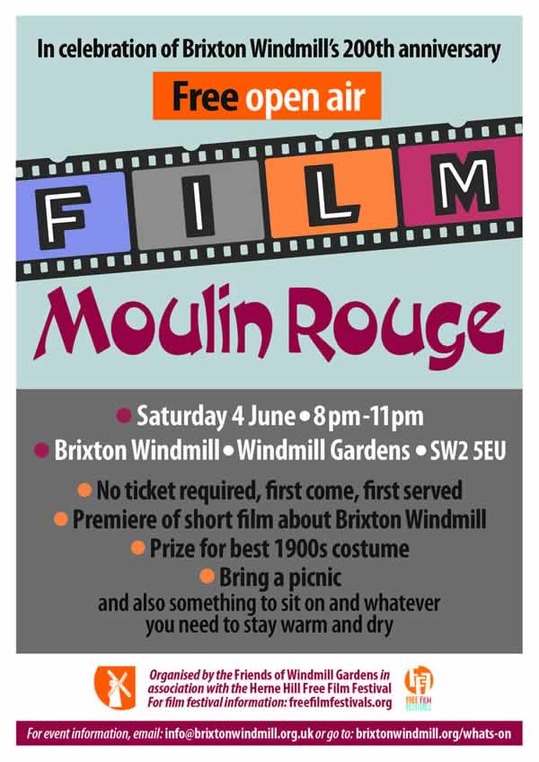 Keep your fingers crossed for good weather on 4 June, when we will be holding our first ever open air film show in Windmill Gardens!
In collaboration with Herne Hill Free Film Festival we will be showing Moulin Rouge!, directed by Baz Luhrmann and starring Nicole Kidman and Ewan McGregor.
The main film will be preceded by the premiere of a short film about Brixton Windmill at 200 years old.
To get you in the mood, why not come in fancy dress? There will be prizes for the best costumes inspired by 1900s bohemian Paris, presented by Wakako Kishimoto of Eley Kishimoto, our creative ambassador for 2016.
So bring a picnic and something waterproof to sit on and enjoy a show under the stars! Gates open 8pm.
---
Windmill Education Centre feasibility study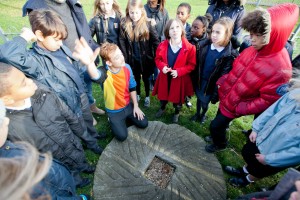 At the end of May two organisations were appointed by Lambeth Council to carry out a feasibility study into four different options for the new education building in Windmill Gardens.
Ian, Isabelle and Trishia of Clearview Consultancy are currently talking to FoWG members and partners including the Windmill Cluster of schools, local businesses and Blenheim Gardens RMO, about the options. They will also be helping FoWG develop a sound business plan for the future that we hope will also include progressing our flour production.
Architects Squire & Partners are also working with the council and FoWG to develop designs for the education building. These include an option for a joint stay and play / education building as well as one for a separate new education building with the stay and play building remaining as it is.
The council is expecting both Clearview Consultancy and Squire & Partners to deliver their final proposals by the middle of July, and the plan is that councillors will make a decision before the end of that month.
See our blog for more information.
---
Five-a-side football on 18 June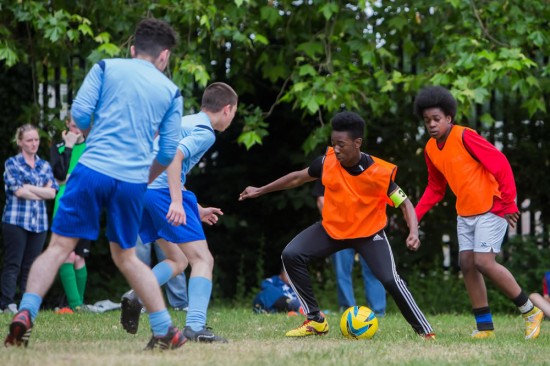 Our annual five-a-side football tournament in Windmill Gardens provides the perfect warm up for Euro 2016!
There are four age groups, from under-8s to under-16s, with shields and medals for the winning teams. The event kicks off at 10.30am.
For more information and to download a registration form, see our website.
---
Trades parade and festival on 26 June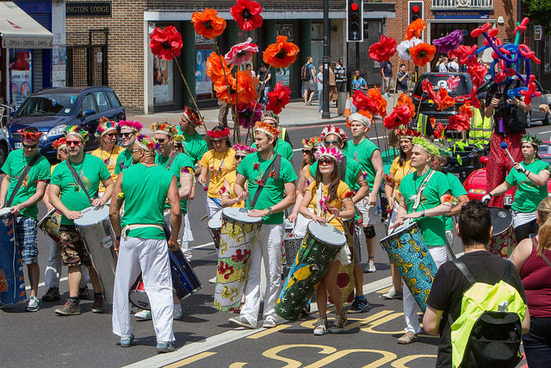 The Friends of Windmill Gardens, in collaboration with
Veolia
and Lambeth Council, invite you to wear a uniform and join the trades and professions of past and present taking part in our annual parade and festival!
Get dressed up and join the celebrations as blacksmiths, builders, baristas, farmers, chimney sweeps, office workers, mobile phone repairers, gardeners, mechanics and of course millers and bakers will march up Brixton Hill to Windmill Gardens, accompanied by performers, musicians and Brixton's infamous road sweepers.
In Windmill Gardens enjoy an afternoon of craft and trade workshops, live music, dancing, stalls, and animals from Brixton City Farm.
The parade leaves Windrush Square at 1pm, and the festival takes place in Windmill Gardens 2-5pm.
---
New sailcloths on show at National Mills Weekend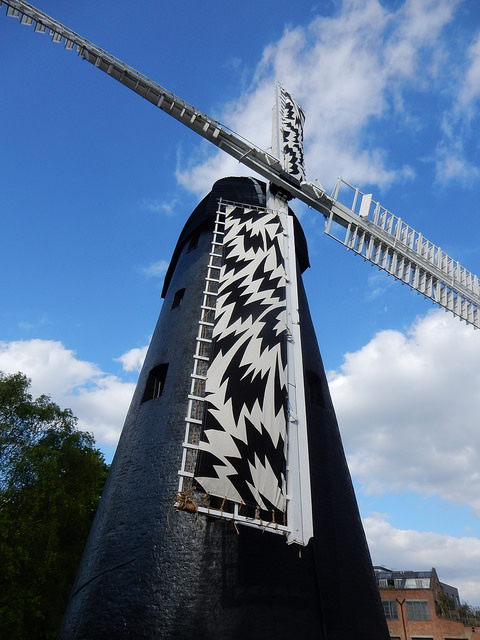 On 14 May as part of National Mills Weekend we dressed the common sails of Brixton Windmill with sailcloth designed and printed by
Eley Kishimoto
, our creative ambassador for 2016.
Huge thanks to FM Conway for providing the cherry picker and to Paul Sellwood of Owlsworth IJP for overseeing the operation.
---
Great Mill Race needs your photos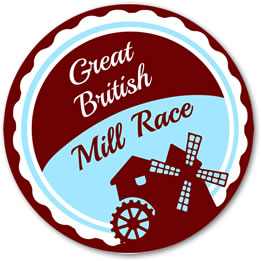 The Mills Archive has launched its Great Mill Race competition, inviting members of the public to participate in a national survey of mills. Help them as they race against time to save a record of our milling heritage.
The unique Mills Index hosted online includes over 10,000 mills and historic mill sites from across the UK and it's a big challenge to keep it up to date. So you can help by uploading images and information about any mills you visit. the information will be used to update and improve the database.
---
News in brief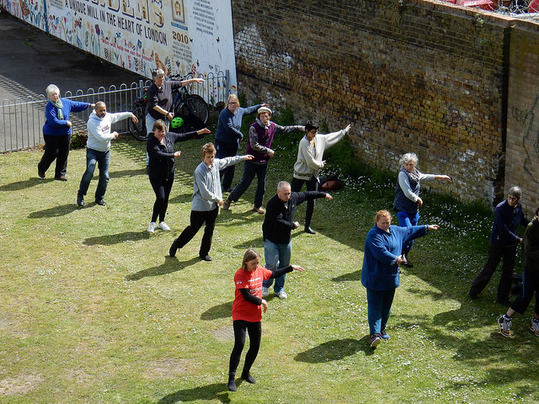 After a bank holiday weekend break, tai chi is back every Saturday morning in Windmill Gardens. Meet at 11am near the windmill for your one-

hour gentle breathing and stretching session. As we are currently without a

grant funder, donations towards paying our tutors are welcomed.

We have secured a grant

from Capital Clean-Up to replace the three broken wooden planters in

Windmill Gardens. The Parks Group are holding three workshops to carry out this work and the first is on Saturday 4 June, 1-3pm. We will also be progressing our soft fruit f

oraging project that afternoon.

Jean Kerrigan, Chair of the Friends, is giving a free talk on Saturday 4 June, 6-7.30pm, about Brixton Windmill at 200. The talk, organised by the Herne Hill Society and Brockwell Park Community Partners, is in Brockwell Hall, Brockwell Park.
We are expecting 20 accountants to join us for a corporate volunteering day in Windmill Gardens on Tuesday 7 June, 10am-4pm. Such days are always

great opportunities to see real improvement over a short time. So if you are free

do come along. Fingers crossed for the weather, especially

as lunch al fresco will be provided.

The second article in the series A History of Brixton Windmill in 16 Objects has been published - the subject is sailcloth.
Friends Jean Kerrigan and Chris Patton visited Upminster Windmill to give a talk about the past, present and future of Brixton Windmill. Upminster Windmill is currently being restored, and its Friends group will be visiting Brixton Windmill in August.
---
| | | | | |
| --- | --- | --- | --- | --- |
| | Open days & guided walk | | Windmill groups | |
Our next open days are on 11 and 12 June, 2-5pm. All long tours to the top of the mill are currently booked up, but you can still go on a short tour of the outside and up to the first floor - just turn up 2-4.30pm. Free spaces on long tours due to cancellations are advertised on Twitter @brixtonwindmill.




On 12 June you can also go on a guided walk of Brixton Hill with a Blue Badge guide. The walk starts from the windmill at 1pm and costs £5. More info here.




For more information phone 07587 170029 or email booking@brixtonwindmill.org.uk







To get involved in any of the groups, email

info@brixtonwindmill.org.uk

.

Communications

- Handles digital communications, exhibitions, website updates,

newsletters, press, merchandising

Events - Organises the annual parade and festival as well as other special events
Sustainability

- Oversees strategy for raising money

Parks

- Works to improve Windmill Gardens through planting bulbs, wheat, herbs and other activities





24 Prague Place | London SW2 5ED
Phone: 07587 170029
info@brixtonwindmill.org.uk