2018 events and open days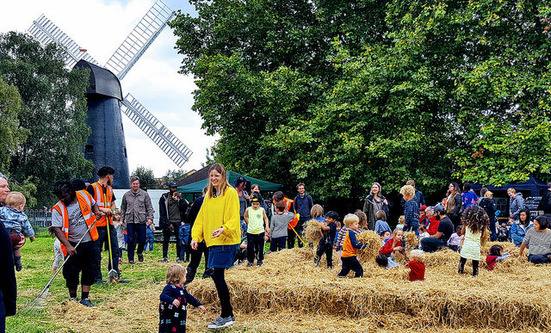 Brixton Windmill will be reopening for public visits on Saturday 14 April and every second weekend of the month after that until October. The dates for tours are on our website, along with guided walks and special events such as the Beer & Bread Festival and Art in the Park.
Online booking for tours in April will open on 1 March; tour tickets for dates after that will be released one month in advance. If you have a couple of hours to spare a month we can always do with extra help on our monthly open weekends, selling refreshments or merchandise, setting up or clearing away, or guiding people round the windmill (see below).
During 2018 Lambeth Council are building a new education centre in Windmill Gardens. They will also be carrying out repair work on the sails of the windmill. Because of this and all the extra work our volunteers are doing to fundraise and prepare to manage the new education centre we are running slightly fewer special events in the park this year.
---
Guide training in March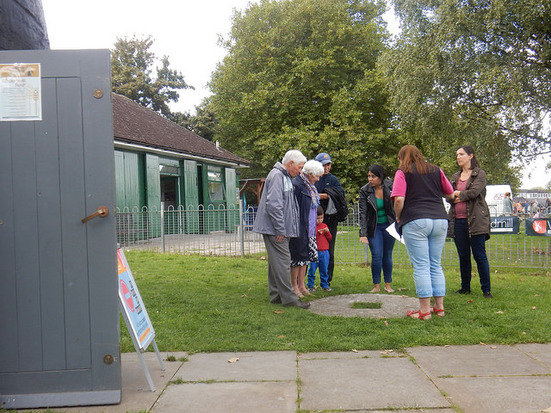 We are holding two training days at the Windmill for anyone who would like to be a tour guide or a steward on our monthly open weekends at Brixton Windmill in 2018.
The training will take place on the mornings 18 and 24 March. This training is ideal for new guides and stewards or for anyone who wants a general introduction to volunteering at the Windmill – also useful for any guides who would like a refresher course.
For more information about what the training covers, see our website. Email guides@brixtonwindmill.org.uk and put "Guide Training" in the subject line to book a place.
---
Education programme update
We have updated the education workshops for schools programme to be delivered at Brixton Windmill when our new education centre opens in January 2019.
With a grant from the Association of Independent Museums Sustainability Scheme, the Friends recently engaged museum educator Megan Dowsett for three months to revitalise our offer to schools. We are very pleased with the work that she carried out.
Four new workshops suitable for foundation to year six now make up our programme. Each can be delivered with a first outreach workshop at the school followed by a visit to the windmill. Schools also have the option of booking just a single workshop delivered at Brixton Windmill.
Megan has produced detailed lesson plans, teacher's notes and resource packs for student activities. The workshops are designed to be delivered by a fully qualified teacher supported by trained FoWG volunteers. We ran trials of the workshops with four different classes from two primary schools local to Brixton Windmill and the feedback from class teachers was both helpful and very supportive.
For information on the workshops, see our website.
---
Brixton Windmill in the news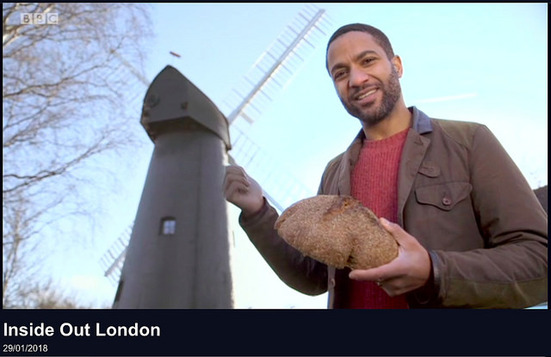 For those of you who missed the feature on Brixton Windmill on BBC London's Inside Out programme on 29 January, you can still catch up with it on iPlayer until 27 February (the windmill segment starts at around 19:37 minutes).
Our collaborative project to plant heritage wheat with the Friends of Ruskin Park and Brockwell Bake, with the ground being ploughed by traditional shire horses from Operation Centaur, also featured on BBC London news on 9 February. And Jean Kerrigan of the Friends of Windmill Gardens was interviewed about the project by Jim Davis on BBC Radio London. Unfortunately, the TV piece is no longer available on iPlayer, but you can hear the radio interview here until 9 March (the interview starts at around 2:41 hours).
---
News in brief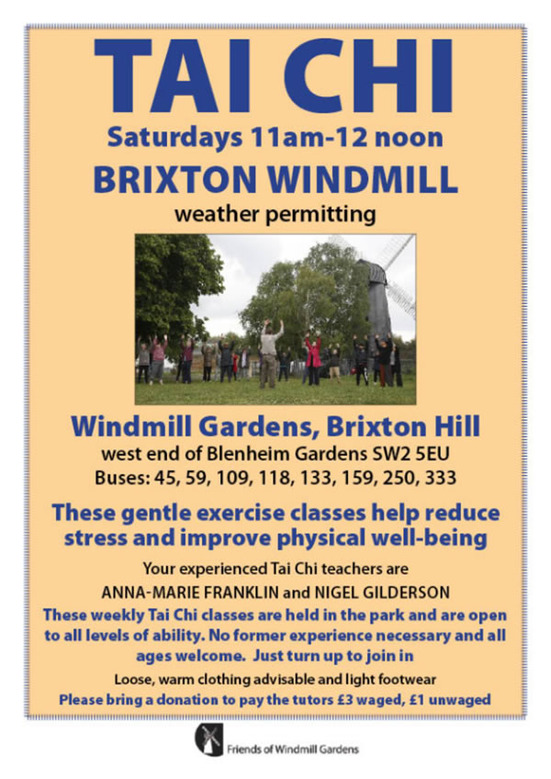 Tai chi classes Tai chi continues on Saturday mornings. We ask participants to donate £3 (waged) or £1 (unwaged) for each session so that we can continue to pay our tutors Nigel and Anna.
Planting day in Windmill Gardens on 13 March On Tuesday 13 March, we are holding a gardening workshop in the park. We will be planting hops along the fence behind the windmill and working on the flowerbeds from 10am-4pm. Email info@brixtonwindmill.org.uk to let us know you are coming or just join us on the day. All volunteers are welcome.
General Meeting on 27 March The Friends will be holding a General Meeting on Tuesday 27 March in the Mayor's Parlour in Lambeth Town Hall at 7pm. Matters to be discussed include progress on the new education building and the conversion to become a charitable incorporated organisation, as well as upcoming open days and events. The full agenda will be published closer to the date.
---
| | | | | |
| --- | --- | --- | --- | --- |
| | Windmill flour stockists | | Can you help? | |
Our stone ground wholemeal flour, made from local organically sourced wheat, can be bought during Windmill open days.

Other local stockists include:

Brixton Cornercopia, 65 Brixton Village, London SW9 8PS


Brixton Pound cafe, 77 Atlantic Rd, London SW9 8PU


Brixton Wholefoods, 59 Atlantic Road, London, SW9 8PU


Dugard & Daughters, Arch 286, Milkwood Road, London SE24 0EZ





All the tours of Brixton Windmill and other activities are run by our team of fantastic volunteers - why not join us?




Whether it's milling, guiding, baking, gardening, event organising, selling merchandise, setting up gazebos or making tea, there's always a wide range of tasks available, if you can spare a couple of hours a month. You can find out more about volunteering and download a volunteer application form

here

.




And if you want to get more involved, you can join one of our sub-groups covering communications, events, education, milling, the park, or fundraising - it would be great to have you on board!




Email info@brixtonwindmill.org.uk for more information.





24 Prague Place | London SW2 5ED
Phone: 07587 170029
info@brixtonwindmill.org.uk