New education centre approved

We are delighted that, in the year of Brixton Windmill's bicentenary, Lambeth Council has approved the expenditure of £360,000 for the construction of an education centre in Windmill Gardens.
Under the plan, the Friends will be granted a three-year lease to run and maintain the centre. This will allow us to maintain and expand our very successful education programme with local schools and beyond, as well as developing milling and other activities to provide an income to safeguard the future of Brixton Windmill.
We will continue to work with Clearview Consulting to apply to the Heritage Lottery Fund for a Resilient Heritage grant to recruit a centre manager.
Squire & Partners, the architects who worked with the Friends, Lambeth Council and Clearview Consulting as part of the first stage design, will be continuing with the overall design and build of the education centre subject to planning consent. This is anticipated for the end of November / early December 2016.
The aim is for the new building to be ready by early summer 2017 - we will be publishing updates on the progress of the building on our website. There will be lots of opportunities for local residents and businesses to get involved as our activities expand. Email info@brixtonwindmill.org.uk for more information.
---
Hallowe'en horrors on 30 October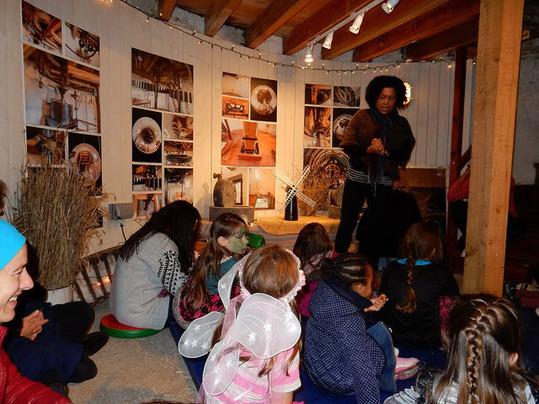 Our spookiest event of the year returns on Sunday 30 October, 2-5pm! Bring a pumpkin during the afternoon to carve and we'll light them up as the sun sets on Windmill Gardens.
There will also be a spooky storytelling session with Caroline Partridge inside the windmill, which will be suitably decorated for the occasion. And face painter Snezana Nikolic can help transform your little angels into ghoulish goblins.
The event is free but please bring your own pumpkin for carving. We hope to see you there!
Please note that the windmill will not be open for public tours during this event.
---
Park life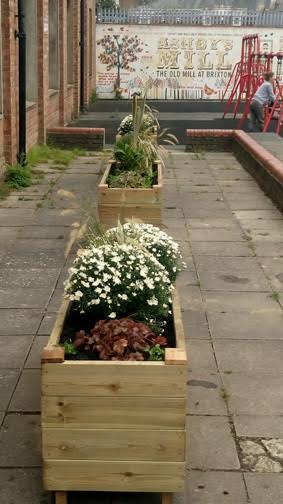 Windmill Gardens has some splendid new planters, designed by Sandra Watts. We are grateful to the Mayor of London

's Capital Clean Up grant that funded the project and to all those

volunteers who worked so hard to dismantle the old and dangerous planters near the children

'

s playground and helped build, fill with compost, and plant up the

three well-crafted and

beautiful new ones.

Another group of corporate volunteers will be working in the park on Monday 10 October from 10am. They will be picking the buckwheat as well as doing other work in Windmill Gardens. If you would like to help, just come along - tools, lunch and refreshments provided!
Tai chi sessions continue in the park every Saturday, 11am-noon. Donations to tutors welcome.
---
Congratulations to Jolly Millers quiz team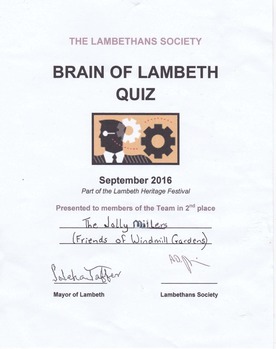 A team of FoWG members, alias 'The Jolly Millers', were runners-up in this year's 'Brain of Lambeth Quiz', held in September as part of Lambeth Heritage Festival.
Team members Helen Atkinson, Trisha Hynes and Ann Lee gave answers on topics ranging from music and history to current affairs.
The fourth member of the team, Liz du Parcq, who conducts the guided tours of the area which are popular with Brixton Windmill visitors, also helped the team to score 10 out of 10 in a round covering the history of Lambeth and London.
The contest was won by a team from the Streatham Society, 'Streatham Ladies'. The FoWG team, who were competing for the first time, are looking forward to a return match next year!
---
The Ashbys as social reformers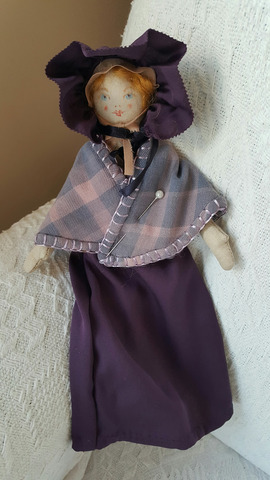 You probably already know that Brixton Windmill was operated by the Ashby family during its working life. But did you know that they were also Quakers?
When, in 1816, John and Hannah Ashby and their children moved to Brixton from Sussex to work Brixton Mill, Quakers were in the forefront of campaigns for social justice and had earned a reputation for honesty. John came from a family of millers and he was "active in circulating Friend's literature". Subsequent generations of Ashbys remained committed Quakers.
---
| | | | | |
| --- | --- | --- | --- | --- |
| | Last open days | | Windmill groups | |
Brixton Windmill is open this weekend (Saturday and Sunday 2-5pm) for the last time before closing for the winter.




Full tours to the top are all booked up, but you can go on a short tour without booking - just turn up between 2pm and 4.40pm.













To get involved in any of the groups, email

info@brixtonwindmill.org.uk

.

Communications

- Handles digital communications, exhibitions, website updates,

newsletters, press, merchandising

Events - Organises the annual festival as well as other special events
Sustainability

- Oversees strategy for raising money

Parks

- Works to improve Windmill Gardens through planting bulbs, wheat, herbs and other activities





24 Prague Place | London SW2 5ED
Phone: 07587 170029
info@brixtonwindmill.org.uk