Windmill Christmas events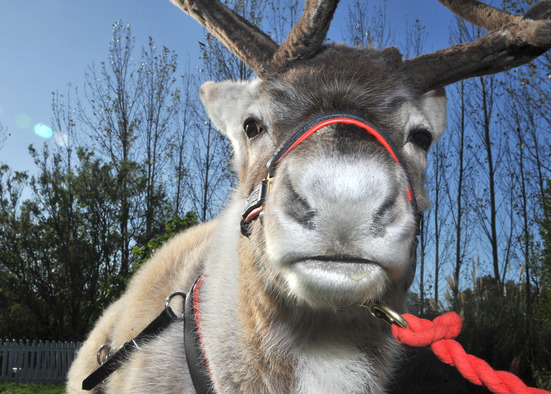 Santa returns to his unique grotto in Brixton Windmill on Sunday 17 December, 2-5pm - and this year he will be bringing his real reindeer!
As well as the opportunity to tell Santa how good you've been this year and feed his reindeer, there will be craft and decoration workshops plus music from the fabulous Pop-Up Choir and Grooveschool.
It will also be your last chance this year to stock up on freshly ground Brixton Windmill flour and other merchandise - our T-shirts, tea towels and mugs make great Christmas presents. We also have tasty home made jams and chutney along with a range of stocking fillers, including our popular badges, bookmarks and multi-coloured pencils.
Suggested donation for Santa's grotto: £2 per child.
We are grateful to Comic Relief, Blenheim Gardens Resident Management Organisation and the London Community Foundation for supporting this event.
Later on 17 December, the Festive Lights bike ride will be arriving in Windmill Gardens after cycling from Clapham Old Town and around Clapham Common. So why not stay on after seeing Santa to experience lanterns, lights, entertainers and fireworks?
Other December events where you can buy Brixton Windmill goodies:
3 December (this Sunday), 11am-3pm: Brockwell Park Winter Fair, organised by the Friends of Brockwell Park, is a great chance to support local groups and businesses, with lots of stalls selling gifts and cards. Free entry.
9 December, 12-4pm: Roots & Shoots Christmas Market, Walnut Tree Walk, Kennington, SE11 6DN. Entrance £2.
Every purchase supports events at Brixton Windmill and Windmill Gardens.
---
Tenders invited for education centre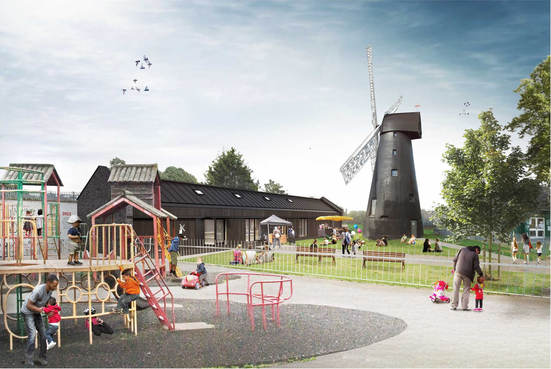 After some frustrating delays the invitation to tender for the construction of the new education building has been issued by Lambeth Council, who plan to appoint a construction firm in January. Building work is due to start in late February/early March. More information about the process is on
our website
.
The council are funding all the construction costs of the building, including a well-appointed training kitchen where we hope to offer baking courses using fresh stoneground Brixton Flour produced by our volunteers at the windmill.
The FoWG now have to raise £27,000 to furnish the building. Our sustainability and fundraising group have been working on a three-year business plan and are making a number of bids for grants to support the project.
But we will also be asking everyone who loves the Grade II* Brixton Windmill to help. Early in 2018 we will be asking all our friends and supporters, including local businesses, to ensure that this exciting new resource for Lambeth schools and our local community is fully equipped and will open, fit for purpose, as soon as the construction work is completed and the Friends sign the lease with Lambeth Council.
---
Nominate FoWG for £1,000 award

Ecclesiastical is giving 130 charities £1,000 each to celebrate its 130th anniversary. Why not nominate the Friends of Windmill Gardens - charity number 1121790? Every little helps towards getting our new education centre kitted out!
Nominations close at midnight on 5 December.
Thank you in advance!
---
Education consultant appointed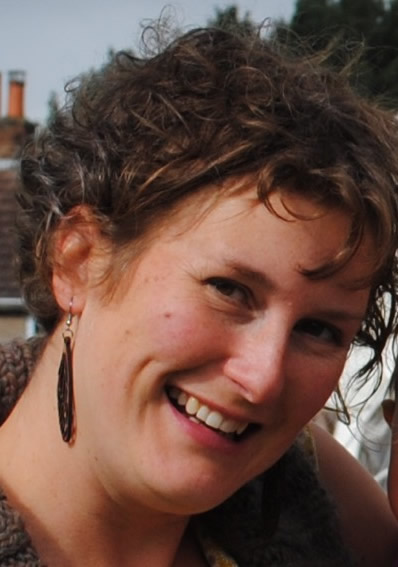 In preparation for the new education building the FoWG applied for a grant to employ an education consultant to update and expand the education programme at Brixton Windmill.
With the generous support of a grant from the Association of Independent Museums we recently appointed Megan Dowsett to carry out this work. Megan was selected from a strong group of applicants. A qualified teacher who worked in local primary schools, Megan now works as an educationalist in the heritage sector. She was instrumental in improving the education programme at the London Transport Museum.
Her brief is to work with FoWG's education sub-group and local schools and teachers to revamp our four workshops for primary schools and create two new workshops for Key Stage 3 students. This is an exciting three-month project that will strengthen the education programme at the new education centre in good time for our re-launch in January 2019.
Until we move in to the new building we are only able to offer school workshops at Brixton Windmill on Mondays. For information about the current programme please contact
info@brixtonwindmill.org.uk
.
If you are a teacher we would love to hear from you. If you would like to join our FoWG education group please email us at the same address with your details. We need more volunteers to support our education work and can offer some training.
---
Tai chi continuing in 2018

We have come to the end of the 45 free tai chi sessions funded by a grant. The sessions held in Windmill Gardens started last January and have attracted 131 local people to sample the gentle breathing and stretching exercise. Of these, 20 attended 5-8 sessions and a further 27 came to 21 or more sessions. Over the year an average of 19 people attended our weekly one-hour sessions, and amazingly we only had to cancel three classes due to bad weather.
Tai chi has proved so successful that we have agreed to continue our Saturday morning sessions on into 2018. We will be asking participants to donate £3 (waged) or £1 (unwaged) each session so that we can continue to pay our tutors Nigel and Anna.
The last free tai chi session in Windmill Gardens starts at 11am on 2 December, so why not come along and sample this stress-relieving outdoor exercise? As it is currently quite cold please wrap up warm – bring a hat and gloves and wear suitable footwear.
We want to thank our funders, the Lambeth Community Fund and the London Community Foundation, for supporting our programme during 2017.
---
Thank you - and save the date!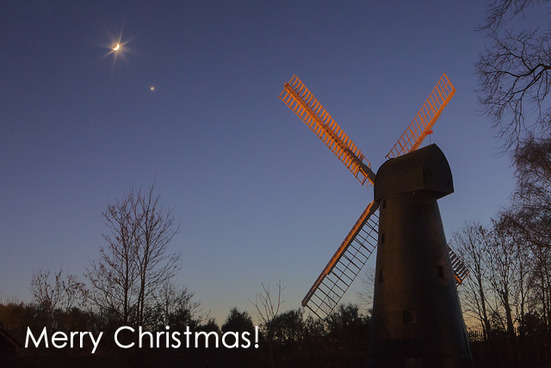 At the end of another momentous year for Brixton Windmill and the FoWG we would like to say a big thank you to all our members, volunteers and supporters.
Our long campaign to get an education centre in Windmill Gardens is paying off due to the hard work and commitment of so many people - we couldn't have done it without you. We hope that at this time next year we will be celebrating in the newly built centre - but there is still a long way to go!
We are inviting our Friends and volunteers to a "Thank You" event on Thursday 25 January, so please put the date in your new 2018 diaries. Some of you may spot that the date is shared with Burns Night …
More information will follow in January but we will be asking everyone to bring a contribution to the food to share. There is a kitchen, so both hot and cold dishes are welcome. FoWG will be providing the drinks and nibbles!
Please confirm your attendance by emailing
info@brixtonwindmill.org.uk
And in the meantime, we wish you all a very Merry Christmas!
---
| | | | | |
| --- | --- | --- | --- | --- |
| | Windmill flour stockists | | Can you help? | |
Our stone ground wholemeal flour, made from local organically sourced wheat, can be bought during Windmill open days.

Other local stockists include:

Brixton Cornercopia, 65 Brixton Village, London SW9 8PS


Brixton Pound cafe, 77 Atlantic Rd, London SW9 8PU


Brixton Wholefoods, 59 Atlantic Road, London, SW9 8PU


Dugard & Daughters, Arch 286, Milkwood Road, London SE24 0EZ





All the tours of Brixton Windmill and other activities are run by our team of fantastic volunteers - why not join us?




Whether it's milling, guiding, baking, gardening, event organising, selling merchandise, setting up gazebos or making tea, there's always a wide range of tasks available, if you can spare a couple of hours a month.




And if you want to get more involved, you can join one of our sub-groups covering communications, events, education, milling, the park, or fundraising - it would be great to have you on board!




Email info@brixtonwindmill.org.uk for more information.





24 Prague Place | London SW2 5ED
Phone: 07587 170029
info@brixtonwindmill.org.uk