2017 open days at Brixton Windmill

Brixton Windmill will be reopening for public tours on the weekend 25/26 March - a list of open days and special events for 2017 is now up on the website.
Online booking for the full tours to the top of the windmill will open on 1 March. This year, to avoid all the tours selling out immediately, we are releasing tickets a month in advance. We will announce each new release of tickets through our newsletters and social media - so look out for these!

We are grateful to Comic Relief, London Community Fund and Blenheim Gardens RMO for supporting many of our 2017 events.
---
Education centre planning update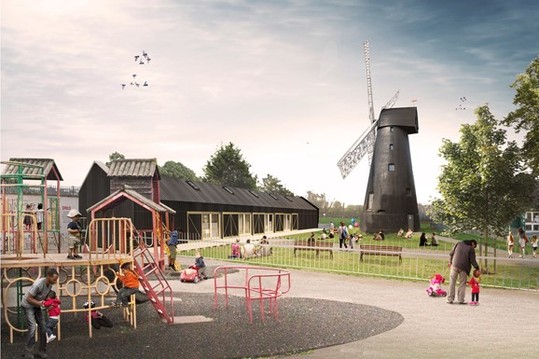 An amended planning application for the education centre in Windmill Gardens has been published on the Lambeth Planning portal.
Please support the application by leaving your comments online or emailing planning@lambeth.gov.uk.
Closing date for comments is 1 March.
---
Friends of Windmill Gardens at Pop Brixton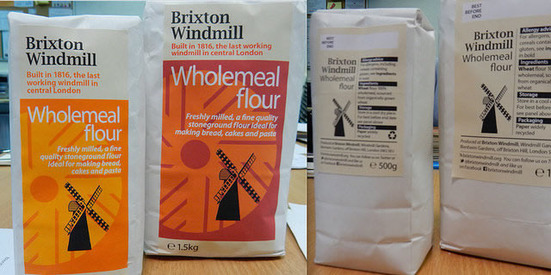 We're delighted to announce that the Friends have been offered a space at
Pop Brixton
on 4/5 March to promote Brixton Windmill flour and publicise our 2017 tours and events.
This is a great opportunity to buy flour and other merchandise, find out about our great 2017 events programme, chat to volunteers about plans for the new education centre and sign up or renew your membership.
If you're interested in helping out for a couple of hours over the weekend, please email info@brixtonwindmill.org.uk.
---
Call for volunteers
Building on the great success of Brixton Windmill's 200th anniversary last year we anticipate that 2017 will be another exciting year for our volunteers. We hope our new education /visitor centre will be completed by September and this will enable us to expand visitor and learning opportunities at the mill. We will be running another exciting programme of community events in Windmill Gardens, so there will be lots of new and different volunteering opportunities.
We totally rely on the goodwill and support of our great team of volunteers but we always need more. If you have friends who could help please encourage get them to email us with their details so we can sign them up to help at Brixton Windmill. There is more information about volunteering on our website
here
, or come and visit us at Pop Brixton on 4/5 March (see above).
Guide training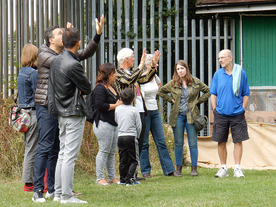 On Saturday 25 February, 2-4pm, we are running a training session for volunteers who are interested in becoming guides or stewards on days when Brixton Windmill is open to the public. Training is divided into three parts.
Part 1 is an introduction to the history of windmills in general, the 12 windmills that once stood in Lambeth and details of the history of Brixton Windmill and the Ashby family.
Part 2 (taking place in the windmill) will be advice and practice on leading the different kinds of guided tours we offer at Brixton Windmill.
Part 3 is a sign-off session covering the essential health and safety training you will need for insurance puposes.
On 25 February we will be running part 1 training for new volunteers and part 2 training for volunteers who have previously attended part 1 training. Just let us know if you want to take part by emailing info@brixtonwindmill.org.uk - put "Training" in the subject line, and say if you want to complete part 1 or part 2 of the programme.
Miller training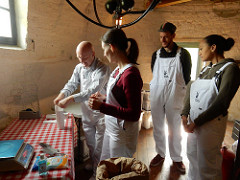 We are now regularly milling flour to provide supplies to half a dozen local outlets, so we are keen to recruit more volunteer millers. We provide full training, and you get to wear some fantastic dungarees! Email info@brixtonwindmill.org.uk to join the milling crew.
---
Chocks away!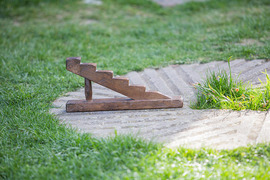 To keep the stones clean and in good condition, the runner stone needs to be lifted away from the bedstone to allow access to the grinding surfaces. The chocks enable this to be done safely.
---
| | | | | |
| --- | --- | --- | --- | --- |
| | Free tai chi on Saturdays | | Windmill groups | |
Free tai chi classes have resumed in Windmill Gardens every Saturday morning, 11am - noon, with experienced local teachers Nigel Gilderson and Anna Franklin.




Regular tai chi exercise can improve mobility and balance and help relieve joint pain. Classes are open to all levels of ability - no previous experience necessary. All ages welcome. No booking needed - just turn up to join in. Loose, warm clothing and light footwear advisable.




For more information phone 07587170029 or email info@brixtonwindmill.org.uk













To get involved in any of the groups, email

info@brixtonwindmill.org.uk

.

Communications

- Handles digital communications, exhibitions, website updates,

newsletters, press, merchandising

Events - Organises the annual festival as well as other special events

Sustainability

- Oversees strategy for raising money

Parks

- Works to improve Windmill Gardens through planting bulbs, wheat, herbs and other activities

Millers - Grind wheat and handle pricing and sales strategy for flour





24 Prague Place | London SW2 5ED
Phone: 07587 170029
info@brixtonwindmill.org.uk