Easter egg hunt cancelled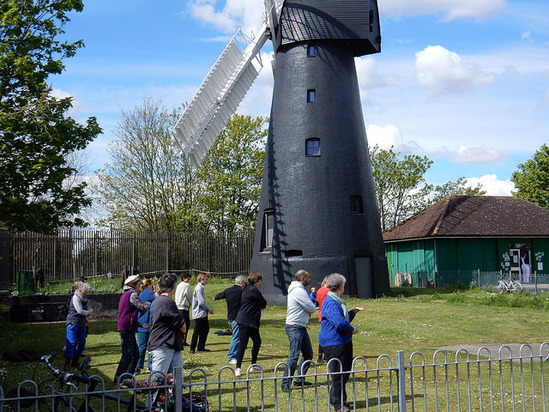 Sadly, due to emergency repairs in the Stay and Play building, we have had to cancel the Easter egg hunt scheduled for Easter Sunday. We are very sorry about this, but we hope you understand the difficulties of organising such a family event without facilities such as toilets.
Tours of Brixton Windmill will still go ahead on both Saturday and Sunday 15 and 16 April as planned, as will the
guided walk of the Brixton Hill area
, leaving from the windmill at 1pm on 16 April.
And don't forget the
free tai chi sessions
in Windmill Gardens every Saturday, 11am-noon - everyone welcome, no experience needed!
---
General Meeting on 19 April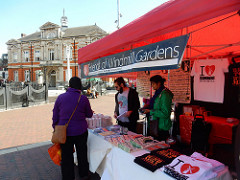 Find out the latest updates on the education centre and how you can get involved at our General Meeting on 19 April. There will be plenty of opportunities for our volunteers to learn new skills, gain experience and confidence, and make new friends as we enter this very exciting phase of development.
Albert Suen, the architect from Squire & Partners who is working on the project, will be attending and will be able to update us on the building design – with new visuals – as well as the building programme.
The General Meeting is on Wednesday 19 April, 7-9pm, at St Paul's Community Centre, 24 Blenheim Gardens, London SW2 5BZ.
---
Beer and Bread Festival on 1 May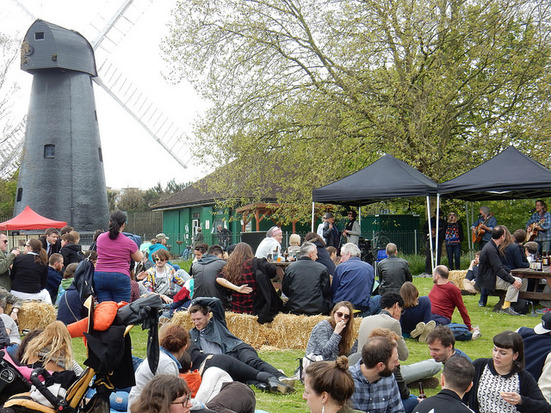 Our Beer and Bread Festival returns for a second year on Monday 1 May,
1-5pm, with a greater selection of ales, beers, breads, pastries and cakes from local businesses.
Our event partners at the Brixton Brewery are also joined this year by Canopy Brewery, based in Herne Hill, and the London Beer Lab, who brew in Loughborough Junction.
The Old Post Office Bakery and Parissi Café return with a wide selection of breads and pastries, along with F. Mondays café who will be serving cakes, teas and coffees.
Entertainment includes music from the No Frills Band and CL!VE, and a performance by the Hammersmith Morris Men,
Visitors can also meet our team of volunteer millers inside the windmill who will be busy operating the electric-powered millstones and bagging up freshly milled flour that will be available to buy on the day.
---
Has your membership lapsed?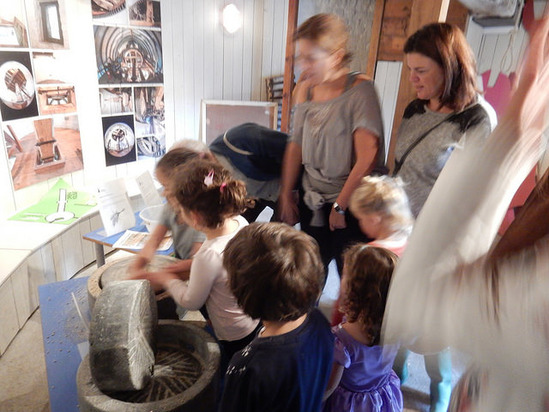 2017 is going to be a very important year for the Friends of Windmill Gardens. The construction of the new
education centre
in Windmill Gardens by Lambeth Council is an acknowledgement of the consistent work of the Friends in promoting Brixton Windmill across London and opening it regularly to the public.
The building will be leased to the Friends, and we are expected to implement a successful business plan and run the building day to day. This is an important new stage in development of FoWG and we need to get as much support as we can from local people to make the project a success.
We are confident we can increase the number of school groups visiting the windmill once we have our own dedicated building. We also know we can increase the number of tours of the windmill that we offer to the general public and we hope that the building will be hired and used by local community groups. Having a dedicated education/community building beside the windmill will also enable us to develop our milling project and extend our distribution of
Brixton Flour
which we already sell at a number of outlets in Brixton. To achieve all these things we need to strengthen our base within our local community and increase the membership of FoWG. That's why we hope you will decide to renew your membership.
By being a member of FoWG you not only help us financially but you can also help shape the future of both Windmill Gardens and Brixton Windmill. You will be able to attend and vote at our general meetings (see above), where we decide on future strategy and operations at the windmill. If you have the time to help us with specialist skills we welcome your input. There are various sub-groups within FoWG that help shape our future including communications, organising events, fundraising, developing the park, or helping with the milling project. All members have the right to stand for executive positions at our annual general meeting. Members receive our monthly e-newsletter, and also get a 10% discount on our wide range of windmill merchandise.
Details of how to re-new your membership can be found on our
website
. If you are a UK taxpayer it helps us if you agree to Gift Aid your membership fee.
Thank you!
---
Spruce up Windmill Gardens on 22 April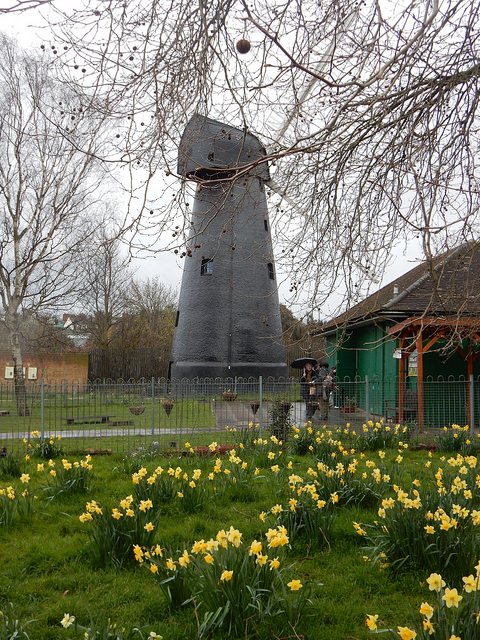 Windmill Gardens has had a lovely display of spring bulbs and we want to ensure that it goes on looking good for the rest of the year so that our visitors to Brixton Windmill always see it at its best. So we are organising a gardening workshop on Saturday 22 April from 2pm-4pm in Windmill Gardens
We hope you will be able to come along to help. As always, the Friends of Windmill Gardens will provide gloves, tools and light refreshments. Please wear suitable clothing.
Our aim for this workshop is to improve the herb bed which is in need of some serious loving care. We plan to edge the paths and plant more herbs so that we can restore the original planting plan for the bed. The bay tree in the centre also needs to be trimmed.
If we have enough volunteers helping we will also be working on the three new planters next to the herb bed and hope to plant a climbing rose (recently donated to us) behind the windmill.
Please let us know if you are able to join us at the workshop by emailing
info@brixtonwindmill.org.uk
---
Call for volunteer bakers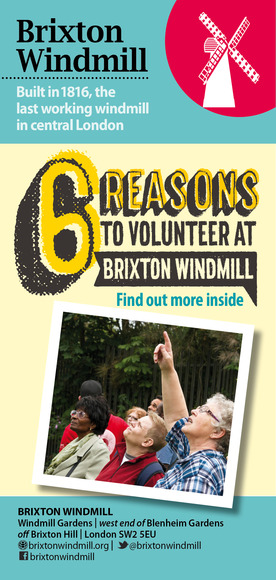 Now that our open days have started again, we're looking for more volunteers to bake cakes to sell to visitors.
As well as being popular with our visitors, our cakes and other refreshments help raise funds to support our programme of community events. We will refund the cost of your ingredients - and donate you some windmill flour if you would like to use it! If you would like to offer your baking skills, please contact
a.e.rouse@gmail.com.
Other volunteer roles are outlined in our new leaflet, available in libraries and around 30 other venues across Lambeth. Or you can find out more and download a copy from our website.
---
| | | | | |
| --- | --- | --- | --- | --- |
| | Free tai chi on Saturdays | | Windmill groups | |
Free tai chi classes take place in Windmill Gardens every Saturday morning, 11am - noon, with experienced local teachers Nigel Gilderson and Anna Franklin.




Regular tai chi exercise can improve mobility and balance and help relieve joint pain. Classes are open to all levels of ability - no previous experience necessary. All ages welcome. No booking needed - just turn up to join in. Loose, warm clothing and light footwear advisable.




We are grateful to

Lambeth Community Fund and the London Community Foundation

for supporting these classes.




For more information phone 07587170029 or email info@brixtonwindmill.org.uk













To get involved in any of the groups, email

info@brixtonwindmill.org.uk

.

Communications

- Handles digital communications, exhibitions, website updates,

newsletters, press, merchandising

Events - Organises the annual festival as well as other special events

Sustainability

- Oversees strategy for raising money

Parks

- Works to improve Windmill Gardens through planting bulbs, wheat, herbs and other activities

Millers - Grind wheat and handle pricing and sales strategy for flour





24 Prague Place | London SW2 5ED
Phone: 07587 170029
info@brixtonwindmill.org.uk