Body and Antler Size: What's Soil Got to Do With It?
by Kory Gann
---
It is no secret to deer managers that deer body and antler size is determined by a combination of age, nutrition, and genetics. However, more often than not, deer aficionados appear to be most concerned with the genetic side of the equation, with some even believing that deer on their ranch lack the genetic potential for large bodies and antlers. The main problem with addressing this concern is that expression of an animal's genetic potential can be limited if nutrition is inadequate. In many cases, the underlying nutritional deficiencies that prevent expression of genetic potential are overlooked by managers. Recent research findings at the CKWRI may give insight into why nutritional deficiencies, not genetics, most likely cause the body weight and antler size differences seen in deer across South Texas.
CKWRI researchers captured 2,775 white-tailed deer in autumn 2011–2014 on 4 East Foundation properties that range in location from the Gulf Coast to 90 miles inland (Fig. 1). These landholdings are working cattle ranches on which the deer are unmanaged and have not been subjected to harvest, or any other management practices that are common across much of South Texas. Three of the properties, East El Sauz, Santa Rosa, and Buena Vista, are within the Coastal Sand Plain ecoregion of South Texas, while San Antonio Viejo is part of the Coastal Sand Plain and Texas-Tamaulipan Thorn Scrub ecoregions. The Coastal Sand Plain of southern Texas contains over 2.5 million acres of rangeland defined geographically by a sheet of deep sands deposited by winds blowing inland from the coast over many millennia. The coarse-textured, sandy soils common in this area may have reduced fertility due to low moisture retention and rapid leaching of nutrients which can cause plants to have lower levels of protein and phosphorus than those found on fertile soils. Areas of South Texas outside of the Coastal Sand Plain tend to have fine-textured, clayey soils. These fine-textured soils retain more water and have more total nutrients than sandy soils, potentially leading to an increase in forage quality. Differences in soil fertility have been shown to have huge effects on deer body and antler size. In Mississippi, researchers Bronson Strickland and Steve Demarais found that mature deer harvested in regions with high soil fertility along the Mississippi River had 25% greater body mass and antler size than deer harvested in soil regions with low soil fertility along the Gulf Coast. In addition, deer in regions with high soil fertility grew at faster rates and continued to grow until 4 years of age, whereas deer along the Gulf Coast ceased growth at an earlier age.
Figure
1.
Location of 4 East Foundation properties and the average body weight and gross Boone & Crockett scores of bucks
> 6 years old captured on each property.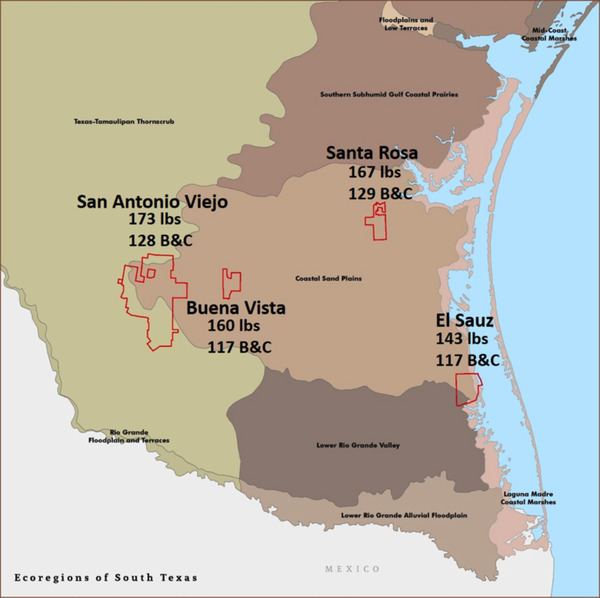 Given the Mississippi example, one might expect that San Antonio Viejo would hold the biggest bucks, while bucks on the other ranches would be smaller due to the sandy soil. This prediction is partially correct. Results show that body weight and antler size of mature males (> 6 years old) exhibit a moderate east−west gradation with males on San Antonio Viejo weighing 30 lbs. more and having a Gross Boone and Crockett score 11 points greater than deer on East El Sauz (Fig. 1). However, body weights and antler size of mature bucks captured on Santa Rosa and Buena Vista do not show this same trend. The size of mature bucks at Santa Rosa are actually similar to San Antonio Viejo, suggesting that deer morphology is not fixed within an ecoregion and may be influenced by site-specific soil variables.
We then set out to determine if a relationship existed between deer morphology and site specific soil physical properties. The next step involved using the NRCS Web Soil Survey (http://websoilsurvey.sc.egov.usda.gov/App/HomePage.htm) to determine the percent of each capture area composed of soils with an average percent sand >80% at a depth of 0-24 in. For every 10% increase in the proportion of the capture area composed of soils with >80% sand, male body weight decreased by 7 lbs. for 2−3 year olds, 11 lbs. for 4−5 year olds, and 10 lbs. for the 6+ age class (Fig. 2). The soil parameter had no effect on body weight of fawns or yearlings (1 year old) of either sex. Antler size was also affected by percent of the area in sandy soil. For every 1% increase in the proportion of the capture area composed of soils with >80% sand, antler size decreased by 4.5 inches for 2−3 year olds, 6.8 inches for 4−5 year olds, and 4.2 inches for the 6+ age class (Fig. 3). As with body weight, the soil parameter had no effect on the antler size of yearling males.
Figure 2.
Effect of the soil parameter (% of site with >80% sand) on body weight of male white-tailed deer captured on the East Foundation ranches in autumn, from 2011−2014, presented by age class.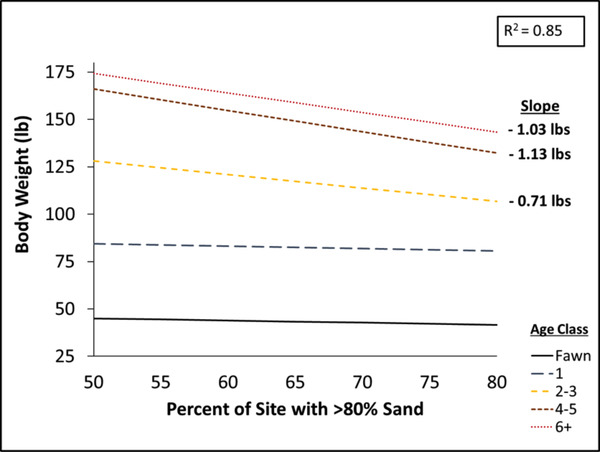 Figure 3.
Effect of the soil parameter (% of site with >80% sand) on antler size of male white-tailed deer captured on the East Foundation ranches in autumn, from 2011−2014, presented by age class.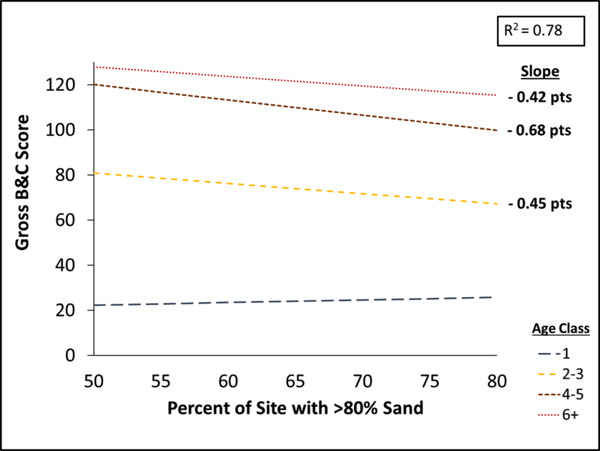 These results give insight into what is driving deer morphology at a local scale and may help explain deer morphology differences that exist across southern Texas, and even on neighboring properties. Another example of how soils play a role in growing big bucks can be seen in the famed "Golden Triangle" region of the Western Rio Grande Plains. This area, which runs west from Eagle Pass to Cotulla, and south to Laredo, grows some of the biggest bucks in the country. Bucks in this region are not genetically predisposed to being big; they are big because of the high quality, red, sandy loam soils that are found in much of this region. But even within this region, I am sure there are local areas where soil quality is lacking, and thus a limiting factor for growing big bucks.
Our results show that soil sandiness can have major impacts on the body and antler size of white-tailed deer in South Texas, but how do we really know that soil quality, not genetics, is driving the morphology differences we are seeing? We can look back at the Mississippi example from above to give us reassurance. In this example, pregnant females were captured from 3 soil regions in Mississippi: the Delta (highest soil quality, largest deer), Thin Loess (medium soil quality, medium-sized deer) and Lower Coastal Plain (LCP; lowest quality soil, smallest deer). All deer were fed a 20% crude protein diet ad libitum to eliminate nutritional deficiencies, and bred with deer from their respective regions. The regional differences in antler size disappeared after 2 generations of improved nutrition, and body size of 3 year old males increased by 25 lbs. in the Delta, 17 lbs. in the Thin Loess, and 35 lbs. in the LCP, compared to wild deer. Given these results, researchers concluded that the regional differences in antler and body size seen in Mississippi is an epigenetic effect caused by differences in nutrition. Epigenetic effects are changes in gene expression caused by the environment during the development and growth of an organism; however, these effects do not alter the underlying DNA sequence.
Although many managers worry about the proportion of their bucks using feed sites, a buck's epigenetic "roadmap" starts in the womb and continues into early life. Therefore maternal condition and early life nutrition are the 2 biggest obstacles to reversing epigenetic effects on body and antler size in areas with poor quality soil. Affecting change requires that high quality diets be available to pregnant females and remain accessible to the fawn throughout life, and into subsequent generations. In areas with poor soils, increasing nutrition via supplementation may be the only way to achieve increases in body and antler size, while seeing results at a population level will require that a large proportion of animals use enough of the supplement to consistently meet nutritional requirements for reproduction and growth. Managers must also realize that because these epigenetic effects are generational, improving the body and antler size of white-tailed deer will require multiple generations, hence the reason why the benefits of most intensive management programs are not realized for 5 to 7 years.
About the Author: Kory Gann is a wildlife biologist with the Texas Parks & Wildlife Department in Kingsville and a PhD student at Texas A&M University-Kingsville. The deer capture data presented in this eNews is part of the East Foundation's research program (http://www.eastfoundation.net). Further explanation on the importance of maternal effects and early life nutrition was presented in the April 2010 edition of the Deer Associates eNews.
---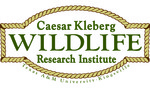 Learn more about how you can help support the research at Caesar Kleberg Wildlife Research Institute.

The Caesar Kleberg Wildlife Research Institute, a nonprofit organization, depends upon charitable donations to support its work. The Institute welcomes new, renewing, and continuing support of individual, corporate, and foundation partners. By making a tax deductible contribution to the Institute,
you will help us continue providing science-based information for enhancing the conservation and management of wildlife in South Texas and similar environments
. South Texas is the last great expanse of wildlife habitat remaining in Texas, and one of the most biological diverse regions in the nation. This rich ecosystem deserves our full support and we invite you to join us as we make every effort to conserve and manage our precious natural resources. To learn more or make a donation to CKWRI, visit ckwri.tamuk.edu/gift-giving.
March 2016
If you received this email from a friend, [click here]
to sign up for the Deer Associates eNews!


2016 Deer Associates Meeting Presentations
2016 Deer Associates Meeting
Power Point Presentations are now available on our website. Click on the link below to go to the presentations.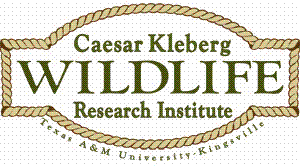 http://ckwri.tamuk.edu/research-programs/deer-research-program/
Texas A&M University-Kingsville
Caesar Kleberg Wildlife Research Institute
700 University Blvd., MSC 218
Kingsville, Texas 78363
361-593-3963
david.hewitt@tamuk.edu
Want to stay informed on all the latest news from CKWRI? Like us on Facebook!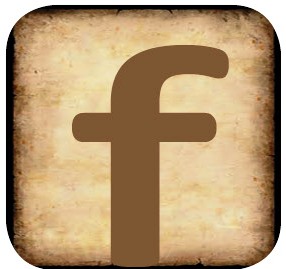 Click the icon to go to the CKWRI Facebook page.