"Advertising in New Life Journal has drawn a lot of attention to our company and the services that we offer. This attention brought solid leads to our company that turned into very good business for Home Energy Partners."


-Alex Glenn,
Building Performance Specialist,
Home Energy Partners


Did you know?

NLJ reaches over 90,000 readers, more than other area free publication.

We have a highly targeted market: 80% of our readers are holistic-minded with an eye toward sustainability.

33,000 unique visitors see our website: each month

Our issues are thematic, with focuses like green building, wellness, living green, herbal healing and nutrition




Advertise with
New Life Journal!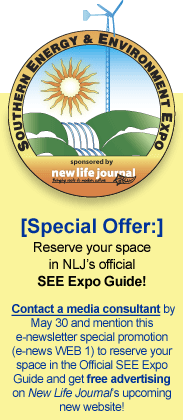 Visit the
SEE Expo Website

Don't forget!
Upcoming advertising space
reservation deadlines
July's Health Across the Ages issue:
May 22nd

August's Education and Learning issue:
featuring New Life Journal's exclusive SEE Expo Guide insert, which will be distributed throughout the Southeast to over 90,000 readers that support green living!
June 26
Contact us now for our
current deals and specials

"Not only does NLJ have wide distribution and a large readership, but those readers were exactly my demographic. Advertising with NLJ means partnering with people interested in promoting alternative paths towards health, conscientious consumption, and "green" living. I can't imagine a better place to spend my advertising dollars. And to top it all off, advertising with NLJ brings results."


–Letitia Walker,
Elasticity, the Yoga Prop Shop
Dear Friend,
There have been lots of changes at New Life Journal recently. In fact,
our April Green Building Issue was the biggest issue of New Life Journal ever printed—64 pages! And, our Green Building Resource, which is in each and every issue of the magazine, has also been steadily growing. The Resource now averages 18 pages each issue. That's 18 pages filled with sustainable living articles and advertisements! And, we are proud to announce that we are partnering sponsors with this year's Southern Energy and Environment (SEE) Expo, which will be held this August in Fletcher. Look out for the Official SEE Expo Guide in our August issue!

As a member of the New Life Journal family, you're receiving a copy of our newest venture to date: our e-newsletter. In this and every newsletter, you'll find helpful hints for you and your business as well as information about what's happening at NLJ and what we have planned for the future.

At NLJ, we understand the importance of community. We believe that through our magazine, website, and this newsletter, we can help local businesses work together to reach the area we all proudly call home. Click here to support our efforts in strengthening the community and link to our website from yours.

In this e-issue, be sure to check out our article on the importance of reaching a targeted market— whether your target market is readers in search of their green dream home or readers looking for a new holistic practitioner—as well as information on upcoming issues and special promotions. If you have article ideas, contact Managing Editor Maggie Cramer. Or, if you're interested in taking advantage of our great rates and print specials this month or checking into online advertising, contact a media consultant.

Thanks for being a part of our growing community. We look forward to continuing to help you enjoy prosperity and success!



Sincerely,
The Staff of NLJ

---



Defining LOHAS*

In recent years, popularity of both the sustainable and holistic living markets has skyrocketed, adding numbers to an already large community of conscious consumers that are focused on improving their own health and the health of their environment. In the wake of this boom, an acronym was created to accurately sum up the growing and still emerging market: LOHAS.

The acronym LOHAS stands for Lifestyles of Health and Sustainability, and it describes the U.S. marketplace for goods and services that appeal to consumers who value health, the environment, social justice, personal development and sustainable living: the cornerstones of New Life Journal!

According to LOHAS Journal, approximately thirty percent of all adults fall into this category. That means 63 million consumers. What a great statistic for everyone: green and holistic businesses will prosper, and sustainability and health-minded consumers can find what they need to live a healthy life and tread lightly on the Earth!

New Life Journal is lucky to be situated in the Southeast, with distribution all over Western North Carolina and north Georgia—two of the strongest LOHAS markets in the country. To learn more about the LOHAS market, visit www.lohas.com. And, if you're not a current New Life Journal advertiser, be sure to contact a media consultant today to learn how we can help you reach these important sustainable- and holistic-minded consumers.


---

Score an Advertising Bull's-eye
with a Target Market
By Maggie Cramer

It's not often that stand-up comedians are thought of as the people to go to for advice on marketing your business. But, comedian Mitch Hedgeberg was blessed with marketing prowess: during one of his routines, he likened the distribution of a flyer to a passerby as the same thing as saying to them, "Hey, you throw this away for me."

While the joke definitely got a laugh from the big-city crowd, no doubt people who have been handed their fair share of unwanted promotional pieces, it also contained a serious message for business owners: a targeted market is immensely important. A flyer could be interpreted by the receiver as just another piece of paper for the garbage, but only if it's misdirected. Here's an example: Sofa's, a furniture store, is planning for a sale and, in preparation, mails out a general advertisement to all area condominiums. However, half of the condominium complexes on their mailing list provide tenants with fully furnished units. Needless to say, the residents probably didn't need to purchase any furniture at that time, and the mailing wasn't as effective as it could have been. However, if the promotional item had been specifically targeted for and mailed to new condominium owners likely to be staring at empty rooms, the mailing would have been sure to drum up great business for Sofa's.

A well-crafted advertisement, targeted at the right marked is invaluable. Successful businesses understand they can't be everything to everyone and that no one product is the right item for the masses. Instead, these businesses focus on what they can be: a company that offers just the right thing for a specific clientele. Therefore, it is important to identify your customers—your target market—and pinpoint exactly what they want and need. If you can offer that desire to them, be sure your advertisement speaks to that fact, and be sure your advertisement reaches them directly—whichever method of advertising you choose. After you've done your research, direct mail to those who you know will be interested in what you offer or advertise at events that cater to your customers' interests and beliefs.

While it may seem tempting to plaster and distribute your advertisement everywhere, remember that it may also be tempting for the recipient to toss it without taking its message into consideration. And why risk seeing your advertisement carelessly discarded or overlooked? Identifying and reaching your target market is vital to the success of your business and can help dispel the truth that warrants a laugh from Mitch's joke. While his comical observation will likely always get a laugh, as a business owner who targets their advertising, you'll be able to laugh along with the audience.


Look for a future article in an upcoming e-newsletter on how to fully reap the benefits of target advertising: a well-crafted advertisement.


---
Five Questions With…
Jim Demos of
Demos Builders

Each e-newsletter, we will spotlight one business in the New Life Journal community of advertiser and supporters to help share with you the wonderful things they're doing.

Q: When did Demos Builders begin its first project?
A: Our first project was a cedar-clad, mountain-style home in Riceville in 2003.

Q: What inspired you to become involved in green building and to start your own green building company? Is this reason still your current mission and purpose?
A: I've been a dirt-worshipping tree-hugger from the time my mother read to me as a child Dr. Seuss's environmentalist credo The Lorax through publishing in the EarthFirst! Journal as a twenty-something activist a protest against paper mill pollution along the upper Mississippi River. Earning my NC general contractor's license was an opportunity for me to implement that same earth-loving, conscientious, green philosophy in the WNC building scene. For me, there was just no other way to build. Those experiences and the philosophy they helped foster I hold true to this day.

Q: Since starting your business, what is one thing you've learned about the green building industry you may not have known before?
A: That there is a large part of what's deemed "green building" that really should constitute industry standards of any sound and responsible building practice. I'm thinking about things such as "building tight and ventilating right," waste reduction, building durable structures and using resources efficiently, proper solar orientation and practical roof overhangs, and designs that suit the neighborhood/natural surroundings. These should all be commonplace and not exclusive to any particular niche.

Q: If you had to choose just one thing people may not know about your company and services but should, what would it be?
A: We have the ability to tailor "green" to your personal preferences and lifestyle, making the green features and finishes as conspicuous and palpable as you'd like, or, conversely, gently applying them to the background and in the shadows in a conventional, traditional design. "Your vision of green…realized."

Q: How has advertising to New Life Journal's sustainability minded readers helped your company?
A: I feel fortunate to be anchored through our advertising to such a well respected, honest, and good-natured local resource as NLJ. Given what I take to be the well grounded, culturally alert politics and morality that underlies NLJ, I'm proud to count my company as an associate of the publication. I believe that this relationship gives Demos Builders much-appreciated credentials as a solid, honest, hardworking green building firm.

Demos Builders is a fully licensed and insured NC residential and commercial general contractor specializing in green home remodels and new construction. Owner Jim Demos can be reached by phone at 828-777-2395 (fax 828-253-2541) or through the Web at www.demosbuilders.com.