Decade to Doorways held a Community Thanksgiving event on Thursday, November 19, 2015, at the Chester County Historical Society to raise money for the approximately 30 organizations working to help end homelessness. Over 160 guests including service providers, funders, individuals experiencing homelessness, county officials and concerned citizens attended to support the County's ambitious community-wide and community-driven plan to end homelessness by 2022.

The event, which was part of several events in the Chester County National Hunger and Homelessness Awareness week, was a great success!

Executive Director at Good Samaritan Shelter Nate Hoffer said: "You could really feel the unity and enthusiasm. It was a great event to bring us all together and make us feel like we are part of something bigger in Chester County."

The night's inspiring keynote speaker was Nikki Johnson-Huston, a tax lawyer in Philadelphia, who experienced homelessness growing up. Nikki's message focused around the idea that she was not able to get to where she is on her own, but that she needed help from the organizations in the community to become great.

Others who experienced homelessness, David, Joy and Francesca, similar to Nikki, needed help. Their stories were shared in a moving video by Cabrini College's Capstone Media Creation Course to emphasize that one organization cannot alleviate homelessness on their own. All of the organizations in the community need to work together to prevent and end homelessness.

Interfaith Housing Assistance Corporation of Chester County, a non-profit corporation that has as its purpose the prevention and/or end of homelessness among single parents with dependent children in Chester County, Pennsylvania, won approximately $2,200 and $150 dollars to local grocery stores.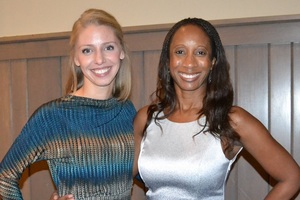 Decade to Doorway Administrator Lauren Hutzel (Left) with the keynote speaker, Nikki Johnson-Huston (Right).

Decade to Doorways Administrator and the night's Emcee, Lauren Hutzel, gave a presentation that hit home with the guests. Reminding everyone that 615 experience homelessness on any given night in Chester County, Hutzel left the guests with some simple next steps:
Tell Someone- Don't allow this to be Chester County's best kept secret anymore.

Give Something- Give to the organizations that are working tirelessly to help the most vulnerable in this County.

Get Involved- Pick an organization you admire and get involved!
To learn more about Decade to Doorways and to see photos and the video from the event, visit:

www.decadetodoorways.org

.

This event would not have been possible with the support of our incredible sponsors:
Acme of West Chester
Beiler-Campbell Realtors
Boxcar Brewing Company
CCRES, Inc.
Cedar Knoll Builders
Chester County Food Bank
​Chester County Historical Society
Costco Wholesale of Glen Mills
Couch Tomato
Delaware Valley Development Company
Giant of West Chester
The Housing Authority of the County of Chester
Housing Development Corporation MidAtlantic
Iron Hill Brewery of West Chester
JB Solutions, LLC
Limoncello
Mission First Housing Group
Old Soul Decor
Pennrose Properties, LLC
Penns Woods Winery
Sam's Club of Exton
Wawa
Wegmans of Malvern
Zukin Realty, Inc