In This Issue
---
Winter Bee Classes
February class registration is open. These are one day beginning beekeeping classes and cover the basics of starting in beekeeping, including tools and equipment, hive management, seasonal maintenance, and honeybee biology and health. Classes are held at Jane Addams Hull House Museum in Chicago from 10 AM to 3 PM. Lunch is shared potluck.
Registration fee is $70.00

to register and pay visit our "Classes" page.

___________________________
Most Popular Holiday Product?
The first correct answer posted to our Facebook page gets a rare 1 lb jar of Chicago Honey Co-op Honey. Which product do you think people bought the most of?

Check out the store
to see the contenders.
________________

Retail Locations
Those of you looking for our beeswax candles can find them at Haymaker Shop. Our Honey Mustard can be found at Southport Grocery, and Chicago's Downtown Farmstand. GreenGrocer has Honey and Mustard gift sets and candles Honey is currently available in our online store

Follow us, we're fun.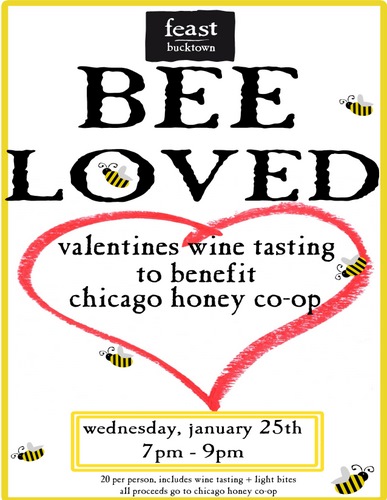 Join Chicago Honey Co-op at Feast Bucktown, 1616 N Damen Ave. in Chicago on January 25th for wine tasting and a special cocktail , the "InCider" featuring Chicago Honey Co-op Honey.
Only $20.00 per person

All proceeds will go toward our apiary relocation fund.
Save the Date and come on out!
---
Donations Update
We are very thankful for the outpouring of support from people from near and far who have shared our story, tweeted, posted to Facebook and suggested locations or connections.

Many thanks to those who answered the call and made a donation towards our apiary relocation. We are happy to say that so far $5,125.00 has been raised. We are trying for $20,000.00 by the end of February so we still need a lot of help.

We are hoping to have enough money on hand when the move comes to cover not only the cost of moving but also the likelihood that we will have to fence at least one or two locations which will cost several thousand dollars.
If you made a donation and Chicago Honey Co-op was not mentioned in your thank you letter from Crossroads Fund, the funds were not directed to us. Send us an email and let us know so your donation goes where you meant it to.
or send a check to Crossroads Fund, 3411 W. Diversey, #20, Chicago, IL 60647. Just make sure to indicate that your gift supports the Honey Co-Op in the notes section of the webpage or on your check.