IVC Los Angeles is one of our newest regions. It opened in 2006 and now supports 7 volunteers. Read on to learn about the experiences of 2 of the extraordinary volunteers in the region, Barbara Adams and Barbara Still.
Barbara Adams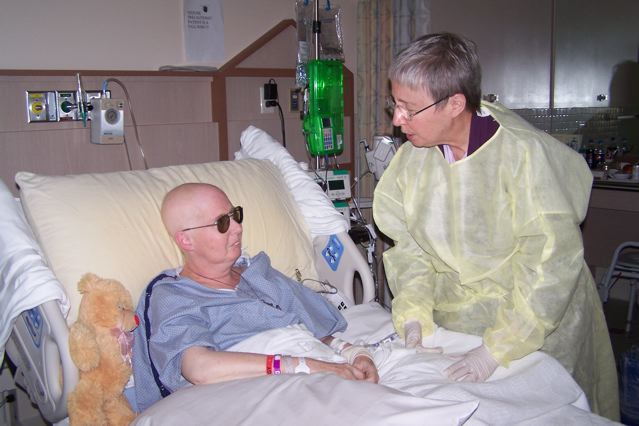 My name is Barbara Adams. I am new to IVC as I retired at the end of 2008 and officially joined at the beginning of 2009. As I planned for my retirement, I looked for an opportunity to deepen my spiritual life as well as a way to 'give back' meaningfully. I had been hearing about IVC in a variety of places: Jesuit publications, their booth at the LA Religious Education Congress and, in the summer of 2008, in my parish bulletin. I applied in the fall of 2008; following some dialog with the Regional Director, Anne Hansen, a placement was agreed upon.

I am serving at a faith based hospital. This hospital serves a
population that is heavily low income, many are uninsured or poorly insured, some are non-documented immigrants. I serve in the Spiritual Care department as a professional chaplain two days a week. My coworkers are an ecumenical group, ethnically diverse and of many ages. This diversity has helped me to deepen my faith and inspired my spiritual searching.
My work is primarily with patients, and their families, who are in the dying process, who are facing illnesses with life-changing consequences, people who are in crisis - emotionally,
spiritually and/or physically. I pray with/for people, facilitate
their journey in a frightening system, provide input into decision-
making on an ethical level and offer grief support. Mostly I listen
and attempt to provide that unconditional acceptance and regard that we all long for.

Our area group meets monthly for mutual support and discussion of a book that we are reading to assist us to deepen our spiritual lives. I also journal regularly to help me to see where God is acting in my life and in my volunteer ministry. I have been assigned to a Spiritual Reflector who is also guiding me on my journey.
Barbara Still
I'm Barbara Still and I relocated from the East Coast to Simi Valley 3 years ago. Last spring, IVC had an announcement in our St. Peter's Church bulletin. I met Anne and learned about the different programs IVC was involved in. St. John's outreach program in Oxnard needed my help so I started working Monday and Tuesdays. We have a food pantry, with a hot lunch program on Tuesdays for the homeless people in the area.
This program has made me aware not only of homeless people but the many others who are in need. This experience has definitely opened my eyes to the cultural and language barriers that exist in Southern California. It takes a group like IVC to team up with a group like St. John's Hospital to get to the real problems in our society. It is very rewarding to hear the appreciation in their voices after all the work is done each day.
Read more about IVC Los Angeles...
IVC is now on Facebook! Search for 'Ignatian Volunteer Corps' on Facebook and become a fan.
There are three ways that you can be part of IVC...
Pray for Ignatian Volunteers and the hundreds of people they serve each day
Join IVC as an Ignatian Volunteer
Make a gift to IVC
Learn more at
www.ivcusa.org