Dear IVC Friends,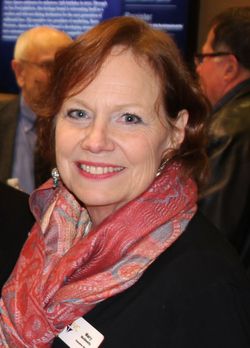 In this Easter Season of joy, love, and our Gospel commission to witness our faith in the world, I express my gratitude to you for your involvement in IVC. You - Ignatian Volunteers and all who support their work – are the hands and feet of Christ to those you serve. An example of how Christ's love permeates lives and Ignatian Volunteers channel that love is this month's Volunteer Story, "Transformed by His Love".

Together, let's envision an IVC present in more cities, putting the gifts of a highly experienced generation into service to the poor and agencies that serve them. We are on the brink of this growth, with new cities doing feasibility studies to open IVC offices. Financial resources are the only thing we need to make this happen.

Can you help us this Easter Season? At its February meeting the IVC Board of Directors set out on a new challenge; one that will generate $300,000 in additional revenue for our ongoing work. The board committed to donate or raise $100,000 and obtained a commitment for an additional $100,000 gift from an anonymous couple. But the $100,000 gift will only be received if a further $100,000 can be raised by the broader IVC community between Easter and Pentecost (May 24). This opportunity comes with a vision of invitation, abundance, and blessing. The combined total of $300,000 (or more!) in new revenue will help support and grow the Corps, to bring Ignatian Volunteers' experience and compassion to more agencies and those they serve.

I hope you will help us win this grant. We have great momentum – we've already raised $70,400 – and are reaching out to all our IVC friends to help us now. Any gift you make by May 24 will be magnified with the Challenge.

Pray for IVC and help us extend the Pope's invitation of being the "church for the poor" to more people.

In gratitude for all you do to live Christ's love in the world,

Mary McGinnity

Transformed by His Love
Jan O'Halloran embraces a fellow retreatant on an Ignatian Spirituality Project (ISP) retreat. Jan is an Ignatian Volunteer in Chicago with ISP, whose tagline is

"Spiritual retreats ending homelessness"
"Spiritual retreats ending homelessness" is the tagline of the Ignatian Spirituality Project (ISP), an IVC partner agency. ISP's retreat model cares for the interior and spiritual lives of those living with homelessness and suffering from addiction. Through a blend of Ignatian spirituality and the 12-Step Recovery Program, ISP retreats lay a foundation of hope and healing for those living on the margins. This gift of hope empowers participants to access longer-lasting transformation, including housing stability, ongoing sobriety, and furthering education and job attainment. ISP was founded by Ed Shurna and Bill Creed, SJ, who served for many years as Chaplain to IVC Chicago.

Ignatian Volunteers serve as Retreat Coordinators in three of ISP's 24 cities – Boston, Chicago, and Cleveland.

Tom Drexler, Executive Director of ISP states, "ISP provides the spiritual resources and a fundamental foundation of hope where different choices can be made. The spark gained on an Ignatian retreat can lead to long-lasting hope and transformation."

"Retreatants tell their stories and locate God in the story – in the beauty, struggles, joy and pain. For many who haven't experienced this type of spirituality, the idea of finding God in the struggles, in the darkest moments of life, is astounding."

Tom continues, "The benefit of an IVC Coordinator for ISP is that he or she is giving 16 hours a week. We encourage them to visit shelters and form ongoing spiritual companionship programs. They bring positive energy. It's so beautiful. A lot of our coordinators have full-time jobs. Ignatian Volunteers have the time to give. They allow that energy to

read more
Help us Win the Challenge Grant!
This Easter Season, help IVC win a $100,000 Challenge Grant by making a gift by Pentecost (May 24). You can designate your gift to an IVC region or to wherever it is needed most. Thank you for your generosity.
IVC Blog
Contemplations
offers a taste of our service and reflection program.
Here is a snippet of Ignatian Volunteer Arminda Au's recent post, "What's in a Name?":
To call someone by name, especially in ministry, is to help God express His love for our sisters and brothers in need. It is a simple, but profound, gesture to let them know we each belong to a loving God.

"I have called you by name: you are mine." - Isaiah 43:1
Read her blog post
.
---
Easter Examen
We share a special Examen for the Easter Season from IgnatianSpirituality.com.
---
Easter
Prayer
Loving God,
We rejoice now in the glory of your resurrection,
celebrating your life with Easter joy.
We are filled with confident hope and feel our spirits renewed within us.
Our hearts burn with a new depth of love as we see your light shine in the darkness.
Lead us, Lord. We are your people.
May we spend this day praising your glory and being filled with confident hope as you hold out your wounded hands to us with joy.
Amen

From "Praying Lent", an online ministry of Creighton University.
---