Meet Bill Svoboda, IVC Volunteer and "Guy Friday"
According to Cathy Duer, IVC Regional Director in Cleveland, Ohio, Bill has come along at just the right time. Cathy needed some assistance in the IVC office to help with various administrative tasks. Bill's willingness to be of help where he is needed is the attitude of IVC members, whether at the partner agency or for the region.
Read what Bill has to say and notice the Ignatian charism of "availability" at work.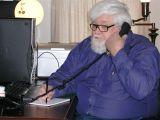 takes a call for IVC

My name is Bill Svoboda. I am an IVC volunteer in Cleveland, Ohio. Currently I spend the majority of my time working in the regional office assisting the Regional Director, Cathy Duer. You may wonder how I landed in the office and not out with the people living on the edge. Well, it wasn't easy.
When I retired in 2001, I heard about a new volunteer program for retired men and women that was just was beginning to form in Cleveland. After seriously considering joining, I had to put it on hold when my youngest daughter and new grand daughter needed my help. My daughter, who suffers from mental illness and drug abuse, was being abused by her husband and she was not being a good mother. I tried to become a volunteer again, but it didn't work out.
My granddaughter came to live with us by the time she was one year old and remained with me and my wife until she finished kindergarten. We worked with our daughter and doctors and continue to so. After another year or more I received another invitation to join the Jesuit group and soon I became an IVC volunteer. My placement was at the BRENDAN MANOR.
Brendan Manor, Inc, housed in a former convent, has served as a group home for over 20 years. The adult residents, men and women, suffer from various levels of mental instability. Their education ranges from college graduates to those who never learned to read or write.
For 5 years, I worked at Brendan Manor two times each week and I washed dishes, set tables, and tried to converse with residents. It was difficult at first. They did not trust me and I watched my back. Six months later things began to change. At first, I was assigned to take them to see their doctors. Then they started asking for me to take them to see the doctor. All of a sudden I was asked to go in with them to see the doctor. I had become a member of this little family! I trusted them and the trusted me. We ate together, we joked, we argued, we were together at Christmas and Thanksgiving. And sadly, some of the residents I worked with have died.
One year ago I became ill. I could not do the steps or walk the halls without becoming very short of breath. I had a lung problem and nothing was going to change.
I informed Cathy that I would have to quit the IVC. She suggested that I attend the monthly meetings of IVC when I was up to it.
The members of the Cleveland IVC were very supportive during my period of depression. They kept encouraging me to attend the meetings and growing in my spiritual life. In May of 2008, I asked Cathy to place me at the Manor again. She suggested I give it a try first for a short day and also think about working in the office. Today, I work 2 days per week at the IVC office and I also have started going back to visit "my family" at Brendan Manor, Inc.
I have to thank Cathy, the men and women of the Cleveland IVC for all their understanding and love. They are a loving group of volunteers, who love their assignments, and love each other. My spiritual life has grown far deeper that it was before I joined IVC. I have learned how to pray and to grasp the meaning of a prayer-filled life.
Bill Svoboda
Read more about IVC Cleveland...
IVC is now on Facebook! Search for 'Ignatian Volunteer Corps' on Facebook and become a fan.
There are three ways that you can be part of IVC...
Pray for Ignatian Volunteers and the hundreds of people they serve each day
Join IVC as an Ignatian Volunteer
Make a gift to IVC
Learn more at
www.ivcusa.org