The Chicago region opened in 2001 and has been a strong Ignatian presence in the metro area ever since. There are currently 44 active IVC Volunteers serving in a wide variety of service agencies and schools.
All the IVC Volunteers truly embrace the Ignatian attitude of service and availability. This includes being open to opportunities to spread their spirituality and promote the faith and values of the Society of Jesus.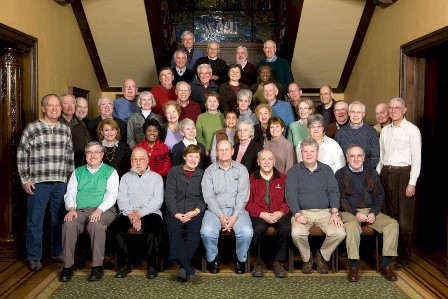 The Chicago region at their Opening Retreat in September 2008.
As part of their community monthly meetings, George Sullivan, Regional Director, often reviews Ignatian prayers. One month he introduced one of the key practices, the Examen. Read on to see how the Ignatian spirit of openness and service prompted a group of IVC Volunteers to provide the Examen for Spanish-speakers. Click here to read the story and find El Diario de Conciencia.
The 2007-08 Annual Report (our Winter 09 newsletter) is now available online. Click here to read more.
There are three ways that you can be part of IVC...
Pray for Ignatian Volunteers and the hundreds of people they serve each day
Join IVC as an Ignatian Volunteer
Make a gift to IVC

Learn more at www.ivcusa.org