---
Break Your Curfew this Friday at the Power Center
Got big plans this weekend? Cancel them. Neutral Zone has you covered. Check out the details below of Breakin' Curfew and the Breakin' Curfew V.I.P. Party -- this Friday!

A show produced, marketed and curated by Neutral Zone teens, Breakin' Curfew is a show put on annually in collaboration with the University Musical Society (UMS). This Friday, May 11, at 8 p.m., talented teens from all over SE Michigan will be taking the stage at Ann Arbor's Power Center. Known for diversity in music, poetry, dance, and visual arts, Breakin' Curfew is a show that targets a crowd of all ages. You won't be disappointed in this year's show, ranging from bhangra dancing to poets; with a few surprising twists.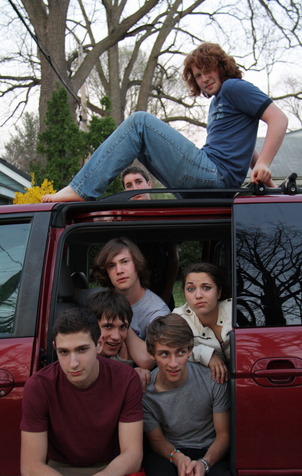 All of the performers in Breakin' Curfew are teens from across Michigan. This year's lineup:
•MVP Bhangra Dancers (from Plymouth-Canton)
•Bad Television (post-emo math roll revival from Saline)
•PHS String Octet (skilled string musicians from Pioneer H.S.)
•Chris Terrell (singer/songwriter from Ypsilanti)
•Mariology (percussion ensemble from Huron H.S.)
•Dustin Schonhard (ballet dancer from Jackson)
•The Ins & Outs (rock band from Ann Arbor)
•Kerry Fingerle (singer/songwriter from Ann Arbor)
•Kids Klez (a klezmer ensemble from West Bloomfield)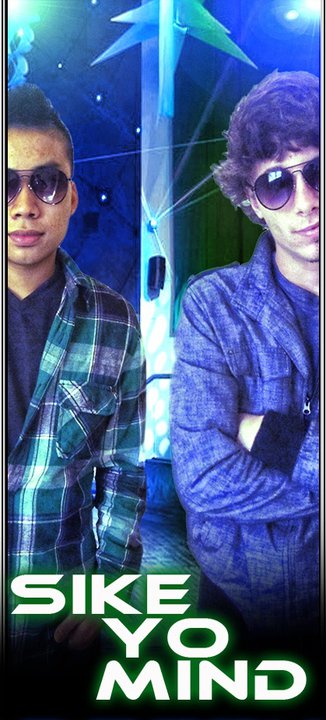 •Sike Yo Mind (rap, hip-hop duo from Holland)
•Skyline Blues (16 member a cappella group from Skyline)
•Fiddlers Restrung (fiddling sensations from Saline)
•Lottie & The Manatee (pop/folk group from Chelsea)
•Nick Masters Quintet (from the Detroit Civic Jazz Program)
•K.O.K. & Delegate (hip-hop, rap and dancer Quinton Howard)
•Peace Be Still (rock/metal band from Milan)
•Carmen Flesher (solo violinist, Skyline and Ypsilanti Symphony)
•Hank Miller & the Pioneer High School Big Band (rat-pack classics)
•DJ Ell (Elliott Sabbagh, Skyline student)
•VOLUME Neutral Zone Youth Poets
This year's "Octopocalypse" theme is subtly interwoven throughout the evening, inviting you to imagine your own theory of an octopus-apocalypse, bringing you sights and sounds you've never heard before. The teen curators have worked hard all year to create a show that is unpredictable, remarkable and unforgettable. Read below to find out how to get your show and your VIP party tickets.
---
Catch the Show in V.I.P. Style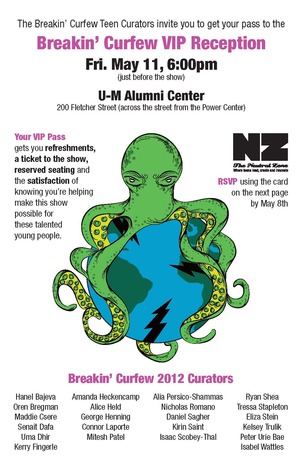 Just because you're not a teen, that does not mean you can't be a big part of the show on Friday. The Breakin' Curfew Teen Curators invite you to the Breakin' Curfew V.I.P. Reception this Friday, May 11 at 6:00 p.m. (just before the show). The party is at the U of M Alumni Center at 200 Fletcher, right across the street from the Power Center.
Your V.I.P. Pass gets you refreshments, a ticket to the show, reserved seating and the satisfaction of knowing you're helping make the show possible for these talented young people. It's also a great way to get to know the amazing community of people who make this event possible. R.S.V.P today to make sure you get a ticket.
Patron Passes are $50 each and benefactor Passes are $100 each. (The only difference is the extra support you will be giving for this incredible performance!).
Click here for a PDF of the VIP invitation
Click here for parking info and more details.
For more information, call Mary Moffett at (734) 214-9995 ext. 228 or
email: mary@neutral-zone.org.
---
Tickets on Sale Now
So, how do you get tickets?
NZ-
Tickets can be purchased at the Neutral Zone on Weds from 2-8 p.m. and from 2-8 p.m. on Thursday
Schools - Tickets will be on sale during lunch at local high schools today, Wednesday and Thursday only
UMS - The UMS ticket office in the Michigan League will be open until 5 p.m. on Friday
The Power Center -- box office will open at 6:30 p.m. (show starts at 8 p.m.)
*Note: from 5 p.m. until 6:30 p.m. tickets will not be available on Friday
Ticket Prices
Student tickets:
$10 in advance if you buy 'em at Neutral Zone or when they are on sale at local schools
$12 at the door or if you buy 'em from UMS by phone: 734-764-2538 or in person at the UMX box office in the Michigan League
General tix: $18 available at NZ or by phone, at the box office, or online at www.ums.org
V.I.P. Party
V.I.P. tickets start at $50, which includes a reception at the Alumni Center and special balcony seating at the show. V.I.P. tickets are available only at Neutral Zone, and only until Thursday at 5 p.m.
---
This Octopocalpse Made Possible By
We could not put this show together without the support of our generous and wonderful sponsors. Please show them your love any time you get a chance.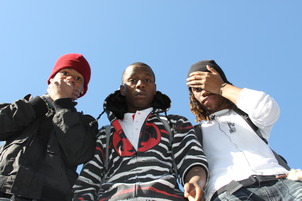 Generously Supported by:
PNC Foundation
Michigan Council for Arts & Cultural Affairs
Emcees & DJs ($2,500)
MASCO Corporation Foundation
Northwestern Mutual
Poets ($1,000)
AnnArbor.com
Cranmer Communications
Debbie & Norman Herbert
The Kruzel Family
The Petersen Family
Leonard Weiss
Artists ($500)
Mike & Lesa Huget
Agnes & David Sarns
Denise Thal & David Scobey
William & Robbie Stapleton
Lori Bennett & Steven Stein
Fans ($250)
Marie Deveney & Marty Pernick
Tara & Dan Mahoney
Salon M
---
P.S. Vote for us on facebook!