THANKS TO THE NEW HAMPSHIRE CHARITABLE FOUNDATION!!!
We would like to extend a hearty thanks to the New Hampshire Charitable Foundation for their recent support of $5000. This money will be used specifically to increase publically available information regarding the beneficial relationship between stabilized human population and sustainable development.
The New Hampshire Charitable Foundation has been improving the quality of life in New England communities since 1962. It builds and manages a collection of charitable funds, totaling nearly $490 million, created by individuals, families and corporations. The Foundation awarded more than $33 million in grants, scholarships and initiatives in 2007. NECSP is proud to be a 2008 recipient.
NECSP ON-LINE!!!
NECSP is excited to be growing our on-line presence. This issue of The Nourished Earth will feature 3 places you can find us on the web -- having some fun while your at it!
---

FACEBOOK: Facebook is an innovative social networking site, filled with the vibrant energy of young folk and old alike. Over 5 million Facebook members voted on election day. Progressive causes are proliferating and drawing new members via this exciting internet destination.
NECSP is now an official FACEBOOK CAUSE. Join our cause and find your old friends -- or make some new ones!
Facebook Causes says, "We present an unprecedented opportunity to engage our generation, most of whom are on Facebook, in seizing the future and making a difference in the world around us. Our generation cares deeply, but the current system has alienated us ...any Facebook user can leverage their network of real friends to effect positive change.
"The goal of all this is what we call 'equal opportunity activism.' We're trying to level the playing field by empowering individuals to change the world. We're democratizing activism by empowering activists with an arsenal of tools for users of Facebook who want to leverage their network on Facebook to effect positive change."
---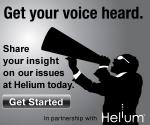 Helium:: Helium is home to a diverse community of writers who share ideas on thousands of topics. It is a thriving network of scientists, teachers, college students, thought leaders, professional freelancers, nurses, political activists - in other words, people just like us! Share what you know: Write essays and reviews, or hone your journalism skills by focusing on news articles. Compete in writing contests or see your name in print by getting published with one of our publishing partners.
NECSP is now a HELIUM PARTNER. Visit our page and put on your thinking cap.
---

Firstgiving: Firstgiving believes in giving all nonprofits the same opportunity to raise huge amounts of money. Over 1.3 million people have helped raise $76 million dollars for 16,000 nonprofits using Firstgiving.
NECSP is now a FIRSTGIVING PARTNER. Create a fundraiser for NECSP and see how much you can raise!
You can make your own fundraising page on Firstgiving to raise money for any nonprofit organization, including NECSP. Email your page to friends, family and colleagues, who donate by credit or debit card in an easy, secure online transaction. Firstgiving will send us all the donations to NECSP, minus a small transaction fee.
---
John Feeney is a veteran blogger and population activist. His main blog used to be "Growth is Madness", but this spring he launched John Feeney.
John's is an accomplished writer, whose work has appeared in Atlantic Free Press, the BBC News's Green Room, Countercurrents.org, Culture Change, Dissident Voice, Energy Bulletin, Online Journal, PeopleAndPlanet.net, Share The World's Resources, and SHIFT Mag, to name a few.
John was also published in The Guardian in May 2008. Not only is the article worth the read, but the over 200 comments are revealing of the "politics of population". Click here to read.
Now John has a new project born of a simple idea: What if a large number of qualified voices worldwide, many of whom might not have emphasized the topic previously, were to speak out on population all at once? The strength of numbers might help weaken the taboo and bring population to a more prominent position in the global discussion.
And so was born the Global Population Speak Out initiative.
First John asked existing population leaders, NECSP Executive Director Joe Bish included, to sign onto a solicitation letter. He then did the leg work to send this letter to leaders he hopes would pledge to speak out on population during February 2009. He was originally hoping for 50 pledgers, and already has that amount.
Click here for a list of those who have pledged.
Many thanks to John Feeney and his tireless efforts for a sustainable world. Don't forget to watch for the what the pledgers have to say in February 2009.

NOTE: The Director's Corner will return next month.