In This Edition

Become a Festival Supporter
Please consider making a donation to us! Your contribution will be tax deductible and go directly towards bringing the best ocean films and filmmakers from around the world to Bay Area audiences. With your help, we can increase active participation in ocean conservation. THANK YOU.
Don't forget to check out our website to find out what we're doing and how you can join in:
www.oceanfilmfest.org
Join the Conversation
Less than Two Weeks Until Opening Day!


Less than two weeks to go until opening day of the 7th annual San Francisco Ocean Film Festival, February 3-7, at Theatre 39 on PIER 39. With more than 50 Films, ranging from sharks to surfing, island culture to conservation and much more, this year's Festival is set to be the most action-packed yet.
The Festival is divided into 12 programs, which each feature 3-5 films as well as the opportunity to interact with filmmakers.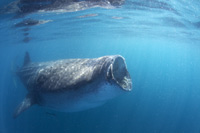 More than 25 filmmakers will be onsite to lead Q&A sessions during film screenings, as well as to mingle at the Meet the Filmmakers Reception at Aquarium of the Bay on Friday, February 5. Participating filmmakers for the 2010 Festival include:
Individual program tickets, Film Program, Festival Passes, VIP Passes, Discounted Parking Passes and more are available to purchase online.
Purchase your $10 benefit raffle drawing ticket today, for the chance to win an adventure of a lifetime, compliments of O.A.R.S. Imagine paddling alongside orcas as you and a guest spend four days exploring the magnificent coastline of western British Columbia in your new Kokatat TecTour Anorak jackets, returning each night to gourmet meals at a seaside lodge. In the summer, more than 150 orcas gather in the Johnstone Strait to the northeast of Vancouver Island.


The drawing will be held following the last screening on Sunday, February 7th. The winner-and it could be you-need not be present to win.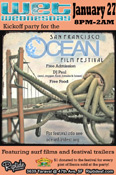 Kick-Off Party at The Riptide
Can't wait until February 3rd? Neither can we! Join us next Wednesday, January 27 at The Riptide Bar for the official Festival kick-off party. Purchase tickets for the Festival, enjoy free food (while it lasts), music by DJ Paul and check out the official 2010 Festival trailer and previous festival surf films. Sierra Nevada will donate $1 to the festival for every one of their beers sold.
Festival Blog
Dive deeper into the lives of the filmmakers and organizers behind the San Francisco Ocean Film Festival by checking out our blog. Read interviews with filmmakers, check out film trailers and more to help you decide which programs to attend. With such an incredible lineup, why not make the decision easy by purchasing a Film Program, Festival or VIP pass?
We are pleased to announce the official sponsors of the 7th annual San Francisco Ocean Film Festival. The generous support of these organizations allows us to bring you a world class event and the best in marine-focused films.
Presenting Sponsors:

Supporting Sponsors:



Media Sponsors: