Hotels use "Green Choice" to bash workers
by Liv Capozzi - Canada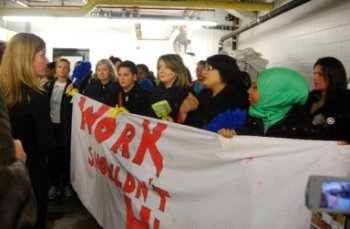 On November 18, the early morning routine at the Toronto Sheraton Centre was anything but normal.
My friend and I were among 30 women carrying buckets, mops and dusters intent on joining room attendants as they began their morning shift.
Among us were lawyers, politicians, union members, mental health workers and students with a common mission: to stand in solidarity with our sisters in the hotel industry.
Our goal was to offer concrete support by helping to clean rooms. Our hope was that, for at least one day, no room attendant would return home in pain.
After we introduced ourselves, members of the hotel worker's union, UNITE HERE Local 75, explained how the hotel's "Make a Green Choice" initiative has hurt room attendants, all of whom are women.
"Make a Green Choice" initiative offers guests who stay more than one night an incentive, such as a $5 meal voucher or loyalty points, to decline housekeeping services. The union estimates that for every 16 "Make a Green Choice" participants, one room attendant loses a shift.
Work shouldn't hurt
This program also causes injuries. Rooms that have not been cleaned for several days are dustier and dirtier and take longer to clean, yet workers are expected to clean them within the same allotted time as rooms that are cleaned daily.
The union had kept this protest highly secret, so as not to tip off management. As our group marched towards the housekeeping meeting room, deep within the Sheraton Hotel, workers expressed surprise and delight at our appearance.
Upon arrival, we asked if we could participate in the morning shift and, as expected, management refused and tried to dismiss us.
Instead of leaving, we confronted the managers about their " Make a Green Choice" initiative. For thirty minutes, with mops, buckets, and dusters in hand, we pushed for more information about room attendant workloads and injuries.
A hotel manager refused to answer our questions, stating repeatedly that she was not authorized to speak for the General Manager, Tony Dunn, who was conveniently unavailable.
The room attendants heard us raising our voices and refusing to leave, and they joined in with their frustrations and concerns. As one individual pointed out, "I work all day. I deserve a break. I am old, and they keep asking me to do more!" We echoed such comments by chanting "Work shouldn't hurt!"
As two police officers escorted us out of the hotel, the surrounding buzz was palpable. We didn't get answers from management that day, but we did demonstrate that working women have a common interest in fighting for work that doesn't hurt.
That same morning, women in ten cities across the US and Canada (Chicago, Honolulu, Santa Clara, San Francisco, Los Angeles, Long Beach, San Antonio, Sacramento, Indianapolis and Vancouver) also rolled up their sleeves to help Hyatt housekeepers clean their rooms.

These actions were in support of 3,500 Hyatt housekeepers who filed work-related injury complaints with OSHA.

Liv Capozzi works as a psychotherapist in Toronto, Ontario.