Partner Activities
As you know, from time to time we like to feature new books, seminars and other activities our faculty members are involved with. It has been an unusually busy fall for our wonderful teachers and partners.  Here are some of their programs and activities. Please contact them directly if you are interested in more information or want to support their mission.  If you know of any upcoming programs that would be relevant to Winter Feast followers, please let us know, and post a brief note and link in our Facebook meditation group.
The Gaiafield Project
Our partners at Gaiafield conducted another major event for UN World Peace Day on Sunday, September 21. Are you feeling concern in response to violent outbreaks in many parts of the world? At a loss as to what to do about it?  They have another event scheduled for December 21. You can have your own moment of peace, or gather others together in your area. If you attend church on Sundays, may also want to suggest a similar event for your congregation as part of your weekly services. Check BeThePeace.com (click this link for more information) to learn of other related activities that have been held and to join their mailing list.
Don Kollmar
Don Kollmar facilitated his Horizon Event Intensive retreat in Santa Cruz, CA from October 11-18.  This 7-day residential meditation intensive is the integration of two prior meditation intensives, The Transformation Intensive and The Conscious from Consciousness Intensive. His retreats are dedicated to helping you experience a shift in consciousness from which there is no longer a pull to live from the limitation of your mind based self, which limits who and what you are. These themes were touched on in his 2013 Winter Feast meditation series. For more information visit this link, or email Don.
Eric Klein
Wisdom Heart teachers Eric Klein and Devi Bliss made a European tour this fall, with programs on Healing Family Karma in Berlin, Germany (September 19-21), Galway, Ireland (September 26-28), Lake Como, Italy (October 10-12), and Cardiff, Wales (October 17-19). The Healing Family Karma workshop is a deeply engaging experience that shows you how to use your mind to change your brain…your karma and your life, and open pathways to your deep wisdom and courageous heart.  For more information on their programs, click here.
Sarah McLean – McLean Meditation Institute
Sarah McLean offered programs in Europe and the US this fall. They included Awaken Your Inner Wisdom on in Cork, Ireland, Soul Radiance Retreat in Oxfordshire, England, and several programs, including meditation teacher training, in Sedona and Scottsdale, AZ. She ends the year with a Be the Peace New Year Meditation Retreat in Sedona on December 31-January 1. For information or to register, visit her program calendar.
Mingtong Gu - The Chi Center
Master Mingtong Gu and The Chi Center in northern California offer a free online introduction to Qigong. It is the first course in a three part learning series on Qigong. The Practitioner Program is a series of courses designed to guide students through the foundations of Wisdom Healing Qigong to cultivate, connect and renew the mind, body and heart over a one year time period. The students in the Practitioner Program study as a class for the whole year, giving support and coming together as an online community. Online, In-Person, Beginner and Intermediate Level classes are offered at the Chi Center, and other wellness and abundance seminars are planned for Santa Fe and Colorado Springs. Master Gu will be celebrating Thanksgiving at a Healing Intensive Retreat in Israel.
Davidji
Davidji's programs are frequently sold out, so if you want to connect with him this winter, visit his web site! Some of his programs this fall included Spiritual Re-boot Camp/Reconnect with Your Spiritual Self, Explore the Five Realms retreat at Tulum in the Mexican Riviera, and the Secrets of Meditation Healing Immersion for crisis mediators. He is offering a 4-day interactive experience in Carlsbad, California called "Find Your Purpose and Live Your Dream" March 26-29, 2015.
Anam Thubten – Dharmata Foundation
Rinpoche Thubten was in Bozeman, MT in September. Boston, MA at the Harvard Divinity School in September, Seattle, WA in October, and Washington, DC in October.  For information on his upcoming travel schedule, contact Dharmata Foundation for details.
David Shahabuddin Less
Schedule permitting, David Less offers periodic live, streamed meditations and classes called The Quest for Spiritual Liberty online on Tuesday nights.  Classes from this fall are available, and he will offer more meditations through December. Recent classes are archived on the LiveStream site, and may be viewed any time. These classes are free (donations appreciated). Topics range from renunciation, to stories about important spiritual teachers he has known worldwide over almost 50 years, to chanting and commentary on teachings from all spiritual traditions.
Rising Tide International
Our partner Rising Tide offers a variety of classes in Florida throughout the fall. For their schedule of events in Sarasota, go here or visit their web site. Monthly events include a druid slide show, women's meditation circle, Rumi classes, healing seminars, dances of Universal Peace, movie nights, yoga classes and weekly all faith Universal Worship Services on Sunday mornings.
Abrahamic Reunion
A very interesting effort to help bring peace to the troubled Middle East is the Abrahamic Reunion. This group of Jews, Christians, Muslims and Druze who live and work in the holy land have a unique approach that involves being a living example of how it is possible for all people to live in peace in this region. Monthly they meet together in different cities in the holy land to pray together, eat together, and walk through the streets of the town as a group to demonstrate to local residents that each tradition has much they can share with each other. Such unity is virtually unknown in the Middle East. The last event was Sunday, October 26, and brought together West Bank Palestinians, Jews, Christians, and Druze to eat, walk, study each other's scriptures (many for the first time), and join together in peace. Other such gatherings will occur monthly for the next year.  Each event costs about $5,000 to cover the cost of buses and kosher food for over 100 participants. For more information or to donate to help continue this activity, click here.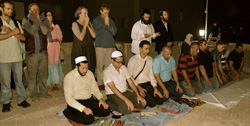 Muslims, Christians, Jews and Druze gather together for their prayers in the Holy Land as part of Abrahamic Reunion peace events.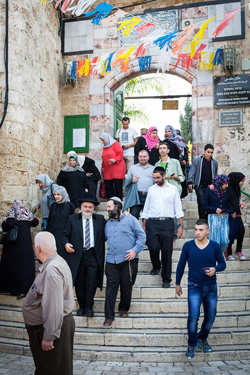 Wishing you all a peaceful, beautiful and illuminating autumn (or spring) season!