Your help is still needed for Christmas gifts to children in Haiti
by Lourdes Valladares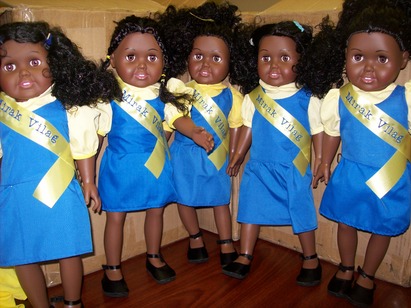 Merry Christmas, or "jwaye Nowel" in Haitian-Creole to all of our friends! During the hustle and bustle these days, let's not forget this Holy season, thanking God for sending us His Son Jesus.
Please read on as we need your help in making this Christmas a very special one for children in Haiti. Our current project in partnership with Love a Child is to provide gifts to the students of Miracle Village School in Fond Parisien, Haiti. I first introduced this project via our newsletter in the early part of this year and again in our October newsletter. (Note: You may also skip the background and just scroll down to where you see this sign (*) to learn how you can help right now! Thank you)
The dolls (pictured above) and soccer balls are on their way to Haiti, all 307 of them, for the children of the new Miracle Village School (October 2011 newsletter, New School opens). We thank the donors from the bottom of our hearts that have given $1,620 so far toward the gifts. We are, however, needing an additional $1,080 to cover for the remainder of costs of the soccer balls, dolls, shipping fees from the manufacturers, and fabric and miscellaneous supplies that were used for sewing the dolls' uniforms which are just like the ones the girls wear! (see photo below). But like the founders of Love a Child Bobby and Sherry Burnette often say, "Faith doesn't know that we ain't got the money!" So ahead we went and ordered the full quantity of dolls and soccer balls by faith as the shipment needed to leave our office by mid-November (which it did!) Many, many hands took part in making this possible; too many to mention at this time. (I don't want to leave anyone out, but you know who you are and we thank God for you). Frank and I drove to Fort Myers last month to drop off the gifts, where LAC prepare their ocean containers for Haiti. I don't doubt for one minute that Sherry already has a team of volunteers waiting to inflate all 150 soccer balls as soon as they arrive!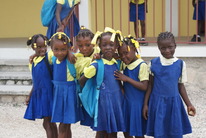 But, friends, we're still short of funds.
(*) We are asking that 122 persons reading this newsletter can each donate $10.00 to reach this goal. Your gift is tax-deductible and of course, you may donate more as your special year-end gift to help us continue reaching out to the children of Haiti and we will provide a receipt for tax purposes. There are various ways you may donate. If you have a Paypal account, you may send funds to our email valladares@projectchild.org, you may call our office at (727) 526-2578 to donate via credit card, or you may mail your check to Project Child, 3133 49th Street North, Saint Petersburg, FL 33710. Please help a chil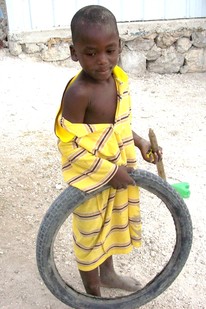 d like the boy pictured here and imagine his joy when he receives his own soccer ball this Christmas! My heart broke when I took this photo this past October. Help us to start the new year debt-free so that we can continue doing God's work. Thank you, and have a blessed Christmas as we celebrate the birth of our Savior Jesus Christ!
Give a Coffee Gift Basket this holiday or any day!

Give a coffee gift basket and help children at the same time

Mountain grown arabica coffee from Costa Rica's Tarrazu region. It is truly amazing coffee! Support Project Child and the children we serve. Available whole bean, ground, decaffeinated, or flavored. Order your gift basket today or simply order by the pound. Amazing Coffees...Coffee for the Soul. Visit us at
www.amazingcoffees.com

Project ChildHelp, Inc. (dba Project Child) is a Christian, non-profit 501 (c) 3 organization incorporated in Florida in 1999. We are dedicated to serving children who are impoverished, orphaned, abandoned or neglected. We help meet their physical, medical and spiritual needs.
Project ChildHelp, Inc. is registered as #CH12258 with the Florida Division of Consumer Services.
A COPY OF THE OFFICIAL REGISTRATION AND FINANCIAL INFORMATION MAY BE OBTAINED FROM THE DIVISION OF CONSUMER SERVICES BY CALLING TOLL-FREE (800-435-7352) WITHIN THE STATE. REGISTRATION DOES NOT IMPLY ENDORSEMENT, APPROVAL, OR RECOMMENDATION BY THE STATE.
DONATE
To make a tax deductible donation, please call our office Monday - Friday 9 am - 5 pm(727) 526-2578 or email us at valladares@projectchild.org and we will contact you right away. Our address appears at bottom of newsletter if mail is preferred. Our website is Under Construction and we will soon return to accepting your donations in our secured website. Paypal is also accepted.
Areas of Giving for 2012.

Please prayerfully consider donating in the coming year or giving items for these needs:

Funds for Meals Packets for just $0.23 cents per serving!
School Packs complete with pencils,sharpener, eraser, crayons, pens, scissors, ruler for just $1.00 per pack!
Donate a treadle sewing machine.
Donate toward Christmas 2012 Dolls & Soccer Balls
-------------------
Items of ongoing need:
Disposable Diapers(sizes 1,2,3)

Large Bottles of Shampoo,

Toothpaste

Baby Powder

Large bottles of Lotion
Large bars of bath soap

Ajax/Comet cleaners

Paper Towels

Go on a Mission Trip in 2012 :
Haiti
Contact Lourdes for more information:
(727) 244-8289,
cel

LAC is now in the Dominican Republic.

Trip dates:
January 14-20, 2012


February 18-24, 2012

March 10-16, 2012

April 7-13, 2012
May 26-June 3, 2012

June 15-21, 2012


Isaiah 9:6

For to us a child is born, to us a son is given; and the government shall be upon his shoulder, and his name shall be called Wonderful Counselor, Mighty God, Everlasting Father, Prince of Peace.