Greetings from Vermont in the name of our Lord Jesus Christ!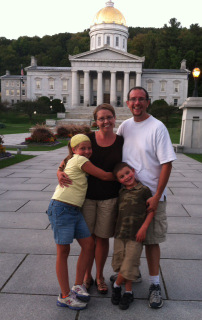 Our summer is drawing to a close, and it is time once again for us to review with you areas where God has been at work. This time, however, we are also presenting real and pressing financial needs our church has as we move into a new fiscal year. The nature of church planting in New England is a tricky one as we rely on outside support. For those of you that have supported us in the past, we thank you. We truly cannot do this work without the resources God provides through you.
We ask that all would prayerfully read this newsletter to learn about how you or your church can financially partner with us on mission in Vermont.
YOUTH MINISTRY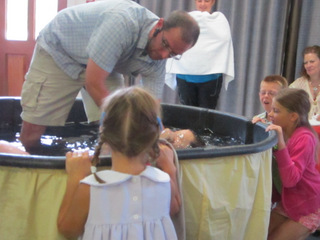 This past year we baptized five teenagers! (Two just this past Sunday!) If we were to share the individual backgrounds of each of these changed lives, you would understand how needed a ministry to teens is here in Northfield, Vermont. Without breeching any confidentiality, we can share that these teens represent families where a parent is in prison, a parent is against their faith, and/or poverty looms around the corner. These students have deep emotional wounds, and despite all that wars against them, they fully rely on God as their Source of strength.
Currently, we run this ministry at $600 a year. This money is used to purchase curriculum and offset mission trip costs (They just returned from WorldChangers in Neptune, New Jersey). Would you or your church consider "adopting" this ministry for the 2013-2014 fiscal year?
COLLEGE MINISTRY
Many of you have also read of our ministry to college students. We currently have approximately 40-50 students who regularly attend our services during the school year. Many of these students come to our house after the service for a time of fellowship. We have started a Bible study on campus and two more studies are scheduled to start on campus next year. It is amazing to see all that has transpired in the lives of these young men and women. We are honored to be a part of this work.
As you might also be aware, our church has been attempting to support this ministry for four years. To be frank, half of our church population is comprised of college students, many of whom have no outside income available for tithing. We have been approached by some of our students who are aware that they are receiving so much from our church but who are also aware that they cannot help offset the costs. So they help out with service as they can.
Our budget for this ministry is set at $500 a year with additional costs added for a church van to transport them to and from the school. The insurance on this van is $270 a year. Our projected maintenance costs on the van are $400 for the year. Would you or your church consider "adopting" the college ministry, the van insurance, or the van maintenance for the upcoming fiscal year?
CHILDREN'S MINISTRY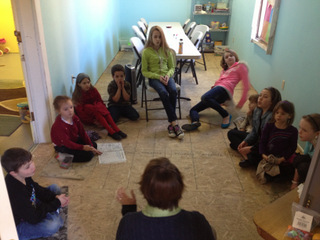 Robyn has faithfully run our children's ministry since the "birth" of our church. We have a nursery for our youngest children and we run a kid's church program for children ages 5-12. On a typical Sunday, we have 10-12 children in kid's church and 3-4 younger children in the nursery. Currently, our budget for the entire program is $600 a year, but we honestly need to increase this to at least $850 a year. This money supplies curriculum to the children and tends to other materials' costs. Robyn would like to add a curriculum for our 3-4 year-olds, hence the reason for the increase. Also, the television they use for praise and worship is experiencing some issues as the screen has two places that are now no longer working properly. We are seeking an additional $300 to replace the television. Would you or your church consider "adopting" one of the costs associated with the children's ministry?
OUR STOREFRONT CHURCH
God has blessed us with access to a storefront property in the heart of Northfield that allows for our church to be within walking distance for many of our church attendees and Norwich University students. We have been able to double our seating and enlarge our areas for nursery and children's ministry. Our rent on the building is $1,100 a month for us to use this location as out outreach and worship center in town. Would you or your church consider helping us with our monthly rent expenses?

PASTORAL SUPPORT
Since we moved to Vermont, we have always relied on outside financial support to sustain our family. God has been faithful to supply that support for almost seven years. In attempting to be good stewards of our church's resources by not requiring a full-time paycheck, Trey took a full-time job at our local school district just over a year ago. Recently, we experienced some drops in funding that need to be replaced in order to not place the financial burden on a church that cannot handle it at this time. Would you or your church consider making a year-long pledge to help with pastoral support for the 2013-2014 fiscal year?

By helping us with the costs associated with these areas, those monies can be reallocated to other areas we have had to strip down. If you feel led to donate to any of these ministries, please see the end of this newsletter for information about how to make a financial contribution.
PRAYER REQUESTS:
Pray for our new discipleship groups that are launching in September in homes around our community.

Pray that God would provide a worship team leader for the upcoming year.

Pray for the following church planting families in Vermont: The Smiths who are planting in Montpelier, VT, the Pounds who are planting in Burlington, VT, the Bodwells who are planting in East Hubbardton, VT, and the Conyers who are planting in Waterbury, VT.

Pray for Trey as he works his full-time job. Pray that Trey will have his time multiplied so that he can also complete his church responsibilities. Pray for him as he prepares his sermons and Bible studies. Pray for Robyn as she teaches Kid's church. May God grant us His Spirit of wisdom as we teach and preach His Word.
Pray for our leadership teams as they carry out our growing ministries. Pray for our elders as they prayerfully lead our church.
Pray for our associational leaders in the Green Mountain Baptist Association, the Baptist Convention of New England, and the North American Mission Board. Pray for Godly wisdom in our leadership and for cooperation among the churches in the New England areas to proclaim the name of Jesus with great boldness as we carry out the Great Commission.
Thank you for your prayers!
Trey, Robyn, Rachel, and Joshua Cates
New Life Community Church
14 Kimball Avenue
Northfield, VT 05663
tcates@newlifevt.com
http://www.newlifevt.com/
(802) 485-5171 (office/fax)
(802) 793-6924 (home)
Financial and Ministry Needs
for New Life Community Church:
A donation of any amount to use towards a future building or monthly expenses of our current storefront church building. See the list earlier in this email. Our monthly rent is currently $1100.00
$100 or a gift of any size to help with evangelistic outreaches during the year.
A gift of any size to purchase Bibles, Bible study materials, gospel tracts, etc.
A gift of any size to help purchase office and ministry supplies. Wal-mart or Staples gift cards are another way you can help.
Please make tax-deductible church resource donation checks payable to:
New Life Community Church
P.O. Box 133
Northfield, VT 05663
Cates Family Support Needs:
It costs over $4000.00 a month in living expenses for our family of four in Vermont. Please consider making a tax-deductible donation to help support our family's month-to-month needs.
You can make your tax-deductible pastor support checks payable to:
New Life Community Church
P.O. Box 133
Northfield, VT 05663
Please write "Pastor Support" on the MEMO line.

This Issue's Ministry Photos: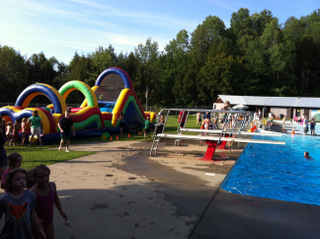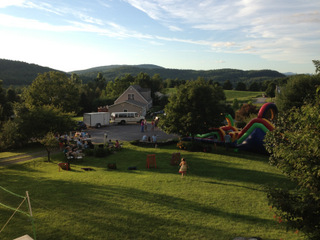 Our church was able to host a series of block parties with help from a mission team from Ebenezer Baptist Church, GA. One was in a member's neighborhood and also at the town pool. We were able to connect with our community and shine the light of the Gospel of Jesus Christ!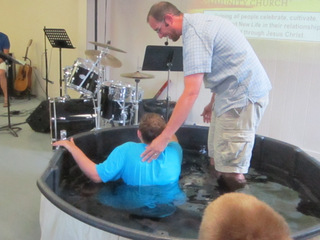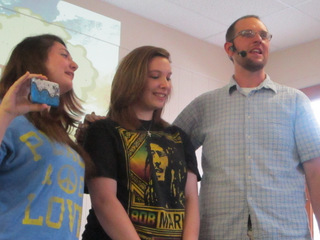 Baptism at church last Sunday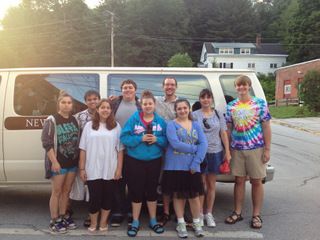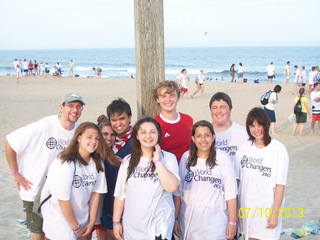 Our Youth Group went to Neptune, NJ to serve the Lord for a week with WorldChangers. Everyone on the team grew in their personal passion for following Jesus and making disicples. We were also blessed to have Dalton Mitchell from Taccoa, GA serve as a summer youth missionary with our church through NAMB.