New Adventure Club Launched in 2012 at San Diego City College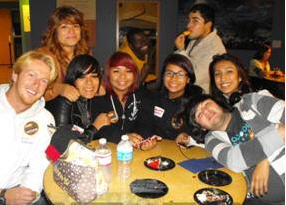 This year, a group of Adventure Club seniors who had all enrolled at San Diego City College (SDCC) got together and decided that they wanted to continue their Adventure Club experiences with Outdoor Outreach as college students. Through support from the Outdoor Foundation, OO is proud to share we have officially launched the first college-based Adventure Club program! This fall marked the first semester for the newly formed SDCC Adventure Club. As college students, these young adults take a much larger leadership role in managing their club experiences. We are thrilled to continue to support these young adults as they aspire to do amazing things together.
"I wanted to start the club at San Diego City College because I noticed the great impact it made in my life and wanted other young adults like me to have the chance to go through the life-changing experiences that I went through."
-Susana Montes
---
Environmental Stewardship Program Flourishes!
This year, Outdoor Outreach received generous support for our Environmental Stewardship Program from several corporate and foundation partners. The program is focused on creating the next generation of environmental stewards from diverse and under-served youth populations. Through our comprehensive programming, youth develop a genuine passion and affinity for the outdoors. Layered within those experiences is an environmental curriculum-based on "Leave No Trace ethics", regional ecosystem education, and field-based environmental and community service projects.
We are working closely with several environmental partners and our community of volunteers to continue to develop and evolve the program. If you have not already, check out The San Diego Foundation's Environmental Program video featuring Outdoor Outreach. Click here to view video.
A special thank you to our 2012 Environmental Stewardship Program Partners:
The Gonzalez Foundation Fund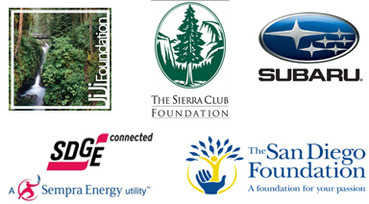 ---
Adventure Club Youth Develop a Smartphone App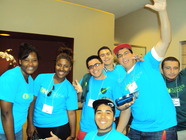 While attending the
Outdoor Nation Summit
this past summer,
Outdoor Outreach Adventure Club
attendees were awarded a grant for their idea to create a Smartphone app that helps urban youth get involved in outdoor physical activity.
El Cajon High School Adventure Club members Antwan Gaggi, Yousuf Ghanin, Francisco Martinez and Ruben Martinez are working together to create the "GetOutdoors" Smartphone app to help San Diego County's urban youth discover and find nearby outdoor recreational activities.
Antwan and Yousuf, both refugees from Iraq, describe themselves
as culturally disconnected to the outdoors. However in their freshman year, OO volunteer Tanya Jackson introduced the teens to the Adventure Club. Through their club experience, these young men are now inspired to introduce more youth like themselves to the outdoors and are taking a lead role in creating the new "GetOutdoors" app.
If you are familiar with software development and would like to volunteer to help launch the new app, please email Scott at Scott@outdooroutreach.org.
---
MCCS Military Adventure Club Looking Forward to 2013
In our last newsletter, we announced the launch of our new MCCS (Marine Corps Community Services) Adventure Club. Since then, the youth from the
Miramar Youth and Teen Center
have enjoyed weekly after-school enrichment activities and monthly outdoor adventure trips. Outdoor programming has ranged from surfing, kayaking, and paddle boarding to trail walking, rock climbing, and mountain biking. With winter just ahead, youth will have the opportunity to experience snowboarding at Big Bear--and for many--see snow for the first time!
Check out the MCCS Military Adventure Club blog to learn more about their adventures
here.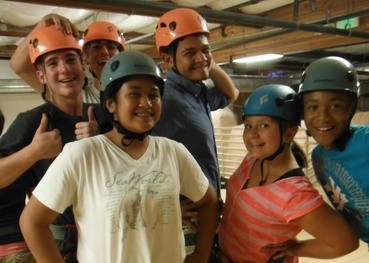 MCCS Adventure Club at Mesa Rim Climbing Gym
---
Look for Outdoor Outreach in Escondido
Starting in the new year, look for Outdoor Outreach to be showcased on the 48' x 27' digital billboard located at the Lexus Escondido Centre Dealership off I-15.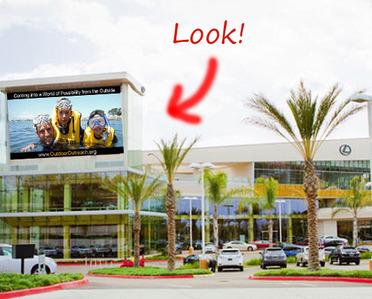 The billboard space is provided at no charge to nonprofits by the dealership to help build awareness of the community outreach efforts in the area. Be sure to send us an email if you see Outdoor Outreach featured on the billboard!
---
ACTIVEx Charity Challenge Fundraiser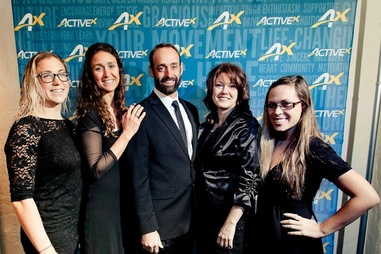 This year, Active Network employees embarked on a journey to participate in the Solana Beach Triathlon as part of the Company's ACTIVEx Charity Challenge.
[pictured left to right: OO volunteer and staff: Gabby Clifford, KJ Brussow, Chris Rutgers, Yvonne Hunt and Merina Mesa.]
Nearly one hundred employees embraced "the challenge" under the cheer-leadership of Arch Fuston, "chief active officer" of the company's Employee Participation Program. The group's goal was to raise awareness and funds for four local nonprofits while striving to meet their own personal training goals.


The year-long challenge culminated with a video documentary which captured the group's' journey and showcased each of the supported nonprofits. Outdoor Outreach and the other beneficiaries were invited to the ACTIVEx Movie Premiere at the La Paloma Theater. Outdoor Outreach founder Chris Rutgers personally shared with the audience how their efforts directly supported Outdoor Outreach's mission and the 600 youth served each year. Our heart-felt thanks and appreciation to the ACTIVEx team for their dedication and support!
---
Thanks for the Memories Gavin Daly!
After five years with Outdoor Outreach, our
Adventure Club and Leadership Program Manager, Gavin Daly
, headed back to his home on the east coast where he will pursue teaching. We'd like to thank Gavin for all of his
"heart-work" and
dedication to the Adventure Club and Leadership program youth these past five years. The OO staff, volunteers and, of course, participants will miss him greatly. It was quite an adventure G-Man! We'll miss you but wish you the best in your new adventures!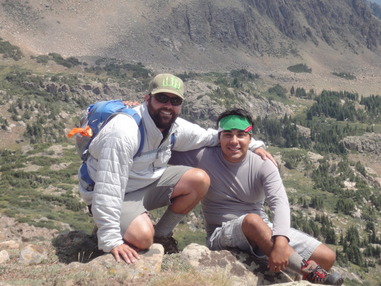 Gavin Daly and leadership participate Mario Luna backpacking in Colorado
---
We Wish You a Warm Holiday Season and Adventurous New Year!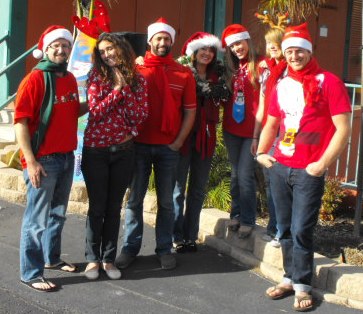 [from left to right] OO office staff: Joe McLeod, KJ Brussow, Chris Rutgers, Yvonne Hunt, Merina Mesa, Erika Rogness and Scott Shepherd.
---
Funniest Holiday Photo Captions?
Better Watch Out! Naughty or Nice?