100% of ADVENTURE CLUB SENIORS GRADUATE!!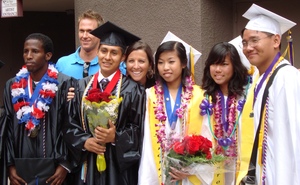 (Pictured above: Adventure Club seniors from Crawford High School)
It's graduation time and we are proud to announce that 100% of our Adventure Club seniors are graduating and all are moving on to college! This is an exceptional achievement for the youth, given the high schools we serve are located in neighborhoods where recent census data reported only 20% of residents hold high school degrees and school graduation rates typically range between 45%-65%.
According to a recent Harvard University study, Path to Prosperity—Meeting the Challenge of Preparing Young Americans for the 21st Century, "One of the most fundamental obligations of any society is to prepare its adolescents and young adults to lead productive and prosperous lives as adults. This means preparing all young people with a solid enough foundation of literacy, numeracy, and thinking skills for responsible citizenship, career development, and lifelong learning."

Our comprehensive, multi-year Adventure Club curriculum is designed to help youth build a solid foundation so they can lead productive and prosperous lives as adults, with measurable impact in the following development areas:
Academic Achievement

Leadership Development

Social Skills and Communication Development

Career and Education Exploration

Improved Physical Health and Environmental Awareness
By championing our mission, you help us provide the youth we serve with the opportunities, positive relationships and support they need to become successful adults

.
---
Outdoor Nation Sponsors Winter
Re-Treat for Adventure Clubs
Under the leadership of Juan Alvarez, Outdoor Outreach Leadership Program participant turned Outdoor Nation Ambassador, 24 Adventure Club youth participated in a remarkable four-day, mini-youth summit and snowboarding retreat in April. Hosted at The Station Camp in Mammoth Lakes, CA; the students enjoyed two full days of snowboarding and dedicated an evening discussing topics introduced at Outdoor Nation's regional youth summits including:
1) Challenges of getting youth outdoors,
2) Positive outcomes of getting youth outdoors, and
3) Solutions for increasing public awareness of the benefits of getting youth outdoors.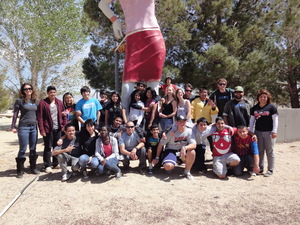 (This project was made possible by a grant from Outdoor Nation. For more photos check out The Station Camp Summit)
The group was comprised of Adventure Club students from El Cajon Valley, Lincoln and Crawford High Schools. Outdoor Outreach Leadership Program participants Mario Luna and Luis Perez along with staff member Gavin Daly helped lead the trip. The group also visited the Manzanar National Historic Site. Designated by the National Park Service as the best-preserved former war relocation camps, this historic site is dedicated to preserving the internment stories of nearly 120,000 Japanese Americans during WWII.
"When I gave a small introduction of what the teens were about to get into, their energy level went off the charts! They were very committed to talk about every topic, it really hit home for many of the students. I was very proud of each and every single of the students for stepping up and not holding back." - Juan Alvarez
---
Is Ignorance Bliss? Not for
Three San Diego Sisters
The saying goes "ignorance is bliss." Not the case for three young ladies fondly dubbed "the Bliss Girls".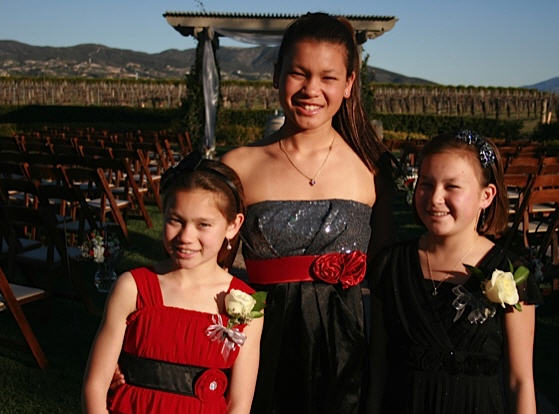 (Pictured above: "the Bliss Girls")
It is not unusual for us to receive a letter with a check in the mail. However, this particular letter was neatly printed in pencil on lined notebook paper with exceptional penmanship—that was a bit unusual. The letter read:
Dear Chris,

Hi this is the Bliss Girls. So we are writing to you to give you a donation. We earn money by doing chores and at the end of each month we put 40% into our college account, 50% becomes money that we can spend on ourselves, and 10% to a charity of our choice. We chose you. Our dad has told us a lot about your charity. We believe that if we give it to you then you will have the best use for it. Hopefully our donation helps.

From the Bliss Girls
P.S. We will hopefully donate consistently each month.
Rest assured ladies we'll put your heart-felt and hard-earned money to good use. Many thanks to the Bliss Girls and their parents for supporting Outdoor Outreach.
---
ActiveX Charity Challenge Team Names
Outdoor Outreach a Beneficiary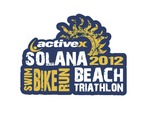 Outdoor Outreach was selected as one of four ActiveX Charity Challenge nonprofits, and has a fierce and committed team raising funds and awareness on our behalf.

Over 300 Active Network employees have embraced the challenge by fundraising, training and participating in the Solana Beach Triathlon events on Sunday, July 22nd as part the ActiveX Charity Challenge. In addition, our very own staff members KJ Brussow, Juan Alvarez and Gavin Daly will join the early morning fun as Team Outdoor Outreach in the relay.
Mark your calendars and come out to cheer the ActiveX and Outdoor Outreach teams over the finish line! Click here if you're interested in volunteering for the Outdoor Outreach water station on the course--we'd love to have you.
---
How Far Would You Go to Support Outdoor Outreach?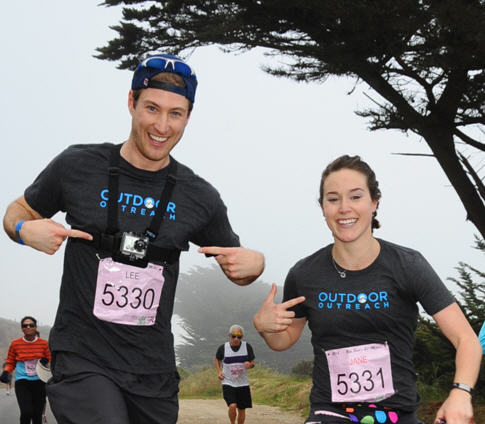 How bout 2,436 miles by plane, and another 21 miles uphill on foot? Recently, Gavin's sister Jane Daly and boyfriend Leo Danese set about training for the Big Sur International Marathon and fundraising on behalf of Outdoor Outreach. In April, the couple flew from the east coast and completed the event's 21-Miler course and raised over $900! Both proudly sported their Outdoor Outreach tshirt and big smiles during the race. Our hearty thanks to this dynamic duo for their support and fundraising stamina!
4th Annual PUZZLE PURSUIT
"Sinking of the Midnight Raven"

September 8, 2012
Place: Seaport Village
Time: 9:00 am
Click here for details

Ahoy all you super sleuths, puzzle masters and folks who just love a challenge. Puzzle Pursuit is a cross between the Amazing Race and Sherlock Holmes with all proceeds benefitting Outdoor Outreach. This year, puzzler race teams will start at Seaport Village along the San Diego Harbor—perfect location for "arrrr sea-faring" theme!

*100% of the event proceeds
benefit Outdoor Outreach!

---

Tune into Chris Rutgers'
Interview on HayHouse Radio


Outdoor Outreach founder and executive director Chris Rutgers was recently interviewed by HayHouseRadio.com on how Outdoor Outreach is helping youth make positive changes in their lives–and how his own at-risk childhood shaped his life. Click here to listen to upcoming scheduled broadcasts:

---

Welcome Erika Rogness
Outdoor Outreach received a three year grant for two AmeriCorps VISTA (Volunteers in Service to America) volunteers in support of our new military Adventure Club pilot program with Marine Corps Air Station (MCAS) Miramar Base.

Erika will coordinate with our new partner to launch the military pilot program. Starting this summer, youth will enjoy weekly outdoor adventure trips including summertime favorites like surfing, paddle boarding, and snorkeling. Then in September, the program will roll into the Adventure Club format of weekly after-school meetings and monthly outdoor trips.

"I strongly believe in the quote, "Children will grow up to become what you expect of them." If we encourage our youth, provide them resources, and empower them to learn and express themselves, they have the potential to be the incredible individuals they aspire to become. For that reason, I am happy to spend my final year supporting the youth of parents who have served our country."
Erika Rogness

AmeriCorps VISTA – Military Adventure Club

---

Thank you to our generous Corporate, Civic and Foundation donors

Who gave $500+ from 03/16/12 - 6/18/12

Crawford High School Class of 1961

Health Quest Foundation

SmartWool

The Arthur and Jeanette Pratt
Memorial Fund


---

Spring Trip Photos
Take a minute to check out a
few amazing pictures
from our

Spring Trips!



Crawford Adventure Club
Beach Swim Lessons


Lincoln & Crawford
Adventure Club Surf Trip SAY San Diego Kayak Trip

---

You can give a gift to support underserved youth by making your tax-deductible gift online today.