Become a member of WaterWatch and support our work on behalf of Oregon's rivers and streams.
---
Forward this message to a friend
---
Dear WaterWatch Supporter,

Please take action now to help protect some of Oregon's most beloved rivers! Send a message to your state Senator letting them know that you support SB 401, a bill expanding State Scenic Waterway protections to some of Oregon's most iconic rivers and streams!

Oregon's State Scenic Waterway Act protects the clean drinking water, wild salmon and steelhead, and scenic beauty that make our state such a special place, but this law currently protects only a tiny fraction of Oregon's rivers and streams from degradation. SB 401, recently introduced by Senator Alan Bates (D-Medford), would expand these key protections to a small number of some of Oregon's most beloved - and most threatened - waterways.

Unfortunately, sections of many Oregon rivers, including the Rogue, Umpqua, and Sandy, are facing growing threats from destructive activities like suction dredge mining. Extending State Scenic Waterway designation to these important rivers would protect against these threats.

SB 401 would protect several of the most cherished stretches of river around the state, including portions of the Applegate River, Brice Creek, Briggs Creek, Cedar Creek, Chetco River, Cow Creek, Illinois River, Eagle Creek, Elk Creek, Grande Ronde River, Grave Creek, Josephine Creek, Little Applegate River, McKenzie River, Metolius River, Molalla River, North Fork Burnt River, Quartzville Creek, Rogue River, Rough and Ready Creek, South Umpqua River, Sandy River, Silver Creek, South Fork Alsea River, Sucker Creek and Yachats River.
Oregon is famous for its iconic rivers, and we have a duty to protect them for generations to come. Please write today! Contact information and a sample letter are below.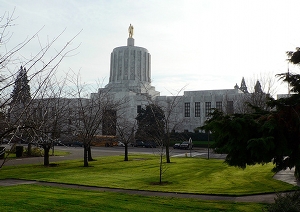 WaterWatch works at the State Capitol to provide a voice
for healthy rivers and sound water policies.

Write or Call!
Please ask your senator to support SB 401 to expand the State Scenic Waterway System.

Thank Senator Alan Bates for introducing SB 401, even if he is not your Senator, so he knows you appreciate his work for Oregon's rivers!

Explain why you value clean water, scenic beauty, river recreation, wildlife habitat, and healthy fish populations.
Senator Alan Bates
Sen.AlanBates@state.or.us
(503) 986-1703
900 Court Street NE, S-205, Salem, OR 97301
Find your Senator
http://www.leg.state.or.us/findlegsltr/
Enter your zip code to find your state Senator.
---
Sample Letter
Dear Senator,
As an Oregonian, I value our rivers and streams for clean water, healthy fish populations, scenic beauty, and recreational opportunities. I hope that you will support SB 401 to protect these values.
The State Scenic Waterway system establishes the highest and best value of these river sections for fish, wildlife, and recreational activities. This law preserves the scenic and wildlife values of our rivers while protecting drinking water supplies and riverside property values.
Expanding the State Scenic Waterway system will protect some of Oregon's most spectacular rivers and streams for future generations. Please support SB 401. Thank you.
Sincerely,
---

Thanks for taking action for Oregon's rivers and streams!

WaterWatch of Oregon

213 SW Ash Street, Suite 208 - Portland, OR - 97204