| | | |
| --- | --- | --- |
| www.sandhillshabitat.org | October Newsletter | (910) 295-1934 |
2019 Business Build enlists Local Employers

One of my favorite things to do at Habitat is to share our mission with local employers. We are fortunate to have business leaders in the Sandhills who truly care for their colleagues. They want to know their staff team all have safe, decent and affordable places to call home at the end of a long day's work. It may surprise you to know that many people think we give away our homes (I know, right?). This includes even some of our great employers and those supervising potential future homeowners. It never fails, though, that when they begin to understand how Habitat works, they realize THEY know a great potential homeowner. What's even better is what can happen when they take the initiative to encourage one of their own employees to consider Habitat. More than one Habitat homeowner has confided in us that they never would have had the courage to apply for a home if their supervisor or manager had not helped them believe they could do it.

On November 9th, we will see some of those leaders in action as we raise the walls on the home of Marilyn Ryner. Marilyn has been an employee with FirstHealth for nearly 20 years, and when we spoke with her supervisors, they said she is friendly, a good co-worker and keeps a positive attitude. During her 19 years of service she has proven to be dependable with a good attendance record. FirstHealth is an important partner to us, as we have built homes with 34 FirstHealth employees during our 3 decades of building in the Sandhills. Last year, various departments from FirstHealth volunteered, filling in one Saturday almost every single month. ­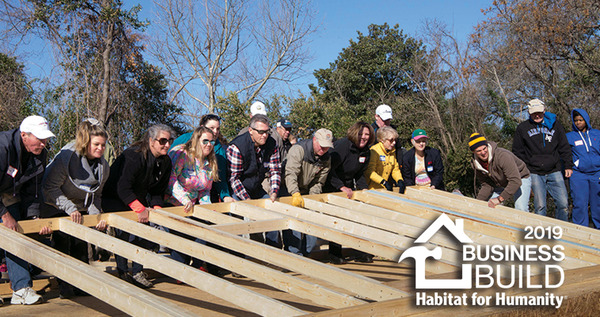 Several CEOs and local business leaders have already volunteered to help us on the 9th, and we hope you will consider joining us, too! Tom Pashley (Pinehurst LLC), Lori Portfleet (St. Joseph of the Pines), Jeff Hutchins (Penick Village), Jill Saunders (ACE Hardware), Linda Parsons (Moore County Chamber) Jeff Casey (FirstHealth) and many others will be swinging hammers and raising walls from 8am-1pm. If you are a local business leader who cares about making sure your valued employees have a good home, we invite you to join us on November 9th or any Thursday, Friday or Saturday from 8am-1pm.
~Amie Fraley


Executive Director
---
Mark Your Calendar!
30-Year Build Celebration

Sunday, October 14th at 12:30pm
Service, Music and Lunch

112 Blyther Street, Aberdeen

---

Faith Relations Meeting
Wednesay October 17th
Pinehurst United Methodist Church
4111 Airport Road, Pinehurst

---

2018 Women Build Dedication
Thursday, November 1st
857 West Iowa, Southern Pines

---

Business Build Walls Up
CEO Day
Friday, November 9th at 8:00 am
215 Alan Charles Way, Aberdeen
Youth/Gala Build Dedication

---

Thursday, November 15th at 6:00 pm
388 S. Henley Street, Souther
---
Celebrating our 30th Anniversary

Since 1988, Habitat for Humanity of the NC Sandhills has been providing hope to hardworking families in our community. It has been our honor to share in a unique journey with over 260 new homeowners and over 100 repair recipients…a journey of true partnership. We are grateful to all of you for joining us in creating affordable housing solutions for families eager to commit themselves to a better tomorrow.

Our celebration started with the Blueprint Breakfast, a "friend raiser" at St. Joseph of the Pines on October 4. Over 100 supporters joined us to review the year's accomplishments and set goals for 2019. If you were unable to join us

click here

to see the presentation.

The celebration continues with a 30-hour build on the weekend of October 12 through 14 at 112 Blyther Street in Aberdeen. Construction hours will be 7am - 7pm on Friday and Saturday. On Sunday we will build from 7 am until noon. Volunteers are asked to commit to four-hour shifts. The event concludes with a ceremony, music and lunch on Sunday, October 14 at 12:30 pm. Contact Rosemary Weber at (910) 295-1934 or sign up by

clicking here

.

| | | |
| --- | --- | --- |
| | You can help ensure that we continue to build safe, affordable housing in the Sandhills. By pledging $30 monthly you can join the 30-Year Club, a group of individuals like you, dedicated to supporting the mission. As a token of our appreciation you will receive an insulated stainless steel water bottle which reflects your endorsement of the 30 year build. Call Amie at (910) 295-1934 to set up your monthly giving program. | |

---

Home Owner in the Spolight
Jeanette Ellorda
Homeowner in Robbins since 2007


"I have a story to tell, and I want people to know that when you work hard anything is possible. I was a victim of domestic violence. I don't want others to go through what I had to endure. I want them to know there are opportunities. I lived in a shelter with my son and was on welfare for a few years while attending Sandhills Community College (SCC). I obtained my CNA license and Associate Degree in Medical Office Administration from SCC. I also became a U.S. Citizen. Soon after, I applied to Habitat and was accepted.

Sweat equity was the best experience of my life. The Habitat process kept me motivated, gave me much needed life-skills and guided me through maintaining the ultimate goals of homeownership. During this time, I worked three jobs, was a sole parent and attended school, but the dream of one day owning my home was the main motivator to keep working hard and chasing the dream."

- Jeanette Ellorda

---

2019 Gala Committee Meetings


Third Wednesday of Every Month at 3:00
Habitat Conference Room
2268 NC Highway 5

We invite YOU to join the 2019 Habitat Gala Committee, share your talents, connections, and creative fundraising ideas. Please message us or RSVP at 910-295-1934 and ask for Stacy or email to Nicole Neves, Chairwoman, at

tnicoleneves@gmail.com

---
RVers join the
Richmond County Women Build


107 Curtis Avenue, Hamlet



These visiting RVers built all day and then invited us to join them for dinner along with the Pittman family, who will purchase the home they are building with a 0% interest mortgage. Thank you, Jack and Polly and the crew
- 18 years of Habitat building!

MEMORIAL GIFTS
perpetuate the values and ideals
that defined a loved one's life
HONORARY GIFTS


commemorate a significant event or an exceptional person who is still living.

---

Dennis Conradi




Larry Goulet




Trace Krahl




Robert Lebak




Katie McDonald




Martha O'Conner




Bro Park




Dennis Strojny




Fred Walden




---

Alan & Nancy Quirion




Final touches on the 2018 Women Build Home



"What a great day we had with The Village Chapel Volunteers. Keith had us all in stitches as we worked hard to make these homes even more beautiful on the outside.

Alicia Hockaday did come over to visit us and gave everyone at her home a big hug. She just loved everything. She showed her grandson his new room. We were in tears with excitement for her.

A very successful and happy day for all of us to be working together to make a dream a reality for Alicia! Awesome!!"

Blessings,
Sally Brown, Chairwomen
---
Volunteer In the Spotlight
Kasia McDaniels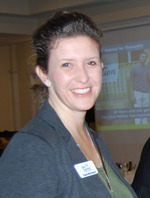 Kasia McDaniel has been volunteering with the Habitat for Humanity ReStore for 2 1/2 years. She comes to us from Northern Virginia but spent most of her life all around the United States because she was serving in the Air Force. Now, as a military veteran, she and her family have settled down in Carthage and moved her home staging business to the area.
Kasia started out in the ReStore creating "rooms" by arranging donated items into an office, bedroom, craft room, outdoor patio and more in what we called "Kasia's Korner". She has also helped with home builds with the Moore County Chamber of Commerce Volunteer Days and rolled up her sleeves when needed at the last minute. Most recently, you can see her home staging talent as she uses only ReStore items to stage a Dedication House and is working on her third house this year!
"I became involved with the ReStore because I saw a tremendous amount of generosity in the items that were donated to the ReStore. Most people don't have the decorative eye to see that you can easily reuse the ReStore items in your home and I wanted to show people the potential. I love staging the Dedication Houses to show off that you
really can
decorate a whole house using only ReStore inventory and help the ReStore sell the items to build the next house."
Blue Diamond Staging & Design, LLC
---

Only through volunteers partnering with Habitat can we make a difference in our community. Volunteers are the lifeblood of Habitat for Humanity, and it gives us great pride that our homes are constructed almost entirely by volunteers. If you think you don't want to swing a hammer, Habitat has many other volunteer opportunities; in the office, on the construction site, serving on various committees and in the ReStore.

Please volunteer today and fill your heart with love and joy, knowing who you are helping to give a family a bright new future in a safe, decent and affordable home.
ReStore Volunteers – Moore County and Richmond County: Cashiers, donation processing and pricing, sales floor.
Construction Volunteers – Moore County and Richmond County (No experience or tools needed)
Office Staff – Habitat office receptionist, data entry, special projects
Committees – Serve on various committees, Apostle Build Committee, Gala Committee, Business Build Committee, Richmond County Build Committee,
Muffin Mommas – Once a month, bake/provide snacks for our volunteers that work on our build sites.
Honey Doers – Honey Doers are called upon for special projects when they come up such as, the Annual Appeal mailing, writing thank you notes, helping with Volunteer Christmas invitations, Gala invitation mailing, etc.
Please call Rosemary Weber, Volunteer Manager (910) 295-1934
to get more information on volunteer opportunities with Habitat.
---
From the Restore Director


Kimberly Braddy
Just a friendly reminder that we can bring the ReStore truck to you!! We offer free pick-ups as well as "Stuff the Truck" events. We can bring the truck to your fundraiser yard/tag sale, community sales and even schedule 4 days out of the month just for your community.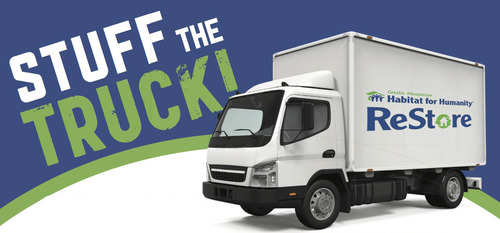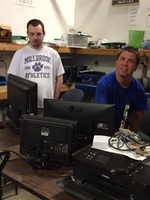 Please follow us on our Fscebook page to see what we have in the ReStores and any special sales/events that we may have. Be the first to know! We would love to have you volunteer with us in the ReStores. We have a lot of fun working for an awesome mission. Stop by to get a ReStore tour to show all areas of opportunity
and say hello to two of our many fabulous volunteers! Here you see Glenn and his cousin Ryan testing electronics before being placed on the sales floor. Many volunteer positions open.
Please feel free to email or call me directly with any questions you may have about our Moore and Richmond County ReStores.
(910) 295-1934 or kbraddy@sandhillshabitat.org
---
From Richmond County Restore
In our Richmond County store we are pleased to say we are building great relationships with our local businesses, which are in turn donating to our store. Ritz Craft in Hamlet is donating building materials and Quality Inn & Suites is donating some table and floor lamps as their motel is renovated.
We thank these businesses for calling Habitat for these donations which help fill our Rockingham ReStore with merchandise the public will buy! Donations are the life blood of our store and good, quality donations are so important to our meeting our sales goals each month.
If you work for a business that has surplus goods that need to be donated,
please call our store, (910) 817-9526. We will come pick them up!