Volunteer Holiday Luncheon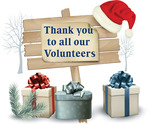 We request the pleasure of your company to honor the remarkable work that you do!

December 12, 2016 at 11:00am
Sandhills Presbyterian Church
650 Pee Dee Road, Southern Pines

Please RSVP (910) 295-1934
---
Introducing Our New Habitat Homeowner
Jamecia McFayden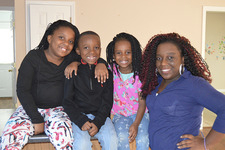 We are proud to introduce you to Jamecia and her family. Jamecia, a busy mother of three, is employed at the Boys and Girls Club and Moore County Schools as a substitute teacher. She volunteers with Upward Cheer Squad and Communities in Schools. Jamecia is an example of the hardworking families able to purchase a Habitat home thanks to your support.

We consider it our privilege and our responsibility to serve as a voice for potential homeowners like Jamecia.

Making ends meet can be challenging – and the "dream" of home ownership can seem unreachable, but at Sandhills Habitat, we believe everyone deserves a safe, decent affordable home.
Please join us McFayden Habitat Home Dedication
Thursday, December 15th • 6:00pm
265 Fellowship Way, Aberdeen, NC
Please RSVP at 910-295-1934
---
2017 Business Build Platinum Sponsor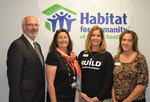 Habitat for Humanity of the NC Sandhills accepts a $5,000.00 donation from Fran Grandinetti of the Pinehurst Rotary Club for the 2017 Business Build Challenge to benefit the Habitat mission of partnering with families, volunteers, and communities to create safe, decent affordable housing.
The 2017 Business Build goal this year is to fund and build a home on Hardin Street in West Southern Pines with our local employers and civic leaders. An additional $50,000 USDA grant will provide funding for critical home repairs that will expand efforts in the immediate area. Our hope is to make this a community effort, not just a house-by-house project. Business partners will gain media exposure at our March 23rd "Walls-Up Celebration" featuring The Pilot Newspaper, Star 102.5, and many more.
---
MAKE A DONATION,
MAKE A DIFFERENCE

On

April 1, 2017

the Sandhills Habitat will celebrate another exciting year of accomplishments driven by the donations and volunteer services of the Sandhills community.


The 2017 Habitat Dinner Gala will host a Silent and Live Auction featuring local artwork, area restaurant certificates, fine wine and liquor, travel, and so much more. Help us create our best auction ever by considering the possibilities, potential, and connections that you have?

---
Fruit of the Spirit Thank you to the staff and students of Episcopal Day School (EDS) as they embark on a "Year of Habitat" this school year! This incredible school has generously included Habitat in their "Fruit of the Spirit" events each month. We kicked off the year with a visit to the school, and we are touched by the enthusiasm and caring the children are displaying in the following activities this year:

We love these ideas as they show our young students that there are so many ways to help our community – no matter your age! Thank you EDS – we are so very proud to partner with you in this way. If you work with a group of young people who can support Habitat's mission in a creative way, please contact us!

---
Richmond County Company Presents Donation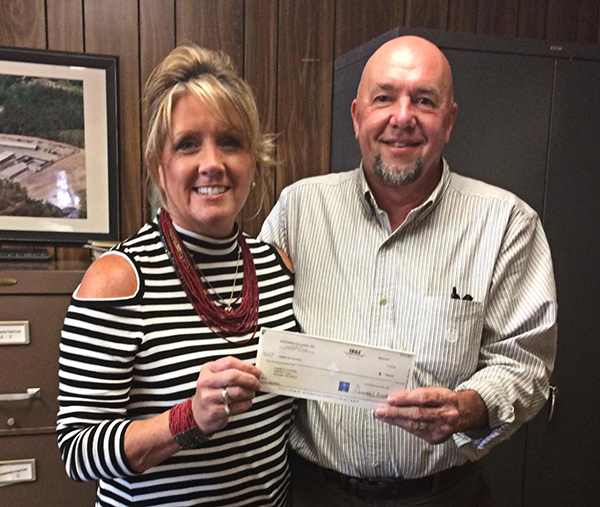 A Richmond County construction company has presented a donation to Habitat as a way to "give back." Priscilla L. Kindley, corporate secretary/treasurer of Southern Builders Inc. in Rockingham, presented a check this month for $500 to Richmond County Development Manager John Lentz. "We are happy to do this because we want to give back to the community," Kindley said. "We want to give to those less fortunate."

Lentz thanked Kindley and Southern Builders Inc. for their efforts. "Your contribution will help enable us to continue our work to bring secure, affordable housing to qualified families in Richmond County," he said. "We are currently building in Hamlet, and will soon begin construction in Rockingham. Your donation is most appreciated."
Southern Builders, Inc. was incorporated in 1971 by GR and Mary Ellen Kindley. Joe Kindley, who has been working with his father for over 30 years, became president and owner of Southern Builders, Inc. upon his father's retirement.
Southern Builders,Inc. is licensed in North and South Carolina with a General Unlimited Construction license.
---
We are excited to see parts of our new Point of Sale System coming in for the ReStores. We could not have engaged this technology without the Pee Dee Electric Grant for $5000. This will allow our store to run more efficiently, reduce redundancy, and maximize productivity for our management team. We will be working on the software options and training the month of December.

Our Local Residence Inn has come through for us once again with a generous donation of Artwork. The Residence Inn has been remodeling since early summer. We previously received mattress sets and headboards.

The ReStore Crews have been staying busy with booked Stuff the Truck Events. If your community, church or business is planning a yard sales, cleaning days etc., Please call Kim at the ReStore to find out more at 910-295-1934


Richmond Update

During this giving season, Habitat for Humanity of the NC Sandhills will be giving a portion of their sales on December 22nd to aid the Fayetteville area Habitat in helping repair flood damaged Habitat homes there. They had flood damage to 93 homes, over half the homes they have built in the past 30 years. Both the Rockingham and Aberdeen ReStores participated on November 17th with a statewide effort, but as neighbors and friends of Fayetteville we wanted to do more, but we need your help!

Please bring all the donations you can over the upcoming weeks so that the ReStores are stocked well to make this day as successful as possible and help our neighbors.
Volunteer of the Month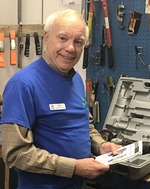 Sid Newman is an all-star volunteer because he is ready to pitch in on any project at any time, all with a big smile. Sid started volunteering in 2016 at the Restore on Tuesday mornings from 9am-1pm. Sid's ReStore volunteer time goes to pricing and cleaning items in our hardware area, items in that are range from; power tools, sports equipment, vacuum cleaners to small appliances. He also volunteers with the Resource Development Committee to brainstorm new ideas and ways the community may want to participate in Habitat's work. He's also our biggest Facebook fan!
Richmond County–Craig Cavanaugh
Craig Cavanaugh started volunteering four years ago a couple hours a week, but has turned into a three day a week, 4 hours each day , a dedicated Habitat family member. He has a love of music, often you will hear him sing along with songs on the radio as he works. He is always willing to do anything with a smile, and will be missed during the holidays when he visits his family out of town. Everyone at the ReStore wants to wish him a MERRY CHRISTMAS and say THANK YOU for all he does.
Habitat for Humanty of the NC Sandhills extends their appreciation of gifts donated in memory of loved ones and gifts made to honor those who have made a profound impact in our lives. It is with these gifts the Sandhills Habitat is able to continue our mission of providing local families with safe, decent, affordable income.

Lorraine W. Blackwell
Jill Boarts
Patsy Bonsal
Joanna M. Brown
William M. Clarke, Sr.
Clarke Conlon
Dennis Conradi
Kim Starner Crawley
Nicole Donnart
Justo Dumlao
Marqaretta Dunn
George Dvorozniak
Tom Embrey
Jean K. Friend

Judy Giles
Suzaqnne W. Hagwood
Hilton G. Hancock
Barbara Hay
Jim Hofrichter
Mena Holloway
Phillip Hunsucker
Carl O. Kamp
Edwin King
Geroge E Kirschner, Jr
Helen Agnes Kronenberger
Clare Lambert
Burlin Lowry
Marcus Mashburn

Gordon Matson
Barbara Lee McCurdey
Anne & Coleman Morris
Robert L. "Bob" Murphy
Keith Meyer's mother
David Otto
Sally Potter
Daniel H. Reaves
William H. Schafer
Rose Sessoms
Nelda Storms
Elsie Wilcox
Bob Wood
Doug Wright

In Honor of...

Pete Ackerman
Barry & Linda Barnes
Richard & Mimi Baird
Blackwell Tuesday Group
Mr. & Mrs. Henry Brown
Helen Cirirello
Mr. & Mrs. Bob Cook
Jeri Crowell
George Dabady
Krista Duncan
Mrs. Katherine Ewing
Rev. Elizabeth Forester
Amie Fraley
Bob Friesen
Carolyn Giltzow
Byrd Gwinn
Mr. & Mrs. William Hanna

Mr. & Mrs. Bert Harrell
Elena Lau and Robert Ewal
Bob & Connie Lovell
Janet Lowry
Steve Lowry
Stuart & Dena Lowry
Dorothy Mann
Stacy Martin
Tom & Kathy McGee
25th Wedding Anniversary
Walker Morris
Mr. & Mrs. Larry Newsome
Andy and Margaret Page
Liliane Partain
Verne Pherson
Mr. &. Mrs. John Phillips

Freida Powers

Alan Quirion
Jon Rindfleisch
Trey Robbins
Mr. & Mrs. Kersey Smith
Scott Stevens
Todd & Franchelle Stevens
Edward Tender
The Country Club of North Carolina
Peter & Judy Vanica
Ruth Van Lehn
Joyce Whitehead
Cari Whittington
Ailean Wilson
Mr. & Mrs. Bob Woodward
Dr. & Mrs. Pat Woodward
---

Volunteers are needed at our construction sites, our two Re-Stores (Moore and Richmond), various committees, office/data entry work, fundraising and special events.

Please keep these Habitat volunteer needs in mind when you are at your next meeting, at church, or at a social gathering. Possibly consider bringing a friend the next time you are volunteering at Habitat.

Only through our partnership with families, volunteers and the community are we able to build houses, communities and future generations, please help us continue our mission.

Please contact Rosemary Weber, Volunteer Coordinator