Letter from the Director-


"Sure, Come on in!"

At the very heart of the story of Christmas is a family… a family in search of safe place to rest. As we listened to the scripture read in the Pinehurst Fair Barn on Christmas Eve, Pastor David Beam of Pinehurst United Methodist Church reminded us that families today still struggle to find a safe place to rest. Because of this connection to the story of Christmas the entire Christmas Eve offering of PUMC was donated to Habitat for Humanity to help provide homes for families in our community.

As Pastor Beam continued, I couldn't help but feel a Habitat connection to another part of his message. He recalled a children's Christmas program in which the story of the birth of Jesus was being played out by young actors in perhaps their first acting gig. Joseph knocked on the door of the inn and asked if there was any room for his family, and a stunned innkeeper froze in the doorway for a moment before exclaiming, "Sure! Come on in!" Of course, the audience laughed, and Joseph nudged to lead him to the proper line of "I'm sorry, there is no room at the Inn."

Well, at Habitat, we always have room – and we want to remind you that it takes many talents for our mission to succeed. We definitely need good builders, but we also need ReStore helpers who can clean, price, run the cash register and unload! We need office assistants who enjoy answering phones, stuffing mailers, cutting post cards or entering information that helps us keep track of it all. We also need leaders on committees to help us reach the churches, businesses and individuals in our community who might not yet understand what we do.

We are incredibly proud of the team of staff, volunteers and homeowners we have at Habitat. If you are looking for a fun and crazy family to join in 2019, look no further – and when you knock on our door, we will say, "Sure! Come on in!"
---
A new year brings a new build for the Faith Community, the 2019 Apostle Build. Local churches will come together to raise the funds to build a Habitat home ($70,000) and provide the labor and prayer support to build the house in partnership with a local family. As people of faith, we are compelled to respond to our neighbors' needs, acting as God's hands and feet in service to our community. When we come together to help people build better futures for themselves and their families we actively participate in doing God's work. Habitat for Humanity offers concrete ways for people of all faiths to love and serve their neighbors.

We recognize that every congregation is a different size and has different resources. We are thankful to the churches that are able to participate at the Apostle level of $6,000, and encourage smaller churches to join us part of a faith coalitation. Our goal is to have people of all faiths come together to creat awareness of the need for local, affordable housing and to engage the community in hands-on solutions. We are currently seeking civic minded volunteers to act as the ambassador at their own church. If you think that you can help us on this mission, please call Amie for details.
Faith Relations Lunch
Wednesday, January 16th @12:00
Village Chapel
10 Azalea Road in Pinehurst

Meetings are held every third Wednesday of each month.
Visit our website for current locations
Homeowners First Christmas in New Habitat Home


The Hockadays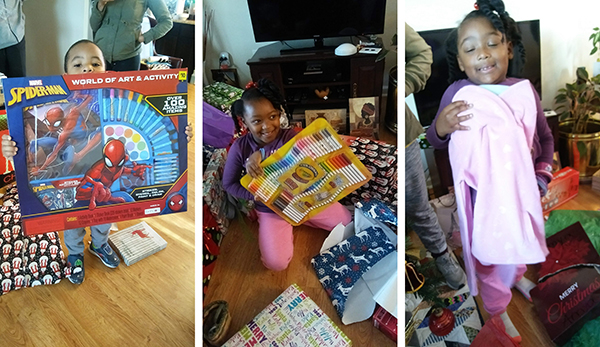 Building a house is only part of the mission. We also build self-esteem, hope, and determination that help empower the family who call it a home. Empowering future homeowners with knowledge builds the self-confidence needed to be successful. Our Family Services Coordinator, Ellen Harrison, teaches monthly classes from finance to healthy food choices created to build the "toolkit" they will use when they take possession of their home. The classes are only part of the 300 sweat equity hours each homeowner commits to when they partner with Habitat; many hours are spent working alongside volunteers on the build site swinging the hammers.

We truly enjoy partnering with each family as they take the journey to homeownership, and nothing is more heart-warming than reaching the end.
For that reason we would like to share with you these photos of the Alicia Hockaday's first Christmas in her new home. The 2018 Women Build Committee of Moore County sponsored this home by calling on many of you to donate you time, talent, and resources. We thank you!
---
2018 Holiday Party for Volunteers


We appreciate Trinity AME Zion Church for opening their doors for our Holiday party and FirstHealth for the fabulous feast that they provided. Special thanks to Rusty Disney for his guest appearance as Santa! It was a terrific time for the staff and volunteers to share the Christmas spirit. Thank you to all who attended; if you did not make it this year, we hope you plan to next year!
---

2019 Habitat Gala Committee
The committee is out working and they may be knocking at your door! They are busy collecting donations to auction at the Gala on March 30th. If you have a suggestion or something that you would like to donate please call Stacy or Amie at the Habitat office.
Ticket Sales www.habitatgala.org
We are also busy putting together a Disney trip for one lucky family and we need your help. In order to qualify for the free tickets, we need families to come out and help landscape at 112 Blyther Street on January 19th. Please come join us and learn about indigenous planting in North Carolina.
Call Amie for details or follow this link to sign up.
https://www.allforgood.org/projects/RJKR2X8X
---
Volunteer in the Spotlight-


Nancy Kees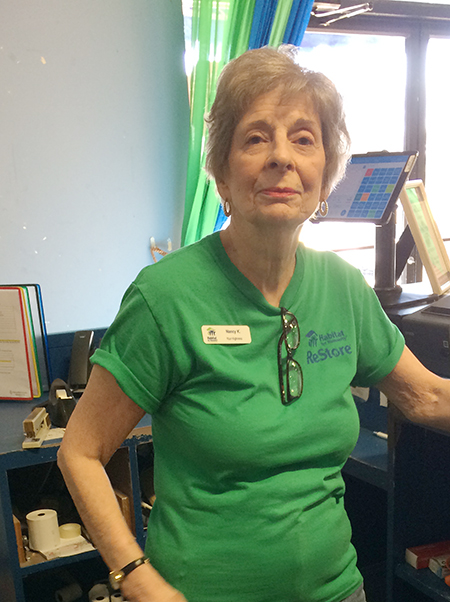 Volunteer Nancy Kees, AKA "Your Highness" is the Queen Bee of cashiers. Nancy has been volunteering with Habitat as a cashier since 2011 and has logged in over 3400 volunteer hours. Nancy is the very first person you see on Tuesday and Saturday mornings. She greets each customer with a smile and sometimes a very hilarious comment which is always well appreciated by customer and our staff. Nancy's sense of humor is just wonderful and yes, once in a while an off color joke that she tells keeps staff laughing all day long.

Nancy is a true people's person and enjoys greeting new and old customers. Nancy says she started volunteering with Habitat because she wanted to serve the community in some way. We are so grateful that Habitat was her choice.

Nancy and her husband, Tom, originally from Philadelphia, moved here 30 years ago. They lived in several states prior to North Carolina due to Tom's job with Sears. They have 3 children, 6 grandchildren and 3 great-grandchildren, which makes for a very busy life. We are blessed to have Nancy as part of our Habitat Family
---

From the ReStore Director


Kim Braddy

I want to share an example of what great donations we receive from our community. We recently had a pontoon boat donated. We are waiting for the title before we sell it but in order not to miss great things like this, visit us often!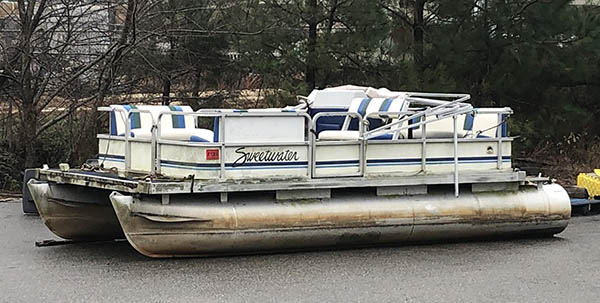 We are currently accepting applications for our Moore County ReStore. If you are interested in being a part of our team, please inquire within the ReStore. No phone calls please!

Spring will be here before we know it. We are currently booking our 2019 Stuff the Truck Events. If you are interested in having our ReStore truck brought to your community, church, fundraisers etc. We will gladly accept your leftover items from your sale.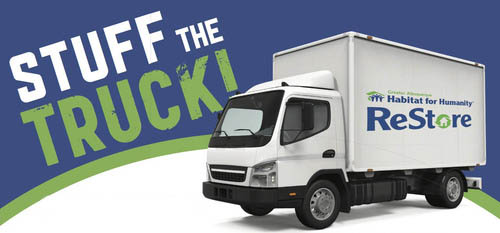 Volunteer position wish list: looking for those who love to DIY. This person or persons would take something from the ReStore and DIY it to inspire our customers and that items that look unusable just may need a little TLC.
Any questions, please contact Kim Braddy 910-295-1934
From Moore County ReStore

We would like to thank STARS Charter School for their volunteering efforts. They volunteer with us Monday, Tuesday and Wednesday, and the kids really enjoy the things that we have them doing. It is rewarding to us to show people how much they are needed and valued. The ReStore enjoys them and looks forward to seeing them every week.

We've gained five new volunteers over the past month; we would like to continue to grow our volunteer base. We currently have cashier/helper positions open and availability in the warehouse for merchandising.

From Richmond County ReStore
Happy New Year to all our ReStore shoppers, volunteers and donors!
Now that Christmas has come and gone, the Rockingham ReStore is concentrating on procuring new inventory that will keep our shoppers coming back on a regular basis.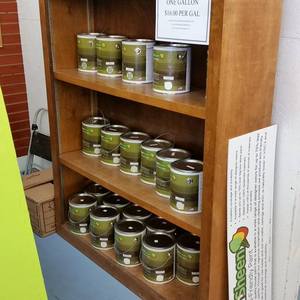 One of those items is house paint. We have partnered with a distributor to sell "GreenSheen", an eco-friendly paint. Made from 100% reclaimed materials, it saves our customers up to 75% over other stores' prices. Another plus is it helps keep thousands of pounds of materials out of landfills and comes in a wide range of designer colors.

Our store currently has color choices of white, sand, putty, sage and tan. At $16.00 a gallon it is a great product to try as you start to plan your home freshen up projects!
---