Habitat Home will help keep best friends together…
During a recent Richmond County Women Build meeting, our future homeowner, Nikki Pittman,
was joined by one of her good friends. Nikki is legally blind and suffers from other symptoms as a result of diabetes, but she and her husband, Ellis, don't let that keep them from joining in on the many meetings and contributing the 300 hours of sweat equity required to purchase a Habitat home. Nikki could easily justify not performing her hours, but instead, she and fellow volunteers in the Rockingham ReStore have created a system to allow Nikki to safely assist in the busy world of ReStore. It is this can-do spirit that has many in Richmond County offering to help build her home.

At the meeting, we learned that Nikki's good friend, Christy, lives just down the street from where the Pittmans will be building their new home. This was a special blessing because their sons have been best friends since kindergarten. Christy was able to quickly share photos dating back a decade to when their friendship began – and followed up with a picture of them and mom, Nikki, after their recent graduation from Richmond Sr. High.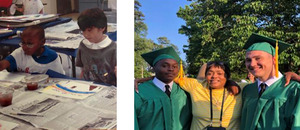 Several staff members, volunteers and two of our Board members met with the Pittmans in the Briarwood subdivision in Hamlet to select the lot on which they will build. Two years ago, we received a donation of 9 lots in this lovely neighborhood. After checking out each lot, the Pittmans selected their favorite (and a backup in case setbacks or other issues create a challenge). Our construction team analyzed the lots with the Pittmans, we exchanged materials with volunteers for an upcoming bowling event and grill raffle they are hosting, and everyone devoured S'mores Blondie Bars baked by Women Build committee member, Toni Maples (they were ridiculously delicious). We are excited about continued growth in Richmond County, and hope you will join us for some of their upcoming events – especially their Womanless Pageant (yep, you heard me right)! Saturday, August 18th at Liberty Place.

~Amie Fraley


Executive Director
---
We Need You to VOTE FOR HABITAT! Sandhills Habitat was nominated in three categories for the
Best of the Pines this year thanks to our followers …

Best Place to Volunteer

Best Consignment Shop

Best Fundraising Event

We need you to VOTE HABITAT in these three categories so that we can maintain our 2017 bragging rights, but more importantly we need to encourage our community to get involved. We believe in getting hard working families into quality, affordable homes where they can grow, succeed and be a valued citizen and steward of their community.

CLICK HERE TO VOTE
---
Habitat's Faith Relations Meeting


Wednesday, August 15th at Noon
Culdee Presbyterian Church
916 NC-73 in West End, NC

We look forward to sharing with you the opportunities for partnering with Habitat in the 2019 Apostle Build. We hope to recruit 12 churches who are will to share in funding and providing volunteers on the construction site. Please RSVP to Rosemary at 910-295-1934 or at

rweber@sandhillshabitat.org

by August 13th so we can give our host an accurate head count. We look forward to seeing you!

---

Womanless Beauty Pageant


Saturday, August, 18th at 6:00pm
Liberty Place in Rockingham

From the Richmond County Women Build Committee, your favorite local celebrities and friends will dress up and compete for the title of this competition. This is an event you don't want to miss! Tickets are $25.00 and can be purchased from Christian Liles, Event Chair, at

christian.liles@ncfbins.com

or 910-997-5671. It will be a great show with light appetizers and refreshments. All proceeds go to 2018 Women Build benefiting the Habitat for Humanity of the NC Sandhills.

---

2019 Gala Kick Off Committee Meeting


Wednesday, August 29th at 3:00
Habitat Office | 2268 NC Highway 5

Is it that time already? You can never start too soon! We are looking for enthusiastic volunteers to help get this party started. If you can lend a hand and work with businesses in the community to get fabulous raffle gifts, please send an email to Nicole Neves, Chair Woman, at

tnicoleneves@gmail.com

and attend the meet and greet at the end of the month. We would love to have you! Every year the committee has managed to meet its goal to raise enough money to build at least one Habitat Home. and this year we are going to double that!

---




General Seating
$50.00
VIP Seating
$75.00

Women Empowerment Brunch


September 6th at 11:00pm
Forest Creek Country Club
Pinehurst, NC

Please join the Moore County Women Build Committee to celebrate women who have been empowered to take charge of their own future. Be inspired by a panel of experts sharing their success stories and meet our Women Build Homeowner-in-Progress, Alicia Hockaday.

Event Speakers
Rev. Mary Balfour Dunlap | Emmanual Episcopal Church
Kay Beran | Berkshire Hathaway HomeServices
Michele Lupkas | Juvo MedSpa
Janet Galloway | Synergy Wealth Financial
Patrice McPhatter | Joy of Cleaning, LLC
---
The Habitat Volunteer Experience




At the Heart of Habitat



Bob McVay and Linda McVay are at the heart of the Sandhills Habitat Family. Together, they have made homeownership a reality for many well deserving, hardworking families. Bob comes to us from Oklahoma, where four seasons are often seen in a single day. Bob settled in Pinehurst as independent insurance agent and was the former president of the N.C. Independent Insurance Agents Association. He is a Charter Member and former president of Pinehurst Rotary Club, among many other community involvement activities.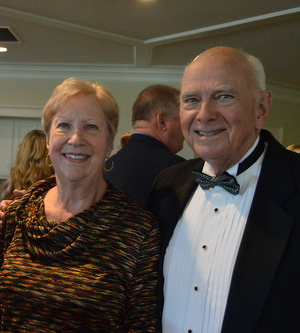 Bob and Linda have two sons and four grandchildren, their son Robert followed in his footstep and is the Principal Agent at Pinehurst Insurance and also very active in the community.

" I became involved through my friend, Dick Wolstenholme. About 5 years ago he invited my wife Linda and me to go to the Habitat Gala with him. We enjoyed the Gala and the people we met there. It was a smooth progression to volunteering at the ReStore and then to serving on the Board of Directors. Linda has enjoyed serving on the Gala committee for the past 2 years. It has always been my strong belief that everyone should have the chance to earn a clean, safe home. It's very rewarding to see this come to be through Habitat."
Linda and Bob McVay
Board Member and Volunteers
---
Youth Build Volunteer in the Spotlight
Christian Martone has been volunteering at the Youth Build House just about every Thursday, Friday and Saturday this summer. Christian is a rising senior at North Carolina School of Science and Mathematics in Durham.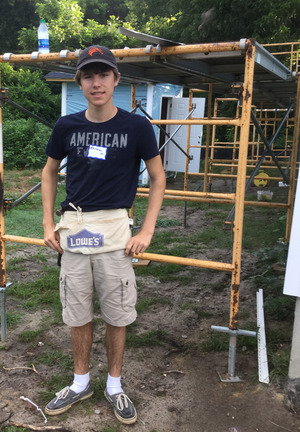 He is planning after graduation to go onto one of the North Carolina university's and major in engineering. Christian says "volunteering at a Habitat site has been extremely rewarding and very informative, from learning how to correctly hold a hammer to installing doors and windows, measuring and cutting. The entire construction staff and hard core volunteers have been amazing.

Christian is an awesome young man with a bright future ahead of him. We hope that next year he will come back to Habitat to possibly intern with us. We all wish Christian good luck in his senior year at NCSSM!

---
From the Restore Director


Kimberly Braddy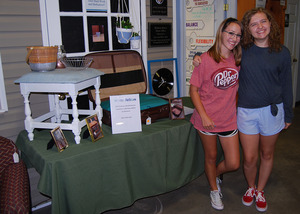 We were very excited to have a few high school students this summer creating DIY projects for our MC ReStore. They created several items utilizing things we sell in the ReStore. As seen in the photo, a pet bed made from a suitcase, a recovered ottoman/stool, and my favorite, a clock made from a vinyl record. Thank you for all of your time and creativity.
On that note…
We are looking for volunteers who love to
"Do it Yourself"
. Our MC ReStore would like to hold DIY classes once a month. If you like to DIY, and are a people person, we want you to teach a small class once a month. Please call Kimberly Braddy at 910-295-1934.
Our
Richmond County ReStore
is in the final stages of finding sponsors for our truck wrap. If you are interested in becoming a sponsor and possibly adding your Business Logo to our Rolling Billboard, please contact Kimberly Braddy at 910-295-1934.
Reminder to our Communities:
If you are having a yard/tag/garage sale, please call us for a Free Pick Up with any remaining items that you don't want. We also have our Stuff the Truck availabile. We will bring the truck to your community wide yard sale, fundraiser sale etc. for you to add unsold items onto our ReStore truck. We request two weeks advance notice for this event.
www.sandhillshaitat.o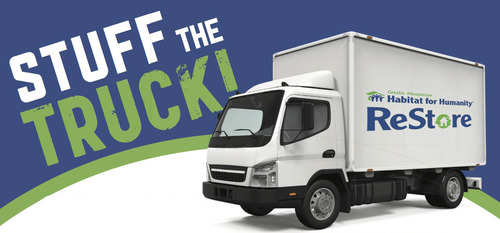 Please feel free to email or call me directly with any questions you may have about our
Moore and Richmond County ReStores.
(910) 295-1934
kbraddy@sandhillshabitat.org
---
From the Richmond County ReStore Manager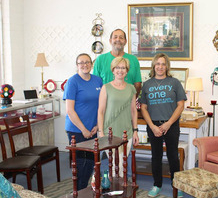 Amy Guinn
In an effort to promote
Shop Local
initiatives, the
Richmond County Chamber of Commerce
posts a
"Member of the Day"
on their facebook page. Our turn was June 25. A Chamber representative came to the ReStore to take a picture of our staff to post on Facebook along with statistics about our local affiliate; the number of houses we have built (over 260), how many families we have served (around 316), etc. It is a helpful way for our affiliate and our ReStore to get some positive publicity about the service that we do. Thank you to our local Chamber!
---

Construction Site:
No experience needed, we have construction supervisors on site that will instruct on the various tasks for the day. Tools are provided. All you need is an open heart and joy in know how much you have helped someone in your community to a better future.
ReStore:
Volunteer opportunities available in every department in both our Moore County ReStore and our Richmond County ReStore, Monday through Saturday. Whatever hours or days you are available we are happy to work around your schedule.
Students:
We could use your help at our ReStore in Aberdeen on several special projects – before school, after school, or Saturdays. We will work around your schedule.
Habitat's mission is to provide safe, decent and affordable homes in our community, but only through dedicated volunteers is this possible, so please consider volunteering in our ReStore or at our Construction Site today.
Call Rosemary to find out how we can customize your perfect volunteer experience! (910) 295-1934 or email rweber@sandhillshabitat.org
---