Letter from Our Director – Could you be a Hope Builder?

Amie Fraley
Executive Director

(910) 295-1934


Thank you for your support of our mission – together, we can build more!

As we begin 2017, we ask you to consider joining us as a Hope Builder.

What is a Hope Builder?
A person who contributes on a monthly basis toward Habitat's mission.

Many factors are necessary to carry out the Habitat mission of creating safe, decent and affordable homes for local families. Throughout the year, we recruit, interview, and qualify families. We partner with these families and our volunteers to build innovative homes. We service over 200 mortgages

Your monthly support as a Hope Builder will help Habitat budget its resources and the costs associated with building a Habitat home. It will also provide consistent production levels throughout the year. Monthly giving creates a significant impact over the year. As a Hope Builder, you will receive a special thank you gift from Habitat as well as recognition in our newsletters, on our website, and our communications to the community.

If you would like to learn more about becoming a Hope Builder, please contact me. Thank you for your support of our mission – together, we can build more!


January Calendar

Resource Development Meeting
Monday, January 16th
10:00 am



2017 Gala Meeting


Tuesday, January 17th
4:00 pm



Board Meeting


Monday, January 23rd
12:00 pm



Home Owner




Potluck Dinner




Monday, January 23rd




6:00 pm





Habitat Home Dedication


Thursday, January 26th
6:00 pm
---
Home Owners Potluck Dinner
A potluck dinner will be held on Monday, January 9th in the ReStore to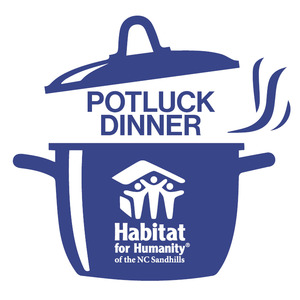 honor the relationship between the Habitat homeowner in progress, the Board of Directors, and the Habitat staff.

The three groups are dependent on each other and share the same goal of home ownership but don't always know each other personally. The dinner will be an opportunity to get to know each other and appreciate all that everyone contributes to the Habitat program.
Please RSVP (910) 295-1934
---
SAVE THE DATE
2017 Habitat Gala - Saturday, April 1st at 6:00 pm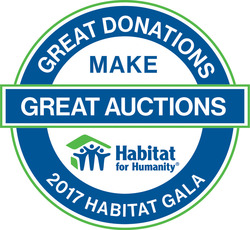 Our Annual Habitat Gala with be held on Saturday night, April 1st at the Pinehurst Country Club. The evening will begin with cocktails and a Silent Auction followed by dinner/dancing and a Live Auction to raise funds for our 2017 Build. Great auctions start with great donations! If you have tickets to an event, a timeshare, own a restaurant or service business, please consider donating to the 2017 Gala.

Please also consider the connections you have and how they might benefit the event. For example, if you know someone who can help get sports memorabilia signed, can teach an art, dance, or music class please asks them to consider donating time to this worthy cause. It is a great way for businesses to gain media exposure to the Moore County residence and other businesses.

We are also excited to announce that our Silent Auction with be going mobile this year. You will be able to review and bid online weeks prior to the event. Stay tuned for more information, invitations, ticket sales, and links to online bidding for the event!
---
2017 Tax Preparation Services



AARP Tax Preparation at the Habitat office will be available again this year. Please call the office to set up your appointment. (910) 295-1934
Jamecia and her two daughters, Amoni and Chelsea, and her son Dillion hosted almost 40 friends
and relatives at her new Habitat home in Roseland Farms on December 15th.

Carolyn Giltzow & Jeri Crowell, the "Dedication Divas", supplied beautiful Christmas Cookies, Lemon Bars, and Brownies for the festivities. Elder Deon Allbrooks of the First Baptist Church of Southern Pines, presented the family with a Bible and blessed the new house.
Housewarming gifts were presented by Artist League of the Sandhills, Sandhills Quilters Guild, Boy Scout Troop 7, Moore County Literacy Council, Moore County Reading Association, and Carolyn Loeser from the Alfred Moore Chapter of the DAR. A very grateful Jamecia thanked her father, her grandmother (who journeyed from Alabama for the celebration) her family, and other home owners in progress for their support.
---
The Habitat Experience
Bring the "Habitat Interactive Experience" to your backyard!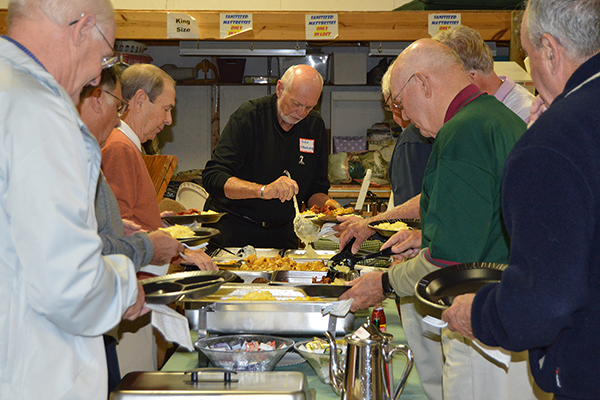 Thank you to the Blackwell Golf Group, the organizers and board member Michael LaGraff for recently joining us for breakfast in the Habitat ReStore! Many of these golfers are longtime Habitat for Humanity of the NC Sandhills supporters, so as part of our Habitat family we put them to work! They tested an idea to help share Habitat with more people. With a "Habitat Experience" party, your group can learn more about our local mission through fun, interactive games. From a hammering contest to a ReStore pricing game, these gentlemen tested their knowledge of Habitat's work. After some laughs and learning, several expressed an interest in joining our volunteer team on an ongoing basis.

Since our volunteers saved our affiliate nearly $700,000 last year in labor costs, this is an incredible way to give to our ministry. Our Habitat Experience parties can travel to your home, workplace, church, or neighborhood for a fun and meaningful event. Contact us to host a party of your own!
---
2016 Volunteer Christmas Party


On Monday the 12th, Sandhills Habitat celebrated our volunteer spirit with a Holiday Lunch. We thank FirstHealth of the Carolinas for providing the delicious meal and the Sandhills Presbyterian Church for providing the venue and the beautiful ambience. We appreciate the many ways our Volunteers help to fulfill our mission to provide safe, decent, and affordable housing to the hard working members of our community who could otherwise not afford home ownership.

---

Celebrating a Five Year Anniversary


Ellen Harrison, our fabulous Family Services Coordinator, leads our monthly classes that each Habitat Homeowner must complete before they are able to purchase a Habitat home. Ellen coaches all of the partner families from selection to Dedication. She continues her work by providing support to our Habitat family. Thank you, Ellen, for your tough love and ability to seek out great leaders and homeowners in our community!

---


Faith Relations
Each month, a local church hosts a Habitat Faith Relations lunch for members of our community. Our January meeting will be hosted by Sandhills Presbyterian at 650 Pee Dee Road in Southern Pines on January 18th. At these "lunch and learns" we enjoy fellowship, updates on what Habitat projects are underway, what needs are in the community that Habitat can address, and ideas for the future.
We often feature a current or future Habitat homeowner at the lunch. Their stories of success and perseverance inspire us to action, and we love the chance to share that with you. At November's lunch meeting, future homeowner Shelia Williams described her feelings about being a part of the Habitat family. (Click to view Video)

---
Special Sale Helps With Hurricane Rebuilding
During Hurricane Matthew, the Fayetteville Habitat for Humanity sustained damage to 93 of their partner's homes, more than half of the homes the affiliate has built in 30 years. To help support their rebuilding, on November 17th, seventy-eight Restores across the state donated a portion of their sales that day. The Sandhills Habitat ReStore of Moore County and Richmond County participated in the fundraising drive.

In addition to that fundraiser, the Habitat for Humanity of the NC Sandhills solicited additional donations from the community and invited shoppers to the ReStore of both Moore and Richmond Counties on December 22nd where 10% of their purchases where donated to the Hurricane Matthew victims in Fayetteville.

Thank you to all who donate, recycle, and shop at the ReStore!



Moore County Restore Update

We are still actively looking for volunteers in the Restore for cashiering and also in the warehouse.

Chris Evans, whom has been with us for 10 years, will be leaving in mid-January on a new-found adventure. He will be moving to the Wake Forest area. We wish him luck and continued success!

Toys for Tots
The ReStore participated in the Marine Corps Toys for Tots drive and received tons of help from our shoppers. Shoppers got incentives for their contributions by getting 20% off their purchases in exchange for a toy. The program was a huge success!


Richmond County Restore Update

Stuff the ReStore Truck on January 7th 2017 at Zaxby's in Rockingham.
Our partnership with Zaxby's will be great for donors who are cleaning old items for new Christmas items. Bring your donations to Rockingham Zaxby's and recieve Zaxby's meal discounts. Zaxby's chicken mascot will be thanking all the donors. Come and don't forget your donations for what will be a fun food-day in support of Habitat ReStore from 11am-3pm.

Also, January 23rd will be our next DIY class. It will be a class on Snowmen made from sweaters. It is a spin-off of our Pumpkin crafting class and is in high demand. Be sure to sign up early…this class will fill quickly - only 15 participants. The cost is a $10 donation to Habitat for Humanity and includes all supplies. There is always great food, new friends and a special sale for attendees.

---
Volunteer of the Month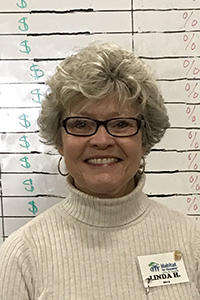 Moore County–Linda Hrabowecky
Linda Hrabowecky has been a volunteer here for 10+ years working in housewares in the ReStore on Tuesday afternoons! You will never catch her in here without a smile on her face and enjoying what she does. Linda works in a group of four ladies and they all do an exceptional job in that area. She is definitely another example of what a Restore volunteer is!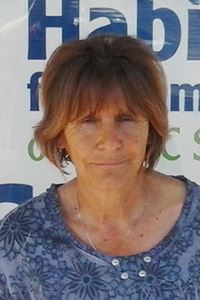 Richmond County–Debbie Ricks
Debbie has been a long time shopper of the ReStore and about 6 months ago gave into being a volunteer. Always willing to do whatever is needed that day, she helps keep the donation area organized. With her trust in the Lord, she is always thankful and happy no matter what is going on in this world, and it shows in her love for others. A HUGE THANK YOU goes out to Debbie!