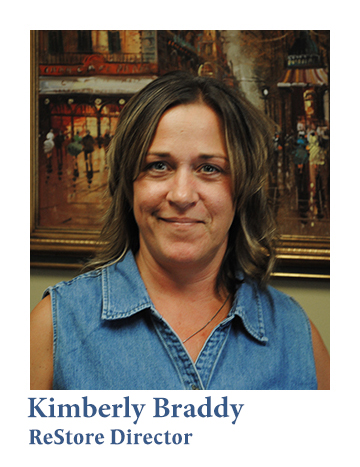 Big Shout Out to Gabrielle Kinney and Jakob Fix.
Gabrielle Kinney and Jakob Fix have been instrumental in our ReStore's "Stuff the Truck" events for the past 3 years. They have volunteered countless hours in our ReStore in Moore County by cleaning, sorting, and pricing our donated goods. Gabrielle and Jakob have been great mentors for the future High School volunteers, by telling and showing everyone how much fun and rewarding it can be working in the ReStore.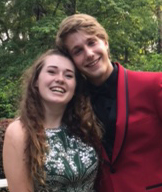 Our extreme gratitude goes to them for their dedication, hard work and belief in our Mission by being leaders in our Stuff the Truck events. They have packed, wrapped, loaded and unloaded our ReStore trucks with goods donated from large rummage/yard sale remains.
It is bittersweet this year, we are so proud of them as they graduate from Pinecrest High School and move onto college in the fall, but, they will be sorely missed. They are so dedicated, that they offered to return from college and work a "Stuff the Truck" event and only asked for a two week notice. They even worked the whole day in the heat before their prom. They had little time to get ready but still look terrific!

At the Annual Women of the Pines Rummage Sale at the Old Gymnasium in West End we had monumental help from Gabi, Jakob , NHS students from Pinecrest, and ROTC. The second one that day was at the Brownson Church in Southern Pines. That one was so large we had to schedule a second pick up for Tuesday of the following week to pick up the remaining items.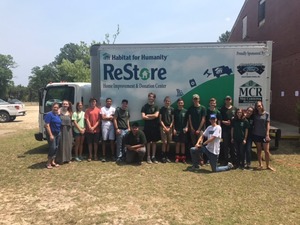 We are currently recruiting Stuff the Truck team members for future events. If you and your friends would like to volunteer to work a "Stuff the Truck" event this summer, it looks great on your resume and you will get a chance to network with great people.
Interested in Volunteering or scheduling aStuff the Truck Event, please contact Kim Braddy at 295-1934.

Our Habitat Restore is always looking for cashier volunteers. The shifts are half day, morning or afternoon, and it is a great way to make friends and meet new people.

Richmond County ReStore needs merchandising, display, design and decorator volunteers, as well as volunteers to help with our donation pick-ups.
Please call Trey at (910) 817-9576 for more information, very flexible hours.

Watch us on Facebook for added merchandise photos to get an idea what great donations we get from the community. And speaking of communities, don't forget to book your Stuff the Truck pick up for your next event, the calendar is filling up. It is a great way to engage your church, business, or other social group. Spring Cleaning is up and running!
Donation Hours:
Mon- 9-4 | Tues-Fri 9-5 | Sat-9-4