Join us in Celebration of Burch Family Home
Habitat Home Dedication
Thursday, May 24th at 6:00 pm
391 Greenlake Road
Richmond County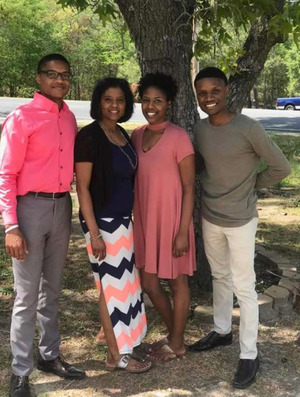 Habitat celebrates Nankeen Burch's journey to homeownership and her commitment to 300 hours of "sweat equity". We thank all the volunteers who help to build this quality Habitat home and made this dream come true for Nankeen. We are honored to work with this hardworking family and the community who made it all possible. Nankeen has worked for FirstHealth for many years and is raising a family in Rockingham. The RVers, led by Bob Hammer, broke ground in the fall and had the house weathered in within in two weeks. Dedicated teams of volunteers have continued to work on home including a group of "Finishers", led by Frank Pacifico, who traveled from Aberdeen weekly to lay to the floor, put in cabinetry, and molding. Once Nankeen is in her home, her affordable mortgage payments will pay the opportunity forward to another hard working family in our community.
---
Monroe Family Dedication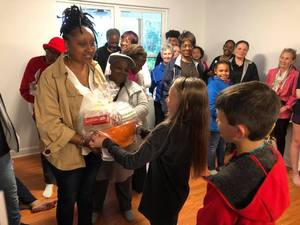 Congrats to our newest homeowners, Tyler Mason and Kendra Monroe, and the many supporters including our Faith Partners and the State Employees Credit Union representatives who braved the rain to celebrate the dedication on April 24th. Community members join in by presenting our homeowners with housewarming gifts that mean so much to them! Thank you to Harper and Quinn Senff from Pinehurst First Baptist Church for their special presentation and gift pictured here.
---
Repair Program
Our latest repair recipient is Tommie Taylor from Hamlet NC. This photo shows several volunteers who braved the cold temps to give this 98-year-old a much-needed wheelchair ramp. Tommie's daughter, a volunteer from the Charlotte Habitat, knew just who to call! This homeowner has lived in her home for 65 years. "You made it possible for our mother the get in and out of her home safely, we are so grateful", said her family.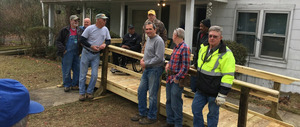 If you know of someone in need of an exterior repair, please call Habitat
(910) 295-1934, ask for Jennifer Moree
---
Where does the time go…?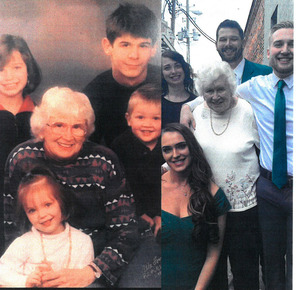 Time sure goes by quickly as you can see in this wonderful photo of our longtime volunteer,
Emily Ahrens
. This picture is from 20 years ago of Emily and her grandchildren (Maggie, Zach –top row with Sage and Paris) Emily noted that Sage and Paris who are twins by the way, had also volunteered with her at the Habitat ReStore when they were kids.
Recently Emily attended her grandson Paris's wedding in Wilmington, and they surprised her with a photo shot of the four grandchildren showing them in the same pose, but 20 years later.
This is such a great family photo to cherish. As you can see from the photo, Emily is as beautiful now as she was 20 years ago…maybe she will share her youthful secrets.
Thank you to Emily for sharing this special family moment with us.
---
From the Restore Director
"Stuff the Truck"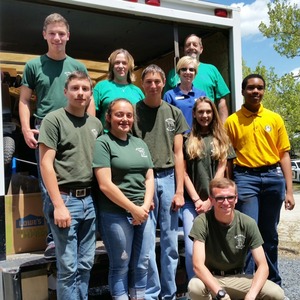 We just had a very successful "Stuff the Truck" event at the Women of the Pines Rummage Sale this past Saturday, 4/28/2018. Thank you to
Women of the Pines
for always thinking of us with this fundraiser giving us the remaining items to sell in our Restores. A Big Shout out the ROTC students for always being there with this event and loading our truck!
We were at
Pinehurst United Methodist Church
for the week of 4/21-4/29 giving the community an opportunity to build a shed and "Stuff the Truck" with donations.
Starting tomorrow, 5/1 we are bringing the truck to
Pinehurst National every Tuesday
for the month of May. These are only a few examples of what we do with our "Stuff the Truck" events. If you know of a yard/rummage sale fundraiser and don't know what to do with the remaining items, or would like us to bring the truck to your community to pick up your donations, please call Kim Braddy at (910) 295-1934.
Truck Wrap Sponsorship Levels
We are looking for sponsors for our Richmond County ReStore Truck Wrap. You can partner with us for this project for $100 level to $1000 level. Our $500 and $1000 level will put your business logo on 3 sides of the truck, giving your business a rolling advertisement for a year with opportunity to re-sign every year.
Reminders
One last big reminder: We still have highway construction in front our Moore County ReStore, but please know that we are open for business and donations. If you can't get to us with your donations, please call our ReStore for a free pick up and we will come to you. 910-295-2798.
If you are interested in having a "Stuff the Truck" event or would like to learn more of our truck wrap sponsorship levels, please call Kimberly Braddy at the below listed contact information.

(910) 295-1934
kbraddy@sandhillshabitat.org
---
Moore County Restore Manager- Dondi Jones
Our volunteers for the month of May are Dale and Pat Schawitsch, they've been volunteering with us for 8 months. They are a one of a kind volunteer couple that brightens the ReStore. Pat and Dale definitely don't have one specific title here, they will take on any task that is asked of them. They are becoming what we call a "Roaming Hardcore." Talk about enjoyable people to be around, that they are, so we would just like to a special thanks to those two. Thank you!
Volunteer Opportunities Available
Cashiers
Thursday both shifts 10-2 & 2-6

Friday 10-2

Saturday both shifts 9-1 & 1-5
Housewares Saturdays Both Shifts
No experience needed, we have construction supervisors on site that will instruct on the various tasks for the day. Tools are provided. All you need is an open heart and joy in know how much you have helped someone in your community to a better future.
Volunteer opportunities available in every department in both our Moore County ReStore and our Richmond County ReStore, Monday through Saturday. Whatever hours or days you are available we are happy to work around your schedule.
We could use your help at our ReStore in Aberdeen on several special projects – before school, after school, or Saturdays. We will work around your schedule.