A Fond Farewell


to our Two Term Board Members,

Michael LaGraff and Jana Green

As we begin our new fiscal year, we sadly bid farewell to those board members ending their terms leading our organization. We want to say a special thank you to Michael LaGraff and Jana Green, both of whom are completing the second of two full 3-year terms (our bylaws limit board members to two consecutive terms).

Michael served as Board Chair, and has also been instrumental in sharing Habitat's mission with many of his friends and neighbors at the Fairwoods on 7. We are grateful for his understanding of our mission and his willingness to encourage others to support this work. He and his wife, Susan, often invited friends to join them at a dedication. We loved see these new faces experiencing Habitat for the first time.

Jana, too, has been dedicated to Habitat's mission – helping us in many land acquisition decisions, and she was heavily involved in the Pinewild build of 2014 which raised over $95,000 and built an entire home for a local family. We love it when Jana drops by the office, and we hope see her still involved in committees in the future.

Although we hate to lose Michael and Jana from our board, we thank them for their many years of service to Habitat and to the Sandhills!

To learm more about Board leadership opportunities at the Habitat, visit www.sandhillshabitat.org and select about/leadership.
---
Faith Relations Lunch
On Wednesday, July 19th our Faith Relations meeting will be at
Community Presbyterian Church in Pinehurst.
Please RSVP to Rosemary at 910-295-1934.
2018 Faith Build for Unity

Sandhills Habitat provides an opportunity for everyone to put their faith and love into action. Whether it is money, time or your voice, no amount of support is too small. In this year's Faith Build we are offering a variety of sponsorship levels that can accommodate any budget. We are reaching out to all the churches in Moore County to unify a diverse groups of people to come together to build affordable housing. Ask your church coordinator if they recieved the survey and tell them you are interested in helping. You can also contact us directly to learn more about our mission and to hear about the many opportunities available to partner with Habitat for Humanity. If you know of someone who might be in need of our services please let us know.

Next meeting is Friday, July 14th
---
Sandhills Habitat Stakeholders Spotlight
If you shop at the Habitat ReStore on Friday mornings you will likely be greeted by one of our outstanding cashiers, Char Popson. Char also volunteers on Thursdays preparing merchandise for sale. Char began volunteering with us in November, 2014 and in a few months had recruited her husband, Gary, to our Habitat family, as well!

Gary is an important member of the team behind the scenes in the ReStore, preparing donations for resale, especially in the area of books, magazines, and media. He is a fantastic recruiter of other volunteers, leading one of his neighbors to us to help with much needed data management. Gary also volunteers with our development team to help us connect with local civic organizations.

Gary and Char moved to the Sandhills from Erie, PA in October, 2014. Char began volunteering with Habitat almost immediately, "I wanted a place to be involved and to be a part of – I didn't know anyone in the area." We are fortunate that they chose Habitat to be that place, as both are dedicated volunteers and incredibly friendly. Char said they have enjoyed getting to know new friends at the ReStore, the staff and other volunteers are a big part of what keeps them volunteering.
Outside of Habitat, they are active with their church, Community Presbyterian. They also make time to travel to see their daughter, Kalena, in Denver and son, Matt, back in Pittsburgh.

If you enjoy finding great deals the ReStore, feel free to give Gary or Char your thanks at your next visit! Volunteers like the Popsons allow Habitat to keep prices low while building homes with proceeds for local hardworking families – we can't do it without them!
Thank you, Gary and Char Popson!
---
We collaborate with many local organizations and businesses throughout the year,and on July 29th we will participate in

"Santa's Summer in the Pines"
at Tufts Park from 4-8pm.


The event is a free and family-friendly afternoon from our friends at Pinehurst Business Partners where children can enjoy carnival-style games sponsored by local businesses, party with Santa during his vacation, and even play in some snow! Parents will be delighted to know there will be food trucks and even some adult beverages to enjoy while the children play. We promoted the event during the Pinehurst 4th of July Parade this week, and we hope you will join us on the 29th!

---

Keeping the youth active and engaged in the summertime can be challenging for parents. From games and athletics to drug prevention workshops, Boys & Girls Clubs of the Sandhills offers young people a range of fun and productive activities including volunteering. The Habitat ReStore was thrilled to have more than a dozen volunteers from the Boys & Girls Club at the ReStore last week. They helped sort through donations, restock the shelfs, and greet the customers. They had such a good time they have decided to come back every other Wednesday.

---







Ryan Walker
Construction
Volunteer



Hunter Wood


Construction Volunteer

Summertime is Volunteer time!

We LOVE our student volunteers! During the summer, student volunteers fill in so our "hardcore" volunteers, who work year round, can take a vacation. Ryan Walker is a local high school student, and football player, who is volunteering for the summer. Ryan hit the ground running at the construction site and is well on his way, thank you Ryan!

Hunter Wood is another volunteer worked the build site. Hunter is pictured here working in Taylortown on a ramp to help a senior citizen age in place. His goal is to work 60 hours to satisfy his graduation requirements for the School of Science and Math in Greensboro.



When your mom works at Habitat, you will probably be spending some of the summer there! Thank you to Colette, Ryann, Maya and Reese. Special thanks to our outstanding ReStore Volunteer Lead, Mary Ingram - her sunny smile often greets our customers at the door!

| | |
| --- | --- |
| | |

If you know any students who would enjoy working on the build site or in the ReStore, please give Rosemary a call. Volunteer work is a major component of the Habitat mission, and it looks great on a resume.
---
Many thanks to
Ellen Harrision and Bob Friesen


Da'Neeta Bethune - Closing Day




After all the days on the construction, the ReStore volunteer work, the homeowner classes, the preparing, the planning, and everything else that goes into a first time home owner, it's time for the closing. It is a beautiful experience to watch a family grow from beginning to the end and we at the Habitat families feel honored to be part of the journey that leads families to stability, self assurance, and the knowledge they have the power to change the future of their children.
---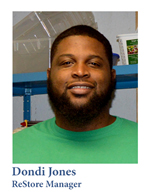 Moore County Restore Update
ReStore has a Record Breaking Year!
Our Moore ReStore has hit record sales for the past 2 months, exceeding their budget goals by over $10,000 each month. That wraps up our fiscal year at record breaking numbers to provide the foundation for building affordable housing.
We would like to thank all the donors, customers, staff and volunteers who have made this possible.
Moore County is eagerly accepting donations and is available to
pick up large items.

Please note the ReStore direct number (910) 295-2798
---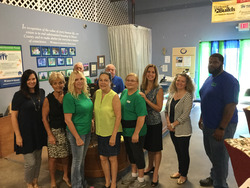 Once a team player,
always a team player!
Every morning our ReStore Manager, Dondi Jones, gathers the co-worker and volunteers to begin our day with five minute "huddle time" in which we introduce our volunteers and staff, make any announcements, and share in a brief prayer. It has created a wonderful atmosphere and helped us to work more cohesively.
​Thank you Dondi!
---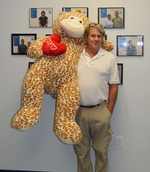 Moore County- Thomas O'Brien
Habitat ReStore
Thomas has been a volunteer for us nearly a year. He volunteers in our electronics department testing radios, VCRs, TVs, clocks, DVD players and stereo systems. Thomas has been a great asset and is very passionate about what he does. We appreciate all of his hard work and dedication; we proudly name him volunteer of the month .
---
Without volunteers on site and in the Re-Store, we could not do what we do in the community.
Thank you for volunteering and please talk with your friends
and neighbors about becoming a volunteer with Habitat.

​Fabric & Notions

–

​Love fabrics, seamstress at heart? Moore Country ReStore is looking for help.
10am - 2 pm or 2pm- 5 pm.
Flexible Shifts
Please call Rosemary Weber at (910) 295-1934 to get more information.