Hill Family Home Dedication in Southern Pines
​Thursday, December 21st at 6:00 pm
​160 South Hardin Street
Letter from the Director


Habitat Homeowners Raise the Bar for Habitat Fundraising

Every Habitat homeowner is an important partner in our mission. They literally "pay their opportunity forward" to future families by creating 1/3 of the funding necessary to pay our construction costs each year. For this, we are grateful – we know it isn't always easy, and we appreciate their commitment. Sometimes, however, our homeowners go beyond the partnership expected of them. In recent months, three separate Habitat homeowners have hosted their own fundraisers for our local mission. Here's a little information about them!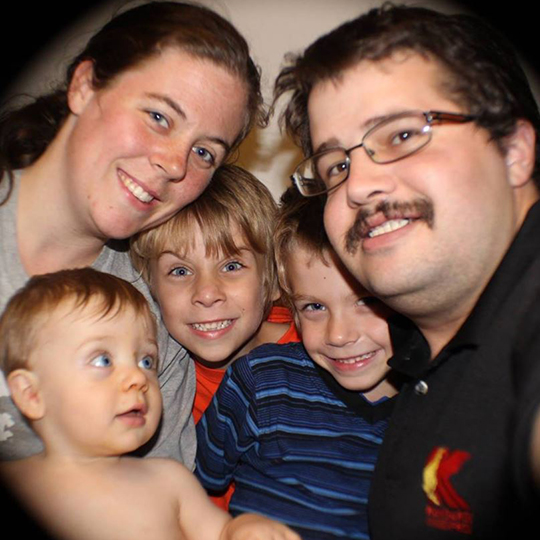 Matt and Linda Craven built their home with Habitat in 2011. They and their 3 sons are active in the community, and you may know Linda if you shop at the Aberdeen Harris Teeter. That is where I first met her long before she or I were a part of Habitat. When grocery shopping one day, I asked Linda, who is deaf, if she would be willing to come teach my girl scout troop how to sign. She agreed immediately, and brought Matt, as well. The girls in our troop loved learning sign language, and I was grateful that Linda was so willing to take time from her day to help. Years later, when working in the finance department at Habitat, I learned that Matt and Linda were building a home. I was thrilled to know this wonderful family was beginning their home ownership journey. Matt is one of our most avid Facebook followers, and shares Habitat's mission whenever he can. Recently, Matt started a Facebook fundraising event, with a goal of raising $200 toward our next build. Thanks, Matt and Linda!

Khalisha Watkins built her home in 2014. At the time, Khalisha worked full-time at Walmart.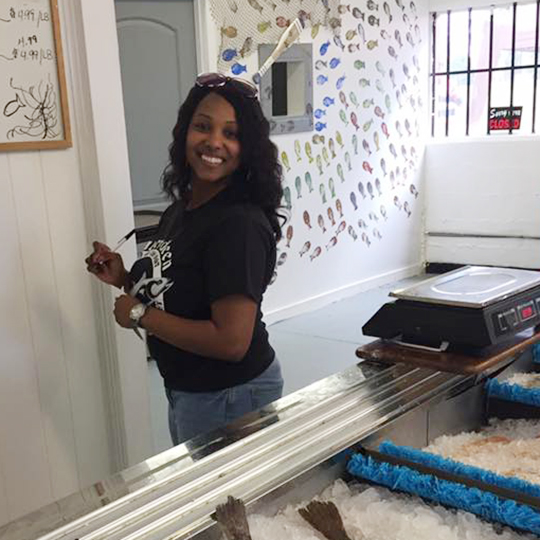 She noted that she never thought about Habitat until the day her co-workers came to volunteer. Coworkers urged her to apply, and she couldn't believe she was chosen. After moving into Midway Gardens, she had the chance to help build her sister's home, as she moved in just across the street. The two rely on each other to help with childcare among other things. Last year, Khalisha took a big step and opened her own business, the Aberdeen Fresh Catch of the Day Seafood Market (you can find them just off of US 1). She has now hosted multiple fundraisers in which her team fries fresh fish for a completely free meal – and any donations made are given to Habitat. Khalisha is an incredibly hard worker, still putting in full-time hours at Walmart along with the seafood market. We are proud of her accomplishments and thank her for her generous support.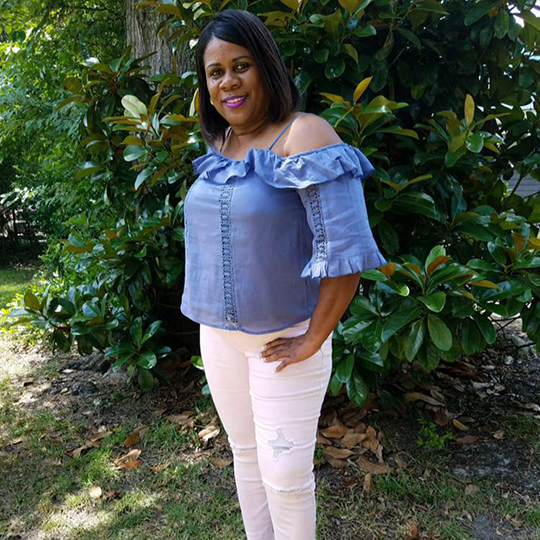 A student recently said of homeowner, Beverly Downey, that she is the best teacher he's ever had. When another student contested that statement, pointing out that Beverly isn't a teacher, but is their bus driver, he defended his argument, saying "she teaches us every day on this bus!" Beverly is proud of the impact she has on so many of her students – and it's easy to see how much she means to them from pictures and messages on social media. In November, Beverly raised $1,000 for the current build on Green Lake Road in Rockingham. This is a significant fundraiser by any measure, but is especially notable as it was raised one dollar at a time through a raffle Beverly put together in which 3 cash prizes were drawn. Beverly drew the winners at the Habitat build site, and her entire family was there to celebrate the achievement with her.
---
2017 Impact Report and Annual Appeal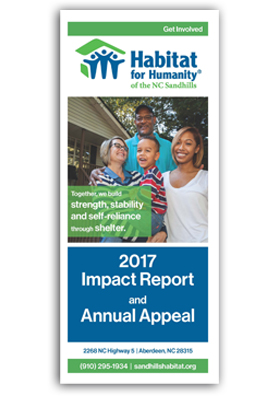 Volunteers, donors, and family partners built nine homes with Habitat from July 2016 through June 2017, servicing areas from Robbins to Rockingham. We also provided twenty critical repairs in neighborhoods that enable the elderly and disabled to safely and affordably stay in their homes.
We would not be able to build homes, revitalize neighborhoods, and help families in need if it were not for the generous contributions of people like you. We welcome all gifts at any time, but we solicit them in our newsletter and in a special appeal at the end of the year. If you have not received your donation appeal and would like to contribute, please call us direct for information or make your donation at www.sandhillshabitat.org.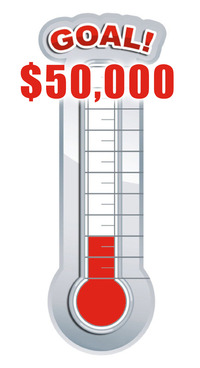 Our sustainable model of mortgage repayment and ReStore revenue allows us to leverage every $1 of contributions into $2.22 of direct housing investment. This means 222% of your gift is used for housing costs – we love that! Your generous contribution will allow another family to build their safe, decent and affordable home with Habitat this year.

Our independent affiliate will invest nearly $1 million in our local economy this year in direct construction costs. Over the next 3 months, we will spend approximately $300,000 to build the infrastructure of the Broadway neighborhood. Our goal is to fund this entire project with our savings and your 2017 gifts. Thank you for supporting this unique investment in our hardworking families.


---
Broadway




Next Habitat Development Approved at Aberdeen Council Meeting


On Monday, November 27th, a unanimous vote approved the next Habitat for Humanity community in the Sandhills! The Patten-Sybella development, located off of Thomas Avenue behind Aberdeen Elementary, will now begin to take shape. We have already completed 6 homes in this community, known as Broadway, since 2015. The residents of Broadway are a close-knit group of neighbors, who have been an active part of Habitat's work. We are grateful to them for allowing us the opportunity to create affordable homes and bring new families to their small community. Hammers didn't begin to swing until April, 2015, when The Home Depot Foundation sent 175 volunteers to raise the walls on five homes in one day, including two homes for veterans and their families. However, work began long before then. Habitat staff and volunteers began reaching out to the neighbors of Broadway early on, to make sure questions and concerns could be answered. These conversations resulted in plans to bring the existing and new neighbors to meet and enjoy fellowship together. Of course this meant a chance to share a meal – and our affiliate puts together the best pot-luck parties you will find! After dinner, one of the Broadway residents told me, "this was a great idea – some of us were a little concerned, not knowing what kind of people you were planning to move into our neighborhood, but they are great families.

We are excited to have them join us here in Broadway." That's important to us, because we believe in being great neighbors – and it takes open communication to do that. We wish to thank the residents of Broadway for serving as partners in this effort, and working with us when we faced challenges or had missteps along the way. Thank you to the Aberdeen Town Council for approving this project and supporting Habitat's mission. Together, we can serve even more of our local, hardworking families who are eager to change the path of their future through home ownership.
---
Christmas Eve Giving Challenge at the Fair Barns

Pinehurst United Methodist Church (PUMC) has pledged to give 100% of their 2017 Christmas Eve offering to Habitat for Humanity and want you to be part of the generosity. PUMC is asking every church member and friend to donate however much you would typically spend on a gift for a loved one to our Christmas Eve offering. So, if you're the type of person who typically spends $50 on gifts for your family, we challenge you to give an extra $50 for Habitat as well. Or if you are planning to buy your wife a new car or diamond earrings this year…well, you get the idea. PUMC welcomes guests of all churches and faiths to the Fairbarn for Christmas Eve Services at 4:00, 6:00, and 8:00 pm.
---
From Rosemary Weber- Volunteer Manager


Faith Build Stud Program
Give a message of love and joy this holiday season!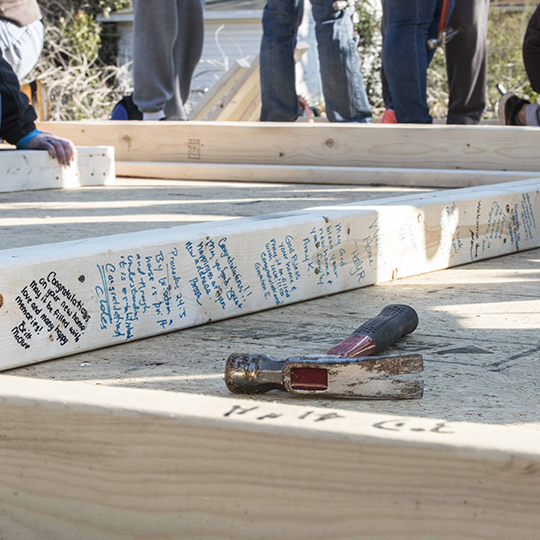 We have asked for the support of area churches to partner with Habitat and the Faith Unity Home being built in Southern Pines. During the holiday season we are asking their parishioners to write a message of love and joy on one of the 2X4 studs that will be permanently installed in this all faith home. With each signature we have asked parishioners to give a love offering towards the building cost of this home. Giving from the heart and knowing that you have helped someone is especially joyful during the holidays. These gifts from the heart will make a tremendous difference in this family's life.
Seeking to put God's love into action, Habitat for Humanity brings people together to build homes, communities and future generations. We thank Emmanuel Episcopal Church, Congregational Church of Pinehurst and Carthage United Methodist Church participating.
---
2018 Women Build Committee
honored Homeowners in Southern Pines Christmas Parade
Proudly promoting the Pink Porta Jane and Betty Builder, the 2018 Women Committee marched up and down Broad Street on Saturday, December 4
th
in the Southern Pines Annual Christmas Parade. Together with Ms. Alicia Hockday's family, the homeowner partner who will purchase the home, the team made a spectacular float and was able to extend awareness about Habitat's mission for safe, affordable housing in the Sandhills. The 2018 Women Build information was distributed to women of all ages, asking for volunteers and sponsors, we have already received calls asking for more information.

Ms. Betty Builder will also be making an appearance in local boutiques to create awareness and build momentum for the
"Hard Hats and Heels Fashion Show"
in March. Look for the details about the upcoming
"Finding Betty Builder"
promotion starting in early January on our website, Facebook, and in the Pilot Newspaper.
---

From the Restore Director- Kimberly Braddy
Wow, I really want to thank all of the volunteers that supported the ReStore at the dedication located at 126 Fullers Way on Tuesday, December 5
th
. A very special thank you goes out to Kasia McDaniel in making our very first home staging successful. Kasia was able to highlight the great furniture and home furnishing the Habitat ReStore has for sale most any day of the week. The home was decked out for the holidays with decorations that are also available at the ReStore. Also, our gratitude goes out to Fran, one of our ReStore Cashier and floral expert, to thank him for the opening prayer at this dedication.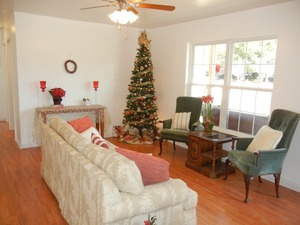 From the dedication, we moved onto to the ReStore for our first Moore County Chamber "Business After Hours Networking Event". We are able to boast about this successful event because of the behind the scenes teamwork and special touches from Janet, Jennifer and Stacy. Thank you for all you do for Habitat to make events such as this one successful. Thrivent Financial supported the event with donations that allowed us to purchase food and refreshments. Thank you to the Moore County Chamber for choosing us and always supporting us in many ways!
Richmond County
Welcome to John Honeycutt. We are pleased to announce that we have hired John as one of our Part Time Donation Ambassadors. He started out being a very loyal customer. Then one day I asked John, you are in here all of the time and believe in our mission, why don't you volunteer with us and earn a discount on what you like to shop for. That very next week John signed on as a volunteer. In noticing his creativity, work ethic, reliability and more, we just happened to have a spot to filled and John graciously accepted to join the staff. Thank You John for all that you do to help make our newly made over Richmond County ReStore successful.
---
From the Moore Restore Manager- Dondi Jones
Volunteer of the Month - Bev O'Hara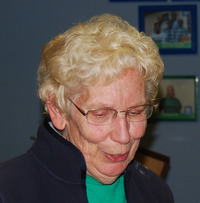 Bev volunteers on Thursdays in the housewares area of the ReStore. She's been quite an asset to us with her hard work and dedication. Bev comes in and gets the job done, working along with the whole Thursday crew, she's is quiet but has one of the biggest smiles ever. Bev has been volunteering with us for about five months and she's progressed right into what we call a "hardcore volunteer" who you would think has been here for years. We're thankful to have her as a part of our team and would like to say Thank You for all you do.
A special thanks goes out to Pinecrest and Union Pines High Schools, and for their students who consistently volunteer week in and week out.
We are always looking for great volunteers to join us here in the restore.
Cashiers
Receptionist to answer the phone and schedule donation pickups.
Electronics
Hardware
Come on out and join us.

VOLUNTEER