Letter from the Director
A Successful Recruitment Sessions sets New Goals for Habitat
Sometimes, it's easy to believe we do not have a need for affordable housing in Moore County. We are a wealthy county by many standards, and the struggles of our lower income families are not always visible. However, 26% of Moore County households (and 31% of Richmond County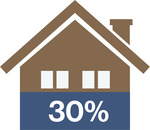 households) are cost-burdened in terms of housing. This means they spend more than 30% of their income on housing. Many of these families work in the service industries that keep our hospitals, restaurants and shops functional. They are making this a wonderful place to live, and they deserve a safe, decent and affordable place to call home within our community at the end of a long day. Habitat's mission is to partner with families like these, who want more for their family and are willing to contribute their own sweat equity (300 hours of it, to be exact) for the opportunity to purchase a home with a 0% interest mortgage.

Last week, we held our semi-annual homeowner recruitment events. We had 72 RSVPs for the two evenings, and in the end we collected completed applications and income verification information from 41 families. Over the next few weeks, the applications will undergo additional financial review. Applicants meeting our guidelines (earning 30-60% of our county's median income, having good credit, and living/working in Moore or Richmond County for at least a year) will receive a home visit from our Homeowner Selection committee to assess their need for better housing. Those families will be triaged based on the degree of their need. Special thanks to Dick and Joan Wolstenholme, Jennifer Moree, Stacy Lebak, Farrah Pulliam, Rosemary Weber, Mark Dalton, Mildred Dixon, Ellen Harrison, Janet Lowry… for coordinating and vetting applicants!
Unfortunately, our current financial position will only allow us to accept 5 new families into our program. As we already have 15 in progress, that number will meet our ability to serve approximately 10 families per year with home sales. We have an opportunity, however, to increase that production with every house we can fund. We hope you will join us as we close out 2017 with a gift toward our annual appeal.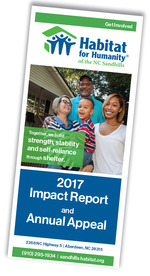 Be on the look-out for your 2017 Impact Report which should hit your doorstep in mid-November. Please take a moment to look inside to see all you made possible last year, and encourage you to find an upcoming project that pique your interest. We are asking for your generous support of Habitat's mission this year to fund the infrastructure needed for our upcoming Broadway addition. Eight homes will be made possible in this location, but the first step will cost an estimated $272,000 in water, sewer, clearing and paving. Our hope is to fund this cost with our own savings and your year-end contributions. We are excited to introduce these families to you as they begin their homeownership journey with us. Thank you for partnering with hardworking local families through your Habitat support!
---
Celebrating our 30 Year Anniversary in 2018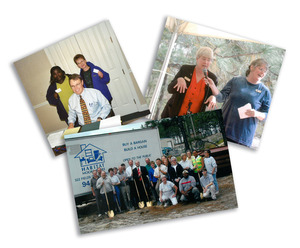 Plans are underway for our 30th year of building homes in Moore County. A committee, chaired by Bob Friesen, meets regularly and would welcome your suggestions which you could send to Amie Fraley or Janet Lowry at the Habitat office. Plans to date include a special build beginning in October like a barn-raising of old.
Committee members will be available to tell the Habitat story to churches, social organizations or others who might like more information about the work we have done and are continuing to do. The committee also plans to interview several homeowners about how Habitat has impacted their family.
Since adding Richmond County to our service area about 10 years ago, this affiliate has housed about 260 families and repaired over 100 homes. We look forward to celebrating 30 years of building quality homes and strong homeowners with our community who has invested in Sandhills Habitat every step of the way.
---
Met our new Construction Supervisor

We are delighted to welcome back Ed Kaylor to the Habitat family. Ed worked with AmeriCorps from 2005 till 2009 and most recently served as a construction superintendent at Habitat for Humanity of Wake County. His expertise in construction of Habitat homes will help us to excel in our construction goals to serve the community. Stop by the build site and introduce yourself and find out more about how you can help build Habitat Homes.
---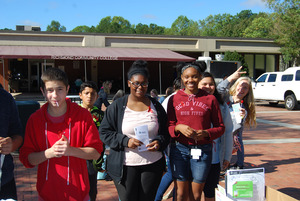 Richmond Community College Fall Fair


It was an honor to be part of the Richmond Community College Fall Fair and to get the chance to talk to the students about the benefits of having volunteer hours on your college resume, of course having Habitat Volunteers hours are the best! Opportunities are available for young adults of sixteen years or older on the build site and in the ReStore.



Hands on activities are perfect for relieving the stress of school during the holiday break.
Call Rosemary @ (910) 295-1934.
---
Repair Ministry Spotlight- CORRECTION


Our Repair Ministry is from Pinehurst United Methodist Church

The Repair Ministry worked their skills to build a ramp for wheelchair bound Mrs. Betty Beard of Carthage, which will allow her to age in place. We were grateful to have volunteers from Pinehurst United Methodist Church to help the "Hard Core Volunteers". Pictured here are the PUMC volunteers, Mike Edwards and Ervin Robinson, as well as Kay Howery -Repair Board Member, Tim Dwyer- Repair Board Member, and Jim Entwistle- Construction Supervisor.
Before installation, Mrs. Beard had no way to access her yard unassisted or any way to even exit her home if there was an emergency. She is most grateful for the coordination of the Repair Ministry for her repair.
---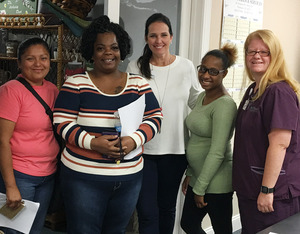 Homeowners In Progress Workshops
At Sandhill Habitat, each homeowner in-progress is required to complete 15 workshops/classes that help them to become informed homeowners, good neighbors, and valued community members. In October, twelve homeowner candidates attended the class "Mortgage Basics & Don't Lose your Home!" lead by instructor Jennifer Moree. What a great class and a great group of folks!
Look for these up-and coming-home owners at our build sites.
---

From the ReStore Director- Kim Braddy


Stop by the Richmond ReStore and help support us by purchasing a Belk coupon for $5 that will go directly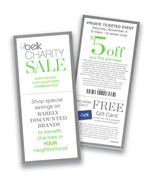 into building homes and receive $5 off in the Richmond County Belk Store. You will have a ticket for a Private Event held in the Belk Store on Saturday, November 4th, 6-10 am.

We would like to shout out really loud how much Shawn Short is appreciated in our ReStores. He is one of the hardest working volunteers we have seen and comes in to fill in empty staff spots at the drop of a hat. Thank You, Thank You, Thank You Shawn!!!
We are currently looking for a second box truck to help with the high demand of free donation pick-ups. Please call Dondi Jones at the ReStore for more information
910-295-2798.
---
From the ReStore Manager- Dondi Jones
As you know the Moore County ReStore has great deals on spectacular items for your home and office. Items are color tagged before they go out on the floor and colors are discounted depending on how long they have been in the store. We also have spontaneous sales on items when we reach our inventory peaks. The ReStore will be posting sale specials on Facebook the night before the sale. This is your chance to come in early and have the best pick of the inventory. Be sure to "like" our page to get the notice of deep discounted items.
---
Volunteers Needed for Various Positions
Volunteers are the lifeblood of Habitat for Humanity of the NC Sandhills, and it gives us great pride that our homes are constructed almost entirely by volunteers. That work continues beyond the construction site. Habitat volunteers are active at our office and ReStore. They serve on committees, and they are engaged in various community revitalization projects.
ReStore Volunteers
– Moore County and Richmond County: Cashiers, Donation processing and pricing, sales floor.
Construction Volunteers
– Moore County and Rockingham (No experience or tools needed)
Office Staff
– Habitat Office Receptionist, Data Entry, Special Projects
Committees
– Serve on the Women Build 2018 Committee, Faith Unity Build, Gala Committee, Business Build Committee, Richmond County Build Committee
Muffin Mommas
- Once a month, bake/provide snacks for our volunteers that work on our building sites.
Please call Rosemary Weber at (910) 295-1934 to get more information.