Letter from the Director- Celebrating our Volunteers

Joyce Hunt
Volunteer Extraordinaire


You make a living by what you get. You make a life by what you give."
~Winston Churchill

Joyce Hunt, a Habitat Hero!

From the construction site to the Board table to the ReStore, Joyce Hunt has seen just about everything at the Sandhills Habitat. Beginning her volunteer work in 1990, Joyce has volunteered in many areas and countless committees. Joyce also served on the Board of Directors. leading it as president for over two years.

Joyce recently moved to Belle Meade, but hasn't let that slow her volunteerism. She can be found selling items and sorting inventory in the thrift shop on Saturdays at Belle Meade, and is working to possibly put together a group of volunteers who can travel to Habitat for Humanity to volunteer in the ReStore and office. I recently had the chance to visit with Joyce in her new apartment, and it was exquisite! An amazing artist, Joyce's lovely home includes several of her busts and paintings. Like so many of our volunteers, Joyce is incredibly interesting, and has many stories from her years at the State Department and travelling the world.

When I asked Joyce what her favorite memory is from Habitat, she took just a moment to site the Builder's Blitz nearly 20 years ago. Joyce served as the project manager of the Blitz, and recalled the many hours of work that made it possible. It was a treat to be able to tell her that one of the homeowners from the Blitz just paid off her mortgage last week! We have been fortunate to have Joyce in the Habitat family for nearly 3 decades, and on behalf of the 250 local families who have built homes with us, we thank her!

---
Big Smile, Big Pay-Off! Congratulations Denise!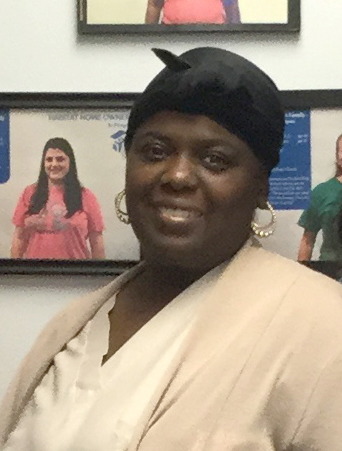 Paying off a mortgage is a huge accomplishment for everyone, and this month we have cause for celebration for Habitat Homeowner Denise Wilson of Taylortown. Ms. Wilson started her partnership with the Sandhills Habitat 17 years ago during the Builders' Blitz, was able to raise a family and build a career. Her first daughter will be attending ECU in the fall and her second child is not far behind.

Denise has been in the service industry in Moore County for over 21 years. She worked at CCNC for over 14 years and an additional 11 years at the Comfort Inn as the assistant manager of housekeeping.

Ms. Wilson is an inspiration to all of our new Homeowners in Progress who are working hard to complete the 300 Sweat Equity hours required to qualify for a 0% percent mortgage rate with the Habitat.
Where there is the will, there is a way!
---
Program Funding at Risk in North Carolina


​

WE NEED YOU

to help make a difference.


On May 2 and 3, dozens of North Carolina Habitat affiliates visited the NC General Assembly to advocate for issues that are critically important to affordable housing like: SHOP, Community Development Block Grants, HOME Investment Partnership Programs funds and AmeriCorps. All of these grants, funds and programs help provide affordable housing options for Habitat.

The statement from Habitat for Humanity is as follows:

Habitat urges Congress to protect social safety net programs that support affordable homeownership opportunities

ATLANTA (May 23, 2017) – The White House today released its full fiscal year 2018 budget request, which proposes to eliminate funding for programs that further Habitat for Humanity's efforts to address the affordable housing crisis across the United States. Proposed cuts include the Self-help Homeownership Opportunity Program, or SHOP, the Community Development Block Grant, the HOME Investment Partnership Program and the Corporation for National and Community Service.
These vital programs allow Habitat and other organizations to empower more people to access all-too-rare opportunities for affordable homeownership and help provide the tools they need to build better lives for themselves and their families. Decent, affordable housing provides the stability individuals and families need to improve their health and education, enhance their financial growth and security, and strengthen their neighborhoods.

Habitat encourages its supporters and all advocates for affordable housing to contact their members of Congress and urge them to support adequate funding for these critical programs in the fiscal year 2018 budget.

You may use the link above to contact your representative and ask them to support these programs.

Your support can make a difference in future generations!
---
​

Celebrating Three Families Successful Journey to Homeownership in June
Stacy and Cheryl Martin
​104 Pleasant Street
​Aberdeen, NC
Shelia Williams
460 E. Hemp Street
​Robbins, NC
Da'Neeta Bethune
1020 W. Connecticute Ave.
​Southern Pines, NC

Thursday, June 1st

Please Join Us for the Dedication!
Thursday, June 8th @ 6:00pm
Please Join Us for the Dedication!
Thursday, June 15th @ 6:00pm
​

All of these familes have had their share of challenges and manged to rise above to become an active member of the community. Each adult has to accomplished over 300 hours of "Sweat Equity" and completed the homeownership program, all while working full time jobs and raising children.
---
2018 Faith Build for Unity
Please consider joining our "2018 Faith Build for Unity" volunteer committee. Create meaningful relationships and objectives that serve to strengthen Sandhills Habitat's mission for affordable housing and build strong connection with Moore County church members. Our kick-off strategy meeting will be Friday, June 9th at 11:00 at the Sandhills Habitat Office. Please call Rosemary Weber at (910) 295-1934.

---
Meet Ms. Geneva Parker- Homeowner Highlights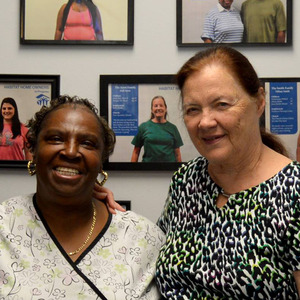 Geneva Parker applied for a Habitat for Humanity home in February, 1992 and again in September, 1994. Many Habitat homeowners must apply more than one time to raise their income or clean up credit issues. House #21, the home of Geneva and her 22 year old daughter Sabrina, who suffers from cycstic fibrosis, was dedicated December 3, 1995. This house on Fuller's Way in the Roseland Woods subdivision of Aberdeen was proudly build by volunteers from Emmanuel Episcopal Church in Southern Pines and The Village Chapel in Pinehurst.

Sabrina was eventually able to move to a home of her own near Charlotte. She has a nine year old son, Brynnon. Geneva smiles when she talks about this grandson.

In 1986 Geneva worked as a secretary in Tactical Intelligence in the Navy section of the Pentagon with sensitive clearance. She returned to North Carolina in 1989 when her father died to take care of family matters. She worked as a Clerk for the Village of Pinehurst. Geneva soon became a Certified Municipal Clerk as a result of study through the Institute of Government at University of North Carolina.

Her faith shows in Geneva's daily life. She is a gentle, caring individual who is always willing to help others. She has been a member of End Time Harvest in Carthage since 2001 and currently serves as their finance officer.


Geneva wants to live in her Habitat home forever and is looking forward
to doing some remodeling in the future.
---
Overwelming Success to Women Build Days
in Moore County
Sandhills Habitat was privileged to have a great turn out of strong women join in the two event days designated for Women Build 2017. Women from the Junior League of Moore County, R. Riveter, and The Church of Jesus Christ Latter Day Saints joined in celebrating mothers and daughters as well as the spirit and strength of all women around the world.
Sandhills Habitat is looking for volunteers to join the Women Build 2018
​commitee to commence planning for an entire home built in honor of Women
---
Meet the New Faces of Habitat in Richmond County
Jacob Staub
​

Summer Intern



Want to serve more familes by reaching excited, new, young volunteers eager to help their community? Start by putting a fantastic young person at the helm who has been doing great things and building friendships his entire life. We are grateful to have added Jacob Staub to our family, if even for the summer. Jacob will be kicking off our Richmond County Facebook page and reaching out to local churches to find ways we can partner to serve our neighbors in Richmond County. If you know of a church he can contact, please send him an email at jstaub@sandhillshabitat.org. Be sure to "like"his page @richmondhabitat on Facebook!

Amy Guinn


ReStore Manager



Amy Guinn comes to us from Richmond County. She is our new Richmond County ReStore Manager and is eager to get to work and put her plans into motion. Her first day was Thursday, June 1st. Please stop by the ReStore in Rockingham at 1300 E. Broad Avenue and welcome follow her.


---

We have had quite a few successful Stuff the ReStore Truck Events.
We have openings for 2 weekends in June and endless possibilities for the remainder of the year.
If you are interested contact Kimberly Braddy at the ReStore 910-295-1934

What is Stuff the ReStore Truck Event?

Our ReStore Team will bring the truck to your community or yard/garage sale.
Once the sale is over, you can load all remains onto the ReStore Truck
Your donations play a huge role in our Mission

Criteria to schedule a Stuff the ReStore Truck Event

Need at least two weeks in advance.
Close location to the sale for the ReStore truck to park and be loaded
Helping hands with loading

Currently looking for Stuff the ReStore Truck volunteer crew to help load and lead these events.


---

Employee Spotlight: Mary Ingram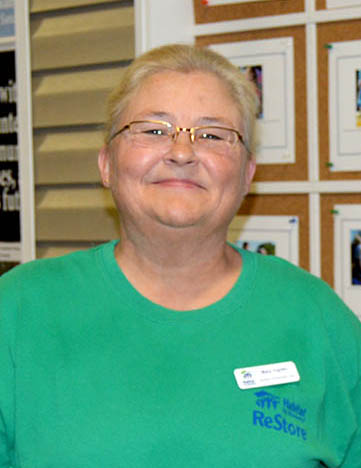 Mary came to us as a part time only position. She quickly fell into a FT position. We are now sending her off to the ReStore University were she will undergo intensive training for three days on all the ins and outs of the ReStore. Mary has an energetic personality, great smile, very dependable hard worker. Her new role is ReStore Customer Service (CS)/Volunteer Lead (Customer Service). She will be focusing mainly on training volunteers, volunteer schedules, and organization of volunteer recognition program.
---

Group Builds – Without volunteers on site and in the Re-Store, we could not do what we do in the community.
Thank you for volunteering and please talk with your friends and neighbors about becoming a volunteer with Habitat.
Cashier
–
The Moore County ReStore is looking for volunteers to work the cash register for the Thursday shift
​Farbric & Notions
–
​Love fabrics, seamstress at heart? Moore Country ReStore is looking for help.
10am - 2 pm or 2pm- 5 pm.
Flexible Shifts
Please call Rosemary Weber at (910) 295-1934 to get more information.