| | | |
| --- | --- | --- |
| www.sandhillshabitat.org | November Newsletter | (910) 295-1934 |
Where will we be in 30 years?
Since 1988, Habitat for Humanity of the NC Sandhills has been providing hope to hardworking families in our community. It has been our honor to share in a unique journey with over 260 new homeowners and over 150 repair recipients, a journey of true partnership. We are grateful to you for joining us in creating affordable housing solutions for individuals eager to commit themselves to a better tomorrow. Habitat cannot exist without your support, and we want you to know that donations made directly to your local Habitat have built homes here in Moore and Richmond Counties.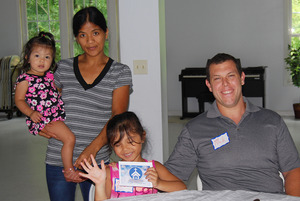 The Dudleys are hardworking community members who are unable to purchase a home with a conventional loan. They are very proud of their home and family, but their rental is in a dangerous neighborhood, and the house is without central heat. Michael and Glenda are partnering with Habitat by contributing 300 hours of sweat equity each for the opportunity to purchase a home with a 0% interest mortgage. They are looking forward to raising their two daughters, Miki and Fiona, in a safe environment where their children can go outside to play and come inside to keep warm.
Do you believe in Habitat's mission to give hardworking families a chance to improve their living conditions, economic stability, and their children's future? Children raised in their own homes tend to have better reading and math scores, achieve higher levels of education, and experience greater upward mobility compared to their peers who grew up in rented homes. Children of homeowners earn an average of $11,000 more per year as adults than children of renters. Greater opportunity creates a stronger economy, improves child development, and reduces healthcare spending and exposure to health threats.
Invest in our community, invest in Sandhills Habitat! We have the good fortune to have a donor who will match your donation, up to $30,000, so your contribution will double.
Please act now so that we can buy the materials to build not only the Dudley's home but also homes for other well deserving families in danger of spending the bulk of their income on rent and going without other essential needs such as healthcare.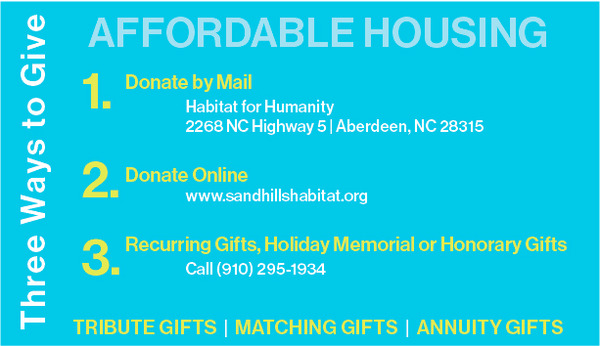 We appreciate your support and hope you will consider us during the Season of Giving. Here's to the next 30 years – we can't wait to see what you do next!
~Amie Fraley


Executive Director
---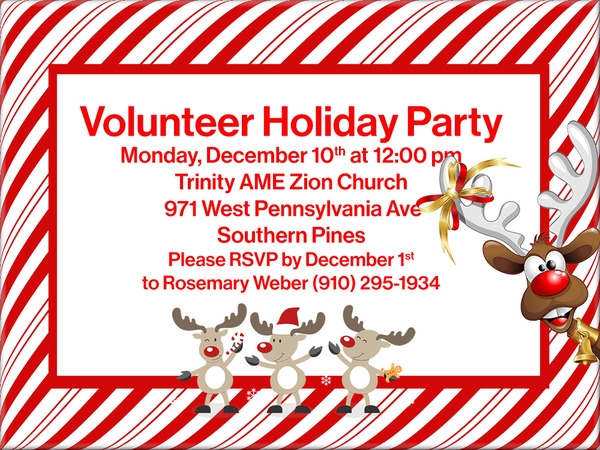 ---
2019 Business Build Kicks off with the CEO Day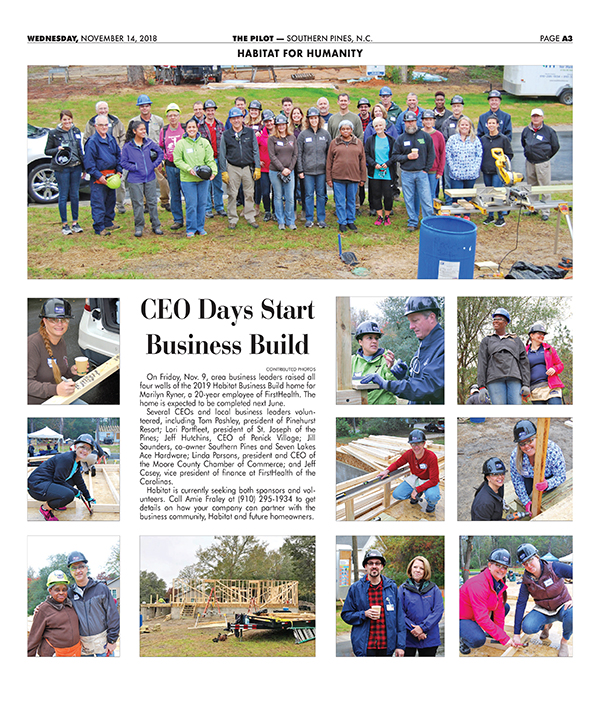 On Friday, November 9th, area business leaders raised all four walls of the Habitat Business Build home for Marilyn Ryner. Marilyn has been an employee with FirstHealth for nearly 20 years, and her supervisors said she is friendly, a good co-worker and keeps a positive attitude.
Several CEOs and local business leaders volunteered including
Tom Pashley
(Pinehurst LLC),
Lori Portfleet
(St. Joseph of the Pines),
Jeff Hutchins
(Penick Village),
Jill and Randy Saunders
(ACE Hardware),
Linda Parsons
(Moore County Chamber) and
Jeff Casey
(FirstHealth) CEO days kicks off the 2019 Business build home expected to be completed in June.
Habitat is currently seeking both sponsors and volunteers; please call Amie Fraley at (910) 295-1934 to get details on how your company can partner with the business community, Habitat, and future homeowners!
---
Volunteer in the Spolight
Sonia Wrigelsworth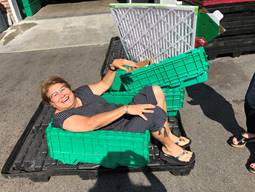 In the Habitat volunteer world, we have niches for everyone! Some people swing a hammer, some price items in the ReStore, some help stuff our weekly bills for payment…and some help us reflect on why we do all of this. Sonia Wriglesworth has been volunteering with us this summer to capture the stories from our homeowners, volunteers and community partners who make our mission possible. Sonia spent her career with the Army, working with families in distress and helping them manage both military and other life stresses. She travelled the world, and settled in Whispering Pines several years ago. Her background made her interested in the impact Habitat has made on families, so we knew she would be great at helping us tell the stories of our past 30 years.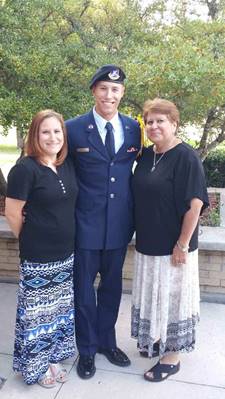 Sonia is quite proud of her impressive family, including her daughter and grandson pictured here with Sonia – her daughter (Tania Hernandez Walter) is a police officer in Maryland, and her grandson,
Matthew Guercio,
Airman First Class. We are so grateful to Sonia for the many hours she has spent coordinating interviews, joining us to conduct interviews, and documenting the many stories. She even made it a full-contact effort while loading some donations from ACE Hardware into our vehicle after our interview with Jill Saunders. The one person who wasn't actually lifting anything should have stopped her from stepping back onto a pallet and losing her footing – however, that person (me) wasn't doing a very good job. Thank you, Sonia!
---

Say hello to Tom…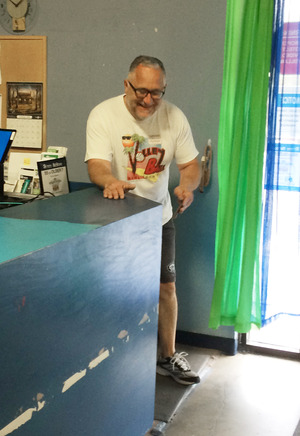 Habitat welcomes Tom Lasapio to the Habitat family. Tom and his wife, who are originally from New Jersey and then moved on to work in Wisconsin for many years has finally retired here in Seven Lakes, North Carolina. He lives on Lake Auman, so his passion for fishing everyday makes him one happy man.
Tom also loves to paint, so he's been helping us paint in the Restore as well as painting at our Women Build House and has done an amazing job. Tom's other passion is wood working so we have some future plans for him to show off his fantastic wood working skills.
If you see Tom, please be sure and say hi and welcome
him to the Habitat family.
Only through volunteers partnering with Habitat can we make a difference in our community. Volunteers are the lifeblood of Habitat for Humanity, and it gives us great pride that our homes are constructed almost entirely by volunteers. If you think you don't want to swing a hammer, Habitat has many other volunteer opportunities; in the office, on the construction site, serving on various committees and in the ReStore.

Please volunteer today and fill your heart with love and joy, knowing you are helping to give a family a bright new future in a safe, decent and affordable home.
ReStore Volunteers – Moore County and Richmond County: Cashiers, donation processing and pricing, sales floor.
Construction Volunteers – Moore County and Richmond County (No experience or tools needed)
Office Staff – Habitat office receptionist, data entry, special projects
Committees – Serve on various committees, Faith Outreach , Gala Committee, Business Build , Richmond County Build, Finance, or Homeowner Selection
Muffin Mommas – Once a month, bake/provide snacks for our volunteers who work on our build sites.
Honey Doers – Honey Doers are called upon for special projects as needed as, the Annual Appeal mailing, writing thank you notes, helping with Volunteer Christmas invitations, Gala invitation mailing, etc.
Please call Rosemary Weber, Volunteer Manager (910) 295-1934
to get more information on volunteer opportunities with Habitat.
---
From the Restore Director


Kimberly Braddy
We had two successful " Stuff the Truck" events in October. On the same day we were off to the Five-Mile Yard Sale on Joel Rd. and helping out Chapel in the Pines in Seven Lakes unleash their remaining items onto our ReStore truck to sell in our ReStores. If your community would like us to bring the truck to you please give us a call. We also offer free pick-ups on a weekly basis. 910-295-2798 for Moore County and 910-817-9576 for Richmond County or for Stuff the Truck please call Kim at 910-295-1934 ext. 2220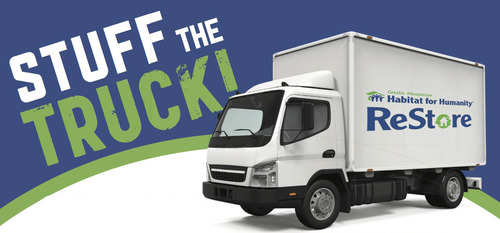 Please stop in to say hi at our Aberdeen location to see our walls are starting to pop with our very own ReStore Colors. New marketing slowly being added to guide you into the department you are looking for, as well as additional shelves for more STUFF that you look for when you shop with us!

A huge Thank You to our painters who are also our very own ReStore volunteers for helping with the paint change. Freida Powers, Donna Engleson, and Tom Lasapio

Shop with us for treasures!
Donate to us for others treasures!
Volunteer with us for the fun of it!
Please feel free to email or call me directly with any questions you may have about our Moore and Richmond County ReStores.
(910) 295-1934 or kbraddy@sandhillshabitat.org
---
Our Sponsors