Sponsorship levels begin at $100 with added benefits at each level. Everyone is invited to join us for a complimentary breakfast on September 22nd at CCNC to learn more.

At the breakfast, Moore County Partners in Progress Executive Director Pat Corso will share details on the impact Habitat for Humanity has on our community's economic development. Learn how a contribution to Habitat is really an investment in our local economy and to those who make it a wonderful place to live.

The actual build will take place in the spring of 2017, and will include theme days and unique networking opportunities.
In other news, we are very pleased and excited to report that our recent home dedication in the Dobbins Heights community in Hamlet was a huge success! More than 100 community members, Dobbins Heights residents and Habitat staff and supporters were in attendance to enjoy chicken dinners provided by Perdue Farms. Special thanks go to Perdue, the SECU and to Pepsi for their assistance in making this event a memorable one for all!

In addition to our upcoming Business Build, we are also busy preparing for new home construction in Hamlet and Robbins along with our continuing projects in west Southern Pines and Aberdeen.
Dobbins House Dedication
Habitat dedicates newly built Dobbins Heights home to Andrews family.
By Melonie McLaurin
Richmond County Daily Journal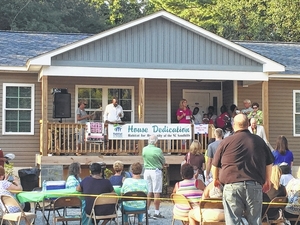 The Andrews family joined the community of Dobbins Heights Thursday during a home dedication ceremony organized by Habitat for Humanity of the N.C. Sandhills. The family stood on the front porch of their new home, surrounded by Habitat officials and community representatives from numerous organizations who welcomed them and the nearly 80 guests to a chicken dinner provided by Perdue Foods' Rockingham Plant and Pepsi Bottling Ventures.

Habitat Executive Director Amie Fraley asked all Habitat employees who were present to raise their hands so that people could identify them to ask questions if they wanted to learn more about the organization.

"This house is more than just the materials that are inside it," Fraley said. "It is about the heart and the love that is sitting out in this yard right now. And we love to see this kind of human experience. This is what Habitat is all about."

Construction Manager Tom Mann said the project had been special to him. "This was the very first house that I have done with Habitat from day one," he said. "All the others have been involved with someone else. I've had a blast doing this and made some good friends in Richmond County and quite enjoyed it."


Mann asked all who had pitched in and worked on the Andrews house to raise their hands and the guests applauded them. "I've got some very special people I want to call up here and thank," he continued. "And I want to start with number one — Edward Tender. I told the lady that when she moves in, she needs to have this guy over for dinner every night for two months, because this house would not be here today if it was not for Edward Tender and his 'Dobbins Heights Militia.'

"And Ozie Felder has kept everyone fed here," Mann continued. "He's come out and done everything he could do, from swinging a hammer to pushing a broom. We have been very thankful to have him here. And just for the record, it's not 'Ozzie.' It's Ozie."

| | |
| --- | --- |
| | |

Representatives of the Arthur W. Perdue Foundation and State Employees Credit Union spoke before housewarming gifts were given by Pinehurst United Methodist Church, the Artist League of the Sandhills and Sandhills Quilters Guild. The Richmond County Literacy Council gave the family a supply of books to read, and after a home blessing, dinner was served. Later, the family expressed their gratitude to Habitat and all of the sponsors.
---
Habitat Receives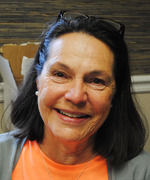 Grant for Home Repairs


By John Lentz
Director of Development and Communications


Terry Gaar – Operations Director
Habitat for Humanity of the NC Sandhills has been awarded a significant grant designed to improve the lives of residents in West Southern Pines.

The organization, a local affiliate of Habitat for Humanity International, received a one-year Housing Preservation Grant (HPG) from the U.S. Department of Agriculture for $50,000

While Habitat is best known for building and selling new homes to qualified families in need with zero interest mortgages, the organization also maintains a "Repair Ministry" for upgrading and renovating existing properties. The newly received grant funds will be used primarily for exterior repairs on non-Habitat houses that need work on roofs, ramps, vinyl siding, windows and weatherization, and more.

This combination of new construction and repairs is part of Habitat's "neighborhood revitalization" initiative.

"This grant will be used specifically for repairs in West Southern Pines," said Sandhills Habitat Executive Director Amie Fraley. "It is a perfect fit for our neighborhood revitalization efforts in that community."

Fraley said she was "thrilled" that the grant was approved.

"We want to give a special thank you to Terry Gaar, our Operations Director here at Habitat for Humanity of the NC Sandhills, for seeking out this funding and making it possible."

Gaar said she was "elated and surprised" that the grant was approved.

"We didn't expect it because it is so competitive, but we are so happy that we can now focus on the West Southern Pines area to address some of their housing needs," Gaar said. "We invite applicants living in West Southern Pines to apply for assistance."
Residents must meet the necessary criteria to be approved.

"Among other qualifications, the homeowner must live in West Southern Pines, they must own or be paying a mortgage on the home, and they have to fall beneath the 60 percent mark of the Area Median Income (AMI) for the region," Gaar said.

While the repairs to be covered under the grant are primarily exterior, some indoor repairs are possible, Gaar said, such as floor replacement. "Those types of repairs will be decided on a case by case basis," she said.

Since 1988, Habitat for Humanity of the NC Sandhills has served more than 300 families in Moore and Richmond Counties through home construction and repairs.
For additional information or to apply, call Habitat at 910-295-1934 and leave your name, contact information and types of repairs needed.

* This article first appeared in The Pilot newspaper.
---
Volunteer Spotlight: JD and Charles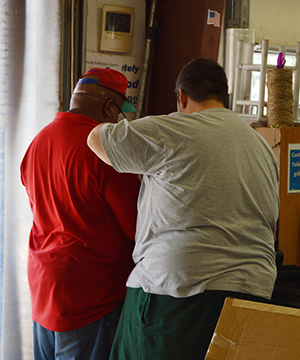 Due to confidentiality laws, one of our two outstanding volunteers of the month for August can only be referred to by his first name. His influence and presence are not diminished, though, as he and his supporter provide invaluable help in making the Habitat ReStore a great place to work, volunteer and shop.

Johnsie "JD" Donaldson is an employee of Monarch in Southern Pines. He and the person he supports, Charles, come to Habitat almost daily, where they work as a pair in the warehouse doing a variety of tasks. Among other duties, the two can be seen unloading vehicles containing donations for Habitat, breaking down the many boxes left over after the items have been removed, and emptying the assorted trash cans on the premises.
Donaldson said the experience is "very beneficial" to his partner.

"My guy really looks forward to coming every day, and if I'm too slow he'll pull on my shirt and say, 'let's go,'" Donaldson said. "He really enjoys the work we do at Habitat."
ReStore manager Kim Kinney said she values the many hours of assistance that the pair contribute.

"J.D. and Charles are mission driven, highly dependable volunteers," Kinney said. "Their hard work, dedication and perseverance have impressed everyone."
The pair received a free pizza dinner from Papa Johns as a reward for being named the August Volunteers of the Month.
---
Habitat for Humanity of the NC Sandhills
is currently seeking volunteers in the following areas:
Repairs:
Not only does Habitat build homes and need volunteers on the job site, but we also do repairs for qualified homeowners – Repairs are needed because of the age of the home, element damage or needs of a handicapped homeowner such as a ramp, etc. possibly.
​On Site Construction Crews:
We work Tuesdays, Thursdays and Saturdays from 8 a.m. to 2 p.m. – snacks and lunch are provided
Group Builds:
If you know of an organization that would like to come out as a team for the day and do a group build event, please let us know. These group builds are a lot of fun and when you leave the site you have a tremendous feeling of accomplishment for giving to a deserving family.
Restore:
We can always use help in the Restore, at the register, in the warehouse, pricing and getting items ready to go on the floor. Restore shift hours are 9 a.m. to 1 p.m. and 1 until 5 p.m.

Receptionist:


We can always use subs to cover for our volunteer receptionist, answering the phone, greeting guests, making copies, and folding brochures.
Sparkle Crew:
Prior to homes being dedicated we need a group of volunteers along with the homeowner, to help make the house sparkling clean. After the construction is done, there is always stickers on the windows and bath tubs, saw dust in the cabinets, etc. all of which needs to be cleaned before the home dedication.
Landscape Team:
Volunteers needed to plant shrubs, flowers at the new home sites prior to dedication day. Plants, shrubs, mulch, etc. will all be delivered on site and ready for planting, but we need all those volunteers with "Green Thumbs" to help us beautify the property. Habitat for Humanity builds innovative and affordable homes for hardworking families in the Sandhills.
Homeownership:
Our homeowners have household incomes between 30%-60% of the county's median income (eg. $19,200-$38,400 for a family of 4). Our goal is to provide a "hand up, not a handout." We are proud to have partnered with over 30 FirstHealth employees in our 27 years of service to the community. To learn more about homeownership opportunities with Habitat, visit sandhillshabitat.org or contact us at 910-295-1934.
Please keep these volunteer needs in mind when you are at your next meeting, at church or at a social gathering. If there are any questions or suggestions, please do not hesitate to contact me. Only through the efforts and support of our volunteers are we able to accomplish our mission for deserving families and the community.

Thank you ,
Rosemary Weber
Habitat for Humanity of the Sandhills
Volunteer Coordinator
910-295-1934 (office)
910-638-9752 (Cell)
---
Walmart Awards Sales

Proceeds to Habitat
Walmart officials have "paid it forward" by donating proceeds from a recent fried fish sale to the betterment of county homeowners.

Sylvia Everett, a co-manager at the store, presented $1,231.43 to Habitat for Humanity of the NC Sandhills following an August 6 fish fry at the store's Aberdeen location.

"We have associates who are also Habitat homeowners, and we thought it would be a good idea to support Habitat in this way," Everett said. "Supporting Habitat both helps the community and hopefully gives homeowners increased self-esteem. We are trying to get more involved in the community, and are planning to do this again next year."
Everett said interest in Habitat is high among Walmart associates. "Many have requested more information about Habitat, and we have been telling them more about how the Habitat model works," she said.

Habitat Operations Director Terry Gaar said Habitat officials were "surprised and pleased" at Walmart's gesture.

"This outpouring of generosity by our local Walmart for Sandhills Habitat is wonderful," she said. "It's great to know that people are familiar with Habitat and support our mission of building homes and communities."

The proceeds presented by Walmart will be used toward repair work for Moore County homes.
---
Church Members Support Habitat Volunteers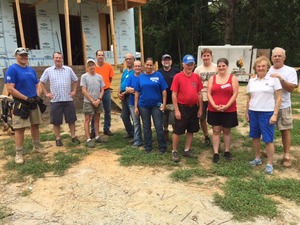 Members of Our Savior Lutheran Church, including parishioners Richard and Sandy Zimmer and Pastor Linn Fisher, visited the South Hardin Street Habitat build last week to bring snacks to the volunteer workers. Thank you from all of us at Habitat!
---

Moore County Restore


News by Kim Kinney/ReStore Direct

or
We have completed 2 out of 4 "Stuff the Truck" days in the Pinewild Community. Adding 16 more pickups to our already busy week of donation pickups. Our average donation is $144 with Pinewild adding over $2000 to our annual total just from 2 additional days.
We are excited to have had our Stuff the Truck again with the Fairbarn last weekend for the Moore County Flea Market Event. This was the third booking of this event. Our ReStore truck was parked by the main entrance and allowed all vendors to donate their left over items from the sale instead of packing it up again or taking it to the landfill.
We were at Farmers Day in Robbins on August 6th to spread the Habitat name. We had a colorful table of ReStore colors and balloons. Handed out brochures, and flyers spreading the word of our October wall raising and ReStore tent sale.
The Boys and Girls club volunteered 2 days with us helping unpack, clean and price pallets of wares for our Tent Sale in Robbins. Thank You Boys and Girls Club. They enjoyed it so much, they are looking into some additional dates to volunteer with us in the ReStore throughout the school year.
To book a Stuff the ReStore Truck Event,
call 910-295-1934 ask for Kim
To schedule a free pick up, call 910-295-1934
For Volunteer opportunities in our ReStores, call 910-295-1934
and ask for our volunteer coordinator
Volunteer Cashiers needed at our Aberdeen ReStore during the following times: Tuesday afternoon from 2 until 6 p.m., Thursdays from 10 a.m. until 2 p.m. and from 2 to 6 p.m., and Saturdays from 9 a.m. until 1 and from 1 until 6 p.m.​

​

We are always needing Donations for our ReStore. Free pickups are available from Monday through Friday. Call 910-295-2798 for donation pickups.

​

Coming Soon:

A partnership with Hamilton Beach in our ReStores. We are receiving inventory from the local Hamilton Beach warehouse and will have these items for

sale in the near future. Stay Tuned!

Dondi Jones
Moore
Restore Manager
Richmond County ReStore




As fall starts coming in, we will be starting our DIY classes in our Rockingham ReStore. The next event, a jewelry making class, will be held Sept 19 at 6 pm and is limited to 15 attendees. A $10 donation to Habitat per attendee is requested. Refreshments will be served, and an exclusive sale for attendees will be held

Trey Robbins
Richmond
Restore Manager
Please call the store at 910-817-9576 for more information on this upcoming class. Also, October 1st will be the date for our Fall Yard Sale. This will be a parking lot sale including ReStore items as well as other vendors from the area. Mark your calendar now for this event. Don't forget, as you begin fall decorations, to include us in anything you no longer need.
Donations are always needed, and FREE pick-ups are available Tuesdays and Thursdays. Call 910-817-9576 to schedule a pick-up.
---