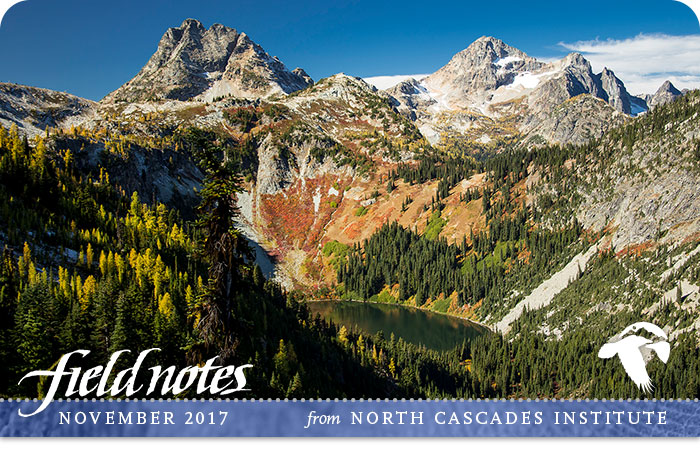 Lots of news from the Institute as we enter November! Several new winter classes and our first-ever season of Winter Base Camp are open for registration on our website. We are seeking a dynamic, energetic leader to be our next Program Director at the North Cascades Environmental Learning Center, our field campus on Diablo Lake. Recruitment is underway for Mt. Baker SnowSchool volunteers and interns, Youth Ambassadors and the next cohort of students for the Graduate M.Ed Residency.

Also, we are hosting Wilderness First Responder Recertification and Remote Emergency Medical Technician courses at the Environmental Learning Center this winter.

Looking ahead, we have several gift ideas for the holidays (see below).

Oh, and we launched a new design for our website (now, finally, mobile-friendly)!

Read on for details, and follow us on Facebook and Instagram for breaking news and views from the North Cascades!

Jan 15-Feb 9: Remote Emergency Medical Technician
Feb 15-18: Wilderness First Responder (WFR) Recertification
Feb 17: Winter Visitors: Birding the Greater Skagit Delta with Libby Mills
Feb 17-18: Night Photography at Diablo Overlook 1 with Andy Porter
Feb 18-19: Night Photography at Diablo Overlook 2 with Andy Porter
Feb 23-25: The Art of Drawing Maps with Jocelyn Curry (ELC)
Winter tracking, watercolors and more classes coming online soon!

Registration at ncascades.org/get_outside, nci@ncascades.org or (360) 854-2599.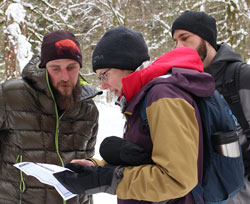 Winter Base Camp:
Special "shoulder season" pricing for weekends in February & March! Flexible, affordable and fun, Base Camp offers you the opportunity to explore and learn about the American Alps while enjoying the comforts of our campus in the heart of North Cascades National Park. Winter Base Camp is a unique opportunity to visit the Diablo Lake neighborhood in the quiet solitude of the winter season. Each day offers guided outdoor activities, with three delicious meals, a hot shower and comfortable accommodations waiting for you at the end of your adventure. Visit
ncascades.org/basecamp
for more information, availability and registration.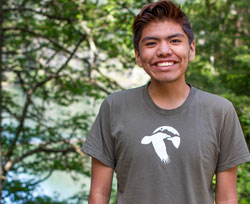 Calling all Youth Ambassadors! Do you know a young person who wants more opportunities to adventure outside? Students who want to develop leadership skills? High School students are encouraged to apply now for our free Youth Ambassadors program, no experience or equipment necessary! Explore and learn about nature, receive college planning assistance, grow as a leader and meet like-minded students interested in the environment. More information and application available at ncascades.org/ambassadors; Nov 8 deadline.

Read about last year's Ambassador adventures and outings on our blog.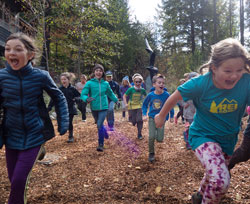 Now hiring: North Cascades Institute is seeking a dynamic, energetic leader to be its new Program Director. Working from the Institute's field campus on Diablo Lake in the heart of North Cascades National Park, this position oversees core education programs serving people of all ages throughout the year. Candidates must have a strong passion for the Institute's mission to inspire and empower environmental stewardship for all through transformative educational experiences in nature. The Program Director will support a wide array of programs and will build upon the Institute's strong reputation as a leading place-based educational institution.
Seeking Mt. Baker SnowSchool volunteer instructors for an unforgettable winter adventure

Book and Save: 25% discount for group programs of 15+ people during December, January and February
Family Getaways 2018: Plan ahead for family fun & multi-generational learning in the North Cascades

Need holiday gift ideas that foster connections to nature?
Connecting people, nature, and community through education since 1986

(360) 854-2599

∙

ncascades.org