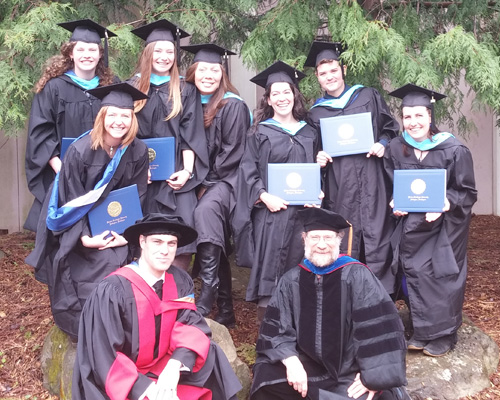 Happy Spring! Changes are coming swiftly to the North Cascades, as plants are budding, birds are migrating and the North Cascades Highway is open again. Another big shift happened as Cohort 13 wrapped up their Graduate M.Ed. degrees with a set of engaging capstone presentations on topics ranging from "nature play in preschool" to "storytelling as a source of wonder" to "language acquisition as a lens for environmental education." The week concluded with a graduation ceremony with family and friends and the annual "passing of the paddle" to the next cohort!
Our time together always seems so fleeting, and we say farewell to Tyler, Annabell, Kaci, Samantha, Elissa, Katie, Katherine and Sarah with a mixture of sadness and excitement for what they will do next out in the big, wide world.
April is a big month for North Cascades Institute events: world-class alpine climber Colin Haley at The Mountaineers Seattle Program Center (April 10), ecologist and author Thor Hanson (April 11) and a community celebration of the Salish Sea (April 16) at Village Books in Bellingham and the launch of our Executive Director Saul Weisberg's new book of poems Headwaters with readings throughout Cascadia.
Our friendly registration team is available to assist you at nci@ncascades.org or (360) 854-2599.