Shorter days and longer nights. A dusting of snow on the high ridges. Raptors migrating overhead. Golden needles on the larches. Chilly mornings, deep blue skies and dazzling sunlight. We've moved through the Autumnal Equinox, officially leaving summer behind. Is Fall the best season of all in the Pacific Northwest?
Programs at North Cascades Institute reflect the changing of seasons too. Fall Mountain School is underway at the Environmental Learning Center, with busloads of 5th graders arriving from schools in Bellingham, Anacortes, Sedro-Woolley and beyond to learn about the ecosystems in their backyards through hands-on outdoor explorations in science and natural history.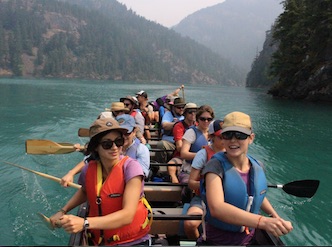 Our new cohort of Graduate M.Ed. students just returned from a unique placed-based summer learning excursion. Over the course of six weeks, they backpacked through the greater North Cascades ecosystem, exploring the natural and cultural history of the area from local professionals and leaders. They paddled the mighty Skagit River by canoe, and learned about marine ecology at research stations on the shores of the Salish Sea. Through these in-depth explorations of their new classroom for the next year-and-a-half, they also had the opportunity to grow close together as a cohort community. (We are currently recruiting for the next cohort of graduate students, class of 2020! Click here if you or someone you know would like more information.)
We're also working on the Northwest Youth Leadership Summit at The Mountaineers Seattle Program Center November 4, another winter season of Mt. Baker SnowSchool and the ongoing Nature of Writing Speaker Series at Village Books in Bellingham.
Keep reading for more details on these and other opportunities, and enjoy the rare October Harvest Moon!