---
Dear Friend,
Welcome to the first Kiwanis Club of Cincinnati Monthly Newsletter. We hope you find this informational and helpful in planning your calendar. Our goal for future newsletters is to publish the first week of each month. We expect the newsletter to evolve based on input from our readers, so please provide us your input!

In this issue you will find:


Kiwanis Inspirational Moment


Celebration!


Upcoming Events


Kiwanis Club News


New Members


A Club Member Feature


Kiwanis International News


Did You Know?


A Word of Encouragement


Membership Information
Inspirational Moment
Margaret Mead said: "Never doubt that a small group of thoughtful, committed citizens can change the world; it's the only thing that ever has."

Every Kiwanis club is a small group of thoughtful, committed citizen, and our goal is indeed to change the world one child and one community at a time.
Celebration!

Birthdays
Join us in congratulating our club members on these recent and upcoming birthdays!

Ed Griffin - September 7
Bob Porter Jr - September 21
Amy Zimmerman - October 5
Dick Hanauer - October 6
Cyndi Crim - October 12
Linda Gramke - October 31

New Officers and Board Members for 2008-2009
Congratulations to the new officers and board members!

Lieutenant Governor for Division 6: Amy Zimmerman

President: Brian Yacucci
Vice-President: JJ McHenry
Treasurer: Jeanette Yacucci
Secretary: Alyson Gerwe

Board of Directors:
Linda Gramke
Laura Reinhardt
Bill Swanson
Hubert Kirchgaessner
Kelly Flick
Lori Kaplan
Tim Gramke
Alex Hamling

New Foundation Board Member: JJ McHenry
Upcoming Events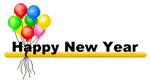 To RSVP for any event, please either contact the RSVP Contact or email us at info@cincinnatikiwanis.org.

10/13 6:00 PM Kiwanis New Year Party at Henke Winery, Westwood - To celebrate the Kiwanis New Year (which began October 1st) and to celebrate all that we accomplished this past year, we are having our Kiwanis New Year Party at Henke's Winery on Monday, October 13th at 6pm. There will be awards, gifts, and an officer transitioning ceremony...You won't want to miss out (you might be getting an award)! We'll also be enjoying delicious Italian food and local wines.
RSVP Contact: Mary Shy

10/20 12:00 PM Lunch & Learn - Southern Gateway Chorus and Youth in Harmony - David Beaudry and Paul Coleman (VP of Youth in Harmony) will be speaking with our club to: introduce Southern Gateway Chorus, share about their work with area youth including work with high schools, Youth in Harmony, and Harmony Festival, and to discuss.
RSVP Contact: Brian Yacucci

10/23 6:30 PM Green Hills Forest Park Membership Rrecruitment Night - Join us at the at Mill Race Lodge to support this fun event.
RSVP Contact: Amy Zimmerman

10/27 - Ronald McDonald House Service Project - Join us in our monthly service project cooking dinner at the Ronald McDonald House. We serve the residents - families and patients, and always find it a rewarding experience!
RSVP Contact: Brian Yacucci

11/1 - For the Love of Kids Gift Bag Assembly - Join us in assembling tote bags of donated products to be given to the parents participating in the Practical Parenting Conference. This is great for service hours for school clubs and youth groups, etc.
RSVP Contact: Alyson Gerwe
Kiwanis Club News
9/06 - Cheviot Westwood Harvest Home Festival - Our lemonade booth raised over $200. Next year we are hoping to run the mouse booth where people bet on which hole the mouse will run through.

9/10 - St. Francis Seraph Soup Kitchen - A new monthly service project started and run by Bill Swanson. We met up at the St. Francis Seraph Soup Kitchen downtown to serve dinner to the needy. As always, it was very rewarding to see the look of gratitude on the faces of those we served.

9/14 - Susan G. Komen For the Cure - Six club members participated in the Susan G. Komen walk. It was a windy day, but nice and sunny. We had a great time chatting while we walked and knowing that our contribution will go to find a cure for breast cancer.

9/15 - Lunch & Learn - Mary Ronan, superintendent for Cincinnati Public Schools came and spoke to us about the status of the schools, how their education strategy has been successful, and how we can partner with them. We are now talking with Hayes Porter Elementary downtown about starting "Bringing Up Grades" and a K-Kids/Builders Club at their school.

9/17 - GreenHills / Forest Park Division 6 meeting - Nine of our club members were in attendance to watch our own Amy Zimmerman take over as Lieutenant Governor for Division 6. Congratulations Amy!

9/20 - District Installation - North Canton - Wooster Breakfast - Three of our club members were in attendance to watch our Amy Zimmerman officially become Lieutenant Governor for Division 6.

9/25 - Ronald McDonald House Service Project - As always, we had a great turnout (11 members) for the Ronald McDonald House service project, where we served dinner to more than 60 residents.

9/29 - Lunch & Learn - Craig Hockenberry, Cathy Gatt, and Renee Wuest from Oyler Elementary came to speak to us about the programs they've initiated at their school and how it's bringing around a tremendous change in their tough inner-city school where over 90% of their children live in poverty.

10/6 12:00 PM Lunch & Learn Meeting - Banker's Club - Eric Langevin, Asst. Division Director, Donor Recruitment, and Alyson Yeats, both from the Hoxworth Blood Center spoke with our club about the misconceptions related to who can and can't donate blood, the misconceptions about the blood donating experience, opportunities for volunteering and how to bring Blood Drives to our local area/community organization.

10/8 4:15 PM St. Francis Seraph Soup Kitchen - Food pantries and soup kitchens are seeing a dramatic rise in the number of people they serve. We volunteered to serve dinner at St. Francis Soup Kitchen, helping to feed over 100 citizens of Cincinnati in need of a meal.

More past events.....
New Membership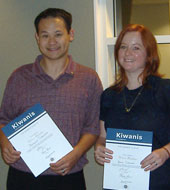 Please join us in welcoming our newest members! Congratulations!

Thanapat and Jessica Vichitchot (joined August 2008)


1,2,3 You Hold the Key
More than 12,000 people have joined Kiwanis International since the beginning of the 1-2-3 You Hold the Key program.

The reason: Nearly 7,000 members invited them—members who were justly rewarded.

Recruit new members during the current administrative year and
you'll be rewarded, too.
An Interview with Mary Shy (club member of 5 years)

Each month we will feature one of our club members so our readers can get to know the people who make up our club.

This month we feature Mary Shy. Mary has been a club member for 5 years and resides in Bright, Indiana.

Mary grew up in North College Hill, a community on the northwest side of Cincinnati. It was a wonderful middle-class community to grow up in; where kids could play safely with never a worry. Mary played school sports and spent most of my summer at the community pool. She attended catholic school from 1st to 12th grade and then headed to the University of Cincinnati.

Mary spends a lot of time doing activities related to her children. Her son is involved in soccer much of the year, and she attends almost every game. She loves to read and spends every moment possible with her nose in a book. Mary loves murder mysteries and historical novels. And much of the year, she enjoys working in the yard tending to her perennials and many trees and bushes.

The last 5 months Mary's time has been spent very different than previous years. After working continuously for 31 years, Mary recently found herself in a career change as a result of a company downsizing. After the initial panic, Mary has invested time assessing her career and deciding what she'd like to do – what's important to her in the next role. Then she jumped in full force to network with friends, family and complete strangers (who are now new friends)! We've all heard that the hardest job is getting a job, and now Mary believes this is so true! While Mary's still looking for that great new job, she's trying to keep her spirits high and enjoy the unexpected freedom while it lasts.

Mary's favorite Kiwanis project was the pancake breakfast served at St Monica-St George several years ago. This service project provided a social event and a nice meal to the parishioners. Mary especially cherished this event because her son, Ryan and daughter, Erin joined her - with some initial protest to the early hours. BUT they still talk of that event to this day and that tells Mary a lot about the impact this service event had on her children.

As of September 2007, Mary is a member of the Indiana Gaming Commission. This is a non-political, 3-year gubernatorial appointment. She is thoroughly enjoying the opportunity to give back to the state of Indiana where she's lives for 25 years. The role of the commission is to license and regulate Indiana riverboat gambling and ensure compliance with rule and regulations as defined by the state. With 11 casinos and 2 new racinos (race tracks with gambling devices), the commission always have a very busy agenda. As a result of her role, Mary has taken a lot of interest in Ohio and Kentucky's debate about gambling!

Most people don't know that Mary have a twin sister. And even fewer people know how common twins were in her early life. Mary grew up on a street with 14 homes and there were 4 sets of twins (all fraternal) on her street, born within 3 years! When they went out to play, twins were everywhere. When Mary and her sister arrived at McAuley High School, they found their class had 4 OTHER set of twins – all girls. So once again, they were surrounded by twins. And take note, this was in the days before fertility drugs increased the % of twins!
Kiwanis International News

Cyclones, tornadoes, flooding, and earthquakes renew call for disaster-relief funds

Recent extreme weather events and natural disasters throughout the world have caused devastation in many areas. These events have prompted Kiwanis International and the Kiwanis International Foundation to issue a special plea for contributions to the Disaster Relief Fund...
Did you know?
Half the world's population is under 25 years of age.
A Word of Encouragement
Overheard at the World Volunteer Conference

In response to the observation that volunteers are too often seen as amateurs: "Just remember: Noah's Ark was built by amateurs. The Titanic was built by professionals."
Submitted by Susan J. Ellis, President, Energize, Inc.


Membership Information

To become a member of Cincinnati Kiwanis, either contact a Cincinnati Kiwanis member or come to a meeting to fill out a membership application. Our membership is open to the public.

The public is invited and encouraged to join us for all our activities and events. New members means more volunteers working together to make a greater positive impact on our community...read more

Thanks everyone for all the hard work this past month in putting this newsletter together!