Week-at-a-Glance
Monday, December 5

Report cards go home

Dress: regular dress code
Lunch: hot lunch
Dismissal: regular dismissal


Tuesday, December 6

Dress: regular dress code
Lunch: no lunch provided
Dismissal: regular dismissal


Wednesday, December 7

Arts & Literacy Series: "The Creche: The Italian Tradition of the Presepio" by Maurizia Boscagli in the Multipurpose Room

Dress: regular dress code
Lunch: hot lunch provided
Dismissal: regular dismissal



Thursday, December 8

9:00am Campus-wide Lock Down Drill - parents please be aware this is only a drill marked by 3 fog horn blasts

Dress: regular dress code with Dive-in Shirt
Lunch: no lunch provided
Dismissal: regular dismissal



Friday, December 9

Lower School Admission Tour from 8:45-10:00am - please contact Molly Seguel at 569-1811 ext. 131 to sign-up, current families welcome

Dress: regular dress code
Lunch: no lunch provided
Dismissal: regular dismissal
Straight From the Head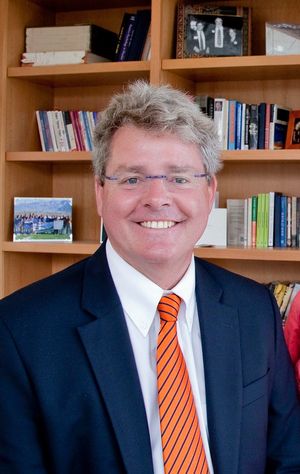 Dear Members of the Marymount Community,

Today, as I write tomorrow's Messenger Address, is Thursday, December 1st, and I would like to proclaim this period between Thanksgiving and the Winter Holidays as "Generosity Time." At noon, as I thanked Tina Multin, Mark Gonzales, and Teacher Appreciation Luncheon Chair, Pauline Lowe, for preparing and serving an amazing meal for faculty and staff, I thought that this is really the beginning of a season of generous giving. I know that the faculty and I feel humbled and grateful for the care we receive from so many. Pauline spoke about the joy it gives parents to thank teachers, and I want to say how grateful I am to all Marymount parents for all that you do for us and the school.

Yesterday, I took advantage of a Middle School assembly to have a conversation with the 8th graders. I asked them several questions and most of the questions lead to a single question, how do you want your Marymount class to be remembered? What are your actions and words that make you proud? There were lots of good answers, but the one I like best was, "I hope we are remembered for being kind to the younger kids." That concept captures a lot. It is a generous thought. It suggests empathy, care, kindness, responsibility, selflessness--all human qualities that center around giving to others. Not giving materially, but thoughtfully and equally as real.

As I walking down to the Lower School this morning and watching students playing in the wind I remembered a favorite school slogan: "Joy in Learning!" It is hard to believe that we only have two weeks of school left in 2011, but I hope that they are wonderful days where we begin to expect and experience joy.

Sincerely,

Andrew Wooden
Head of School
____________________________________________________

Grandparents' and Special Friends' Day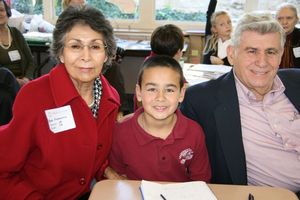 Heartfelt thanks go to all who helped make Grandparents' and Special Friends' Day a warm and enjoyable event! We hope that the grandparents and special friends had an opportunity to share some time with the students experiencing Marymount. Special thanks should be extended to: Koji Nomura, Kamala and Bill Parris, Lyn Shirvanian, Alexa Ratcliffe, Vonnie Orth, Cas Stimson, Jay and Kari Ann Gerlach, Nina Gustsaon, Dauri Kennedy, Andrea McFarling, Heidi Frost, Marymount staff (Luis Gantes, Juio Valdivia and Andres Gantes), Leadership students, Jessie House, Laura Wilson, Carolyn Gell, Katie Frawley, Molly and Andrew Wooden, Loaves of Love (bread makers), Serena Doubleday and all parent volunteers. Additionally, Thank you Father John Love and Cantor Mark Childs, Raiden Nomura for the fantastic artwork, and to the "interim Facilities Director," CeCe Borchardt, without
whom, we wouldn't have known what to do.

With Sincerest Gratitude,
Tara Bassi and Christy Parker

Click here for a gallery of the special day


____________________________________________________

Announcing
Marymount's 2011-2012 Auction



A classy benefit dinner event on
Saturday, March 17, 2012

First Auction Committee Meeting
at 8:30am on Wednesday, December 14th
in the Development Office
For more information please contact
Andrea McFarling at amcfarling@marymountsb.org or
Auction Committee Chair Jenny Scholl at jscholl@ch2m.com
____________________________________________________
Scoliosis Screening
by McKenna M.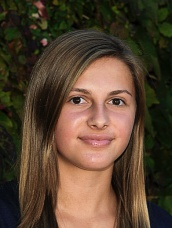 On Tuesday, the 7th and 8th grade girls had the opportunity to take part in a scoliosis screening held by Dr. Michael Maguire, (Michaela, Gr. 7) who is an orthopedic surgeon. Fellow classmate Amara Parris (Gr. 8) and I acted as assistants, retrieving girls from their classes, while my mom, Lisa Jacobi, was present in the office while the girls were checked. It was then that many girls came to realize that scoliosis is a relevant thing in a girl's life roughly between the ages of 11-14. Nevertheless, Amara, Dr. Maguire, and I assured them that there are many things they can do on their own to help it, and no matter the severity, it can be addressed and treated. However, the severities vary, and luckily, most girls left Mrs. Shirvanian's office with nothing to worry about. Only a few girls have indications of minor curves. I happen to be familiar with scoliosis and was diagnosed this past summer. In my case, I had a more severe curve, resulting in my needing a back brace. Though I was nervous and admittedly rather frustrated, all the puzzle pieces came together. What's comforting is that I've got a buddy, Amara, with whom I play volleyball and soccer. We both feel we can tackle this challenge. Understanding that this condition can be a scary thing for girls, I thought it might be a good idea to create a website that helps grapple with this fear, www.scoliosisisnotscary.com. The site will have a blog where you can share your thoughts and concerns, and it will remain private, given that this is a sensitive subject for some girls. Currently, I am still working on it but it will be up and running in a few weeks. Thank you, Dr. Maguire, for taking the time to check our wonderful girls. See you again next year!
____________________________________________________
Your Pledge is as Good as Your Gift!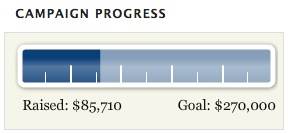 We are off to a strong start with our 2011-2012 Annual Fund! More than $85,000 has been raised to date. To everyone who has already contributed, thank you so much for your generosity. Our goal is to achieve 100% parent participation in all classes.

As you may know, the Annual Fund is critical to the operations of Marymount as these funds make up the difference between tuition and the true cost of educating each student. If you have yet to contribute, click here visit our Annual Fund website to participate. You can donate quickly and safely by using your credit card or by indicating a pledge amount to be paid at a later date. If you'd like to make a stock contribution, please indicate your pledge amount on the website and stock transfer information will be sent to you.
____________________________________________________
Parents, students, teachers, families, friends click here to "Like" Marymount on Facebook. When people "Like" Marymount on Facebook our name and the fabulous things our students and teachers are doing on campus get out into the larger community.

____________________________________________________
Alumni Spotlight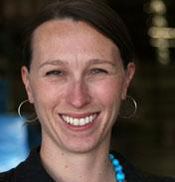 Annie Maxwell (class of 1993) was honored at Grandparents' and Special Friends' Day Thanksgiving Prayer Service as Marymount's 2011 Distinguished Alum. Click here for the article on Annie's accomplishments and the Grandparents' and Special Friends' Day.
____________________________________________________
Loaves of Love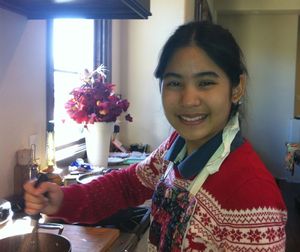 On Grandparents' and Special Friends' Day the Marymount Middle School students sold loaves of bread to raise money for disaster relief in Thailand. Pim, cousin of Ryley Oroku (Gr. 8), visited Marymount when her school flooded and was evacuated. She returned over the Thanksgiving holiday and took with her the money raised from Loaves of Love. Thank you to the Marymount community for your help and support. Click here for a few photos of the fundraiser.
____________________________________________________
Season of Giving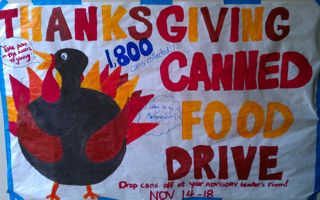 Thank you to all the families, friends, students, parents, and teachers who brought in non-perishable food items for Marymount's Annual Food Drive. 1,800 cans were collected and donated to families in need this holiday season.
Quick Links:
Campus Reservations

Edline

MPC Scrip



Looking Ahead:
Tuesday, December 13:
8:30-10:30am Gr. 4 field trip to Santa Barbara Mission

Wed., December 14:

Kindergarten field trip to Arlington Theatre for the production of "Shoemaker and Elves" from 9:30-11:30am

Thursday, December 15:
Christmas Program -
Daytime performance at 12:40pm in Battistone Hall
Evening performance at 6:00pm in Battisone Hall

Friday, December 16:
Liturgy Dress

Christmas Mass at 8:45am in Battistone Hall

Middle School Christmas Brunch immediately following Mass in Battistone Hall

Early Dismissal

Monday, December 19 - Tuesday, January 3:
No School -
Christmas Break

Wednesday, January 4:
School resumes

Hot Lunch Menus
Monday, December 5
Hamburgers with roasted french fries, green salad, fruit, and dessert
Wednesday, December 7
Salad and Sandwich bar
turkey and roast beef options
Friday, December 9
Chili cheese dogs, carrot sticks, salad, fruit, and dessert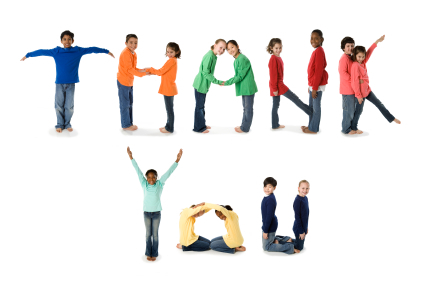 Cindy Oas
(Logan, Gr. 6,
Quentin, Gr. 4)
for helping Marymount
to win $2,000 from Shutterfly!
Cindy Oas and the room parents helped Marymount be one of the first 50 schools to register a minimum of 50% of their classrooms to the Shutterfly site.
Tuition Assistance
Applications

ATTENTION
CURRENT FAMILIES
on Tuition Assistance
Please
click here
for instructions and the application to re-apply for Tuition Assistance for the 2012-2013 school year.
Have an Extra Coat in your Closet?


Drop-off any clean, reusable coats to the Lower or Middle School Offices before Christmas break and Ablitt's will clean it and donate it to local charities.
Click here to learn more about One Warm Coat.
San Marcos High School

Open House
on January 11th
Click here for flyer
Christmas Trees for Horses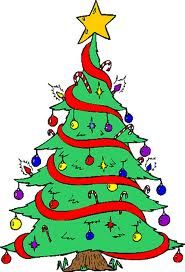 For every tree purchased 100% of the proceeds will be donated to
Valley View Equine Rescue, a registered 501C3.
Their goal is to keep horses out of the slaughter houses and to rehome them, while providing sanctuary for them.
Click here
for website
Terracycle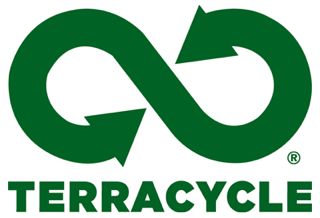 Marymount is recycling shiny plastic granola bar wrappers!
Each wrapper turned in will earn Marymount
2 cents!
Collection containers are in the Lower School, Middle School, and Kindergarten yards.
Click here
for more information about Terracycle
Collect granola bar wrappers over the Christmas Break and bring them to school and help out Marymount!
MPC Scrip Program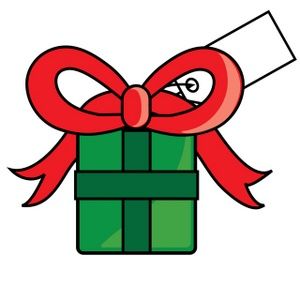 Holiday Season is Scrip Season!
Give Scrip or Shop with Scrip - With over 100 stores to choose from there is something for everybody.
Click here for more info.
Email orders to scrip@Marymountsb.org.
Some holiday favorites: Amazon.com, Macy's, Claire's, iTunes, Sephora, Peet's Coffee, Blenders, Chaucer's, Starbucks, Shutterfly, Zappos, CVS, GAP, Lazy Acres, Whole Foods, Gelsons, Vons, Albertsons, Sears, PotteryBarn.
Your Scrip (gift card) is worth what you paid. Profits come from buying Scrip at a discount. Pay by check or charge.
Order deadline
December 8th.
Thank you for your support!
Click here to order Scrip
!