Table of Contents
---
---


---
Ind. Membership - $35
Household - $40
Life (under 65) - $700
Life (65+) - $500
Organizational - $35
---
Hold the Dates
02 Mar 2013 - General Mtg. Speaker: Lynell Moss
16 Mar 2013 - Spring Lecture. Speaker: Paula Stuart-Warren
2-3 Aug 2013 - Summer Institute. Speakers: Pamela Boyer Sayre and Richard Sayre
12 Oct 2013 - Fall Lecture. Speaker: D. Joshua Taylor
---
DGS on the Web
---

---
The goal of the Dallas Genealogical Society shall be to educate, by creating, fostering, and maintaining interest in genealogy; to assist and support the genealogy section of the J. Erik Jonsson Central Library in Dallas, Texas, or to its legal successor; and to collect, preserve, copy, and index information relating to Dallas County and its early history.
---

2013 Spring Lecture
March 16
Early Registration Now Open
"Records, Research & Stories"
Paula Stuart-Warren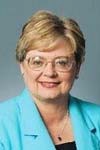 Topics:
Tho' They Were Poor, They May Have Been Rich in Records

Research Reports for Ourselves: More than a Research Log

Stuck? Have You Tried...? Have You Overlooked...?

A Baker's Dozen: Easy Ways to Begin Writing Your Family History
Place: J. Erik Jonsson Central Library, 1515 Young Street, Dallas, TX
---
World War II Research Sources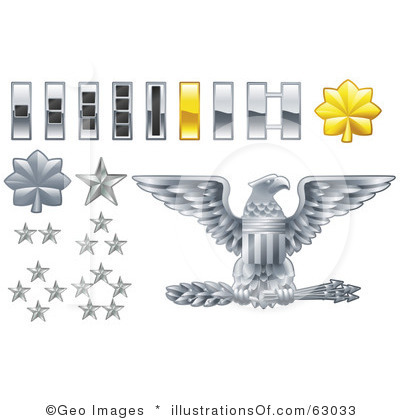 Carl Oehmann, owner of Apex Genealogical Services and DGS member, was the speaker at our January monthly meeting. He has kindly allowed us to post the bibliography of his presentation on the DGS web site.
---
Arlington National Cemetery Database
Now Online


ANC Explorer is available through a web browser and as a mobile app. Locate gravesites, generate front and back photos of a headstone or monument, and receive directions to those locations.

Details
---
DPL Interlibrary Loan Changes


DPL has recently instituted a $2.75 per item charge for materials acquired through Interlibrary Loan, plus customers will be limited to five active ILL requests at a time. Previously the cost of the ILL program was absorbed by the Texas State Library.
Materials may be picked up at any DPL location and all forms of payment are accepted.
---
14th Annual Legacies Dallas History Conference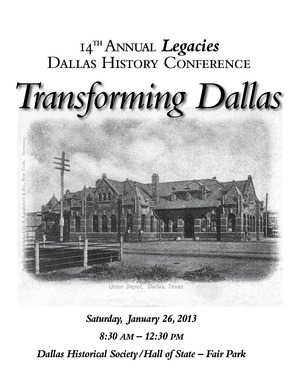 Topics
The Coming of the Railroads to Dallas

By Thomas H. Smith, Ph. D.

The Founding of Highland Park

By Pierce Allman

Modernism Comes to Dallas:

The Work of Howard R. Meyer

By Jann Patterson Mackey, Ph.D.

A Quiet Force: How Sam Bloom Shaped the

Public Response to Integration in Dallas By Carol Roark

Memories from Dealey Plaza:

Panel Discussion with Eyewitnesses to the

Assassination of President John F. Kennedy:

Bill and Gayle Newman, Pierce Allman, and Rickey Chism.

Moderated by Stephen Fagin, Associate Curator, The Sixth Floor Museum at Dealey Plaza
---
Southern California Genealogical Society



SCGS announces its Jamboree Extension Webinar Series for 2013. The webinar series provides web-based family history and genealogy educational sessions.

The inital broadcast of each webinar is offered free to the public.

Details
---
Ellis Island and the Statue of Liberty Closed after Hurricane Sandy


---
Top 100 Genealogy Websites for 2013

Annual review and ranking of the top 100 genealogy websites by GenealogyInTime Magazine.
Details
---
January - March, 2013 DGS Newsletter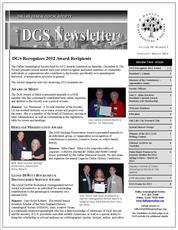 Read all of the articles. Link to the DGS web site and follow the instructions.

---
NGS Issues Call for Papers for 2014 Family History Conference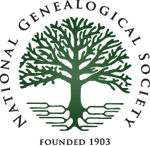 Speakers as well as organizations interested in sponsoring lectures or tracks are invited to submit lecture proposals for the NGS 2014 Family History Conference, "Virginia: The First Frontier", to be held 7–10 May 2014 in Richmond, Virginia.
NGS Awards Recognize Genealogical Excellence

Every year NGS recognizes excellence in the genealogy field by presenting awards in numerous categories and several competitions. Why not nominate someone you know, or enter your own work in one of the competitions? The deadline for submissions is 31 January 2013.
Details
---
War of 1812 Pension Records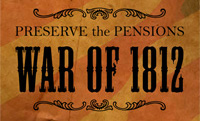 DGS members who want to donate online for the War of 1812 project with a credit card may do so by:
-selecting "My Donations"
-click Donate Now on the upper right
-Find NARA and click on the radial button for War of 1812 - Save the Pensions
-then enter your payment information
---
Family Tree Service on FamilySearch.org is Coming to All Users
FamilySearch is introducing a new Family Tree Service in the next couple of months. This f
uture replacement for new.familysearch.org will help you to more easily qualify ancestor names for temple work, collaborate with family and other researchers near and far, and preserve your research for future generations.
---
Other Genealogical Events
21-23 Mar 2013 - RootsTech 2013 Family History & Technology Conference. Salt Lake City, UT.
If you are an NGS member, you are entitled to a discounted registration fee.
The conference will include programs for all skill levels of research experience and will feature tracks on DNA, ethnic research, the law, migration, methodology, the West, women, and more. More than seventy-five nationally recognized speakers will provide over one hundred and fifty lectures on a wide variety of topics.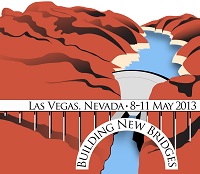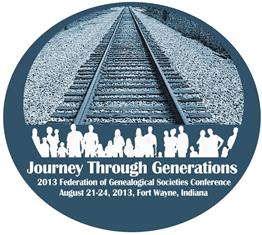 ---