J. Erik Jonsson Central Library Auditorium
Hospitality Time: 10:30-11:00am
Business Meeting: 11:00-11:30am
Program: 11:30am-12:30pm
Topic
:
'DNA Testing for Genealogy' by Debbie Parker Wayne.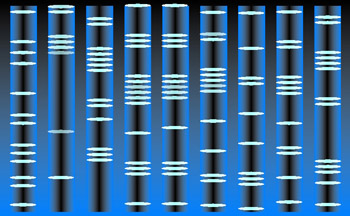 The speaker will cover Y-DNA, mitochondrial DNA, and autosomal DNA. You will learn what DNA testing is and how to obtain the tests, how to use the test results to maximize the contribution to genealogical research goals, and which tests can be used for ethnic studies based on the current technology.
---
Land Platting Webinar
Reminder - 1st session is this Thursday, Oct. 4
Registration is closed, but we hope that you have already signed up
2nd session is Dec. 6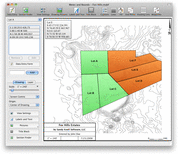 The Brown Bag SIG is sponsoring a webinar on land platting using the software program "Metes & Bounds" by Sandy Knoll Software.
Presenter: William B. Dow, Jr.
---
Casey Chapter of DAR Donates to DPL Genealogy Division
The General Levi Casey Chapter of the National Society of the Daughters of the American Revolution has donated $20,000 to the Dallas Public Library Genealogy Division.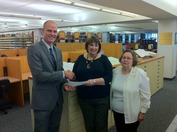 In this Sept 27, 2012 photo, Kris Sweckard, Interim Library Director (left) is shown accepting the check from Van Beauduy, Treasurer (center) and Kay Masterson, 2nd Vice Regent (right) of the General Levi Casey Chapter.

The Division plans to use the money to purchase new microfilm scanners.
---
NGS Partners with Family Village Facebook Game to Help Players Build Family Tree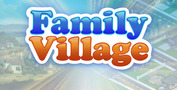 Funium and the National Genealogical Society have formed a partnership that will allow players of Family Village, Funium's popular Facebook game, to further explore their family trees by accessing a number of NGS resources and research aids.
---
FGS/NARA War of 1812 Preserve the Pensions Project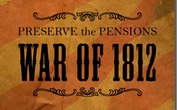 Join the
initiative to raise funds
to digitize the War of 1812 pension files and make them accessible online for free.
---
October-December, 2012 Newsletter
---
Georgia Closes State Archives

The Office of the Georgia Secretary of State has announced that, effective November 1, 2012, the Georgia State Archives located in Morrow, GA will be
closed to the public
. After November 1st, the public will only be allowed to access the building by appointment; however, the number of appointments could be limited based on the schedule of the remaining employees.
This affects all of us. Once one archives is closed, will others follow? What about genealogy collections in libraries? You may show support by signing the
online petition
.
---
FGS Announces New Web Site

The Federation of Genealogical Societies has launched its newly revamped website to better serve FGS member societies and the genealogical community. Check out their
new site
.
---
Nov. 10 - General Meeting
Topic: 'NARA On-line' by Mike Wright.
Dec. 8 - Annual Awards Luncheon
---
---