Save $40
Register by July 15

DGS Summer Institute
August 2-3, 2013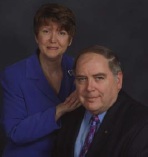 Using Maps & Other Records to
Complete Your Family Story
Speakers: Pamela Boyer Sayre and
Richard Sayre
Both Pamela and Richard are nationally-recognized leaders in the field of genealogical research and teaching.
Remote Research in the Databases of the Daughters of the

American Revolution Genealogical Research System

Land Entry Papers and Records of the General Land

Office

Our National Treasure: The Library of Congress

Maps: Where to Find Them and How to Use Them

Using Topographic and Other Maps

Sharing Your Family History

Google Earth for Genealogist
Print mail-in registration
On-line registration
---
Ancestry.com is Coming to Texas
Saturday, September 21

Mid-Cities Genealogical Society Sponsoring Texas Ancestry Day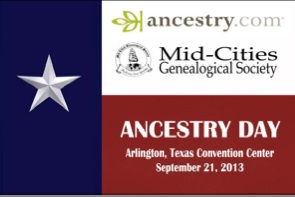 Sessions by the experts from Ancestry.com will include "Getting the Most from Ancestry.com", "Texas Records on Ancestry", and "Sharing Your Family Story".

Meg Hacker, Director of NARA's Southwest Regional Office, will speak during the lunch break about some of their "Cool Overlooked and Underused Records".

A live Q&A panel featuring the presenters and door prizes are also part of the day's fun.

The cost is $35.00 plus lunch.

Program Details
Registration
---
National Archives
Southwest Regional Office



Citizen Archivist Quarterly Program

From July 24th -26th, Citizen Archivists will focus on indexing and digitizing slave manifests from 1808-1860. Space is limited to only 3 archivists!

No experience is necessary-just a love for history and a desire to help preserve and make available these incredible records. More information is on NARA's Facebook Page.

To apply, send an email with your contact information and a paragraph stating why you want to become a Citizen Archivist to the Fort Worth office by July 17th.
---
J. Mark Lowe, CG℠ to Judge Writing Contest Again

Professional genealogist, author and lecturer J. Mark Lowe, CG
℠
will provide his expertise as a judge of the DGS Writing Contest for a second year.
The Society is excited to announce its 2013 Writing Contest for original material on topics of interest to genealogists and family historians. While DGS has a goal of preserving Dallas history, topics may range beyond the Dallas city and county geographic area as specified in the guidelines available on our web site.
Cash prizes will be awarded to the winning articles: first prize is $500, second prize is $300 and third prize is $150.
---
Georgia Archives



Last October, the Georgia Secretary of State announced that public access to the Archives would be drastically curtailed due to budget cuts. Many Texans supported efforts to keep the collection open by contacting officials in Georgia and signing online petitions.

On 1 Jul 2013, control of the Georgia Archives was transferred to the University System of Georgia. The transfer includes appropriations for operation and assets of the Archives. Beginning 31 Jul, the Archives will be open to the public Wednesdays through Saturdays, 8:30 - 5:00.

Listen to a Georgia Public Broadcasting interview with the head of the 9-member panel of academics, historians and librarians that has been overseeing the changes.
---
Who Do You Think You Are?

The new season premieres Tuesday, July 23 at 8pm CDT on TLC, The Learning Channel.
Christina Applegate
Kelly Clarkson
---
Interested in Improving Your Writing Skills About Family History?
DGS May Form a Writers Special Interest Group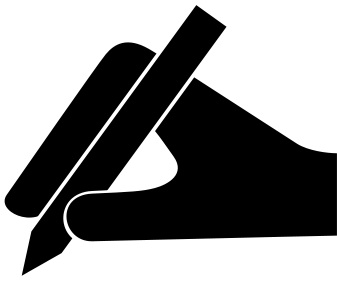 The group would be lead by DGS Secretary Marie Navarro and would meet either the 2nd, 3rd, or 4th Saturday at the Central Library downtown. This SIG would discuss methods and techniques of writing about family history and how to obtain stories from family members to include in your genealogies.
If you would be interested in joining this group, please send an email to Marie. Include which Saturday and what time works best for you.
If there is enough interest, the group will begin in September.
---

2013-2014 DGS Officers

These officers were elected by the membership at the May General Meeting.
President: Sandra Crowley
Vice President: Jean Larson
Secretary: Marie Navarro
Treasurer: Linda Lane
---
"The Name IS the Game" by Lloyd de Witt Bockstruck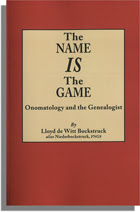 Retired head of the Genealogy Division of the Dallas Public Library (named one of the top 10 public libraries for genealogy research by Family Tree Magazine), Lloyd's new book, subtited "Onomatology and the Genealogist", discusses how names came about and how they've changed over time.

Details
---
BillionGraves and FamilySearch Tree



BillionGraves has announced a new feature called FamilySearch Tree Connect that allows you to attach BillionGraves images to their corresponding FamilySearch records.
Details
---
Baffled by the New FamilySearch Web Site?

FamilySearch is rolling out new training videos and other support documentation in conjunction with the launch of its new website.
---
---
Other Genealogical Events

30 Jul-02 Aug 2013 - BYU Conference on Family History and Genealogy.