Happy New Year!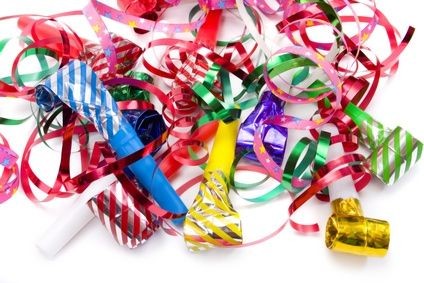 1st General Meeting of 2014

Saturday, January 4
Hospitality - 10:30am-11:00am
Meeting - 11:00am-11:30am
Program - 11:30am-12:30pm
Topic: "Genealogical Writing: Fact and/or/not Fiction". Presented by Janet Khashab, co-recipient of the 2013 Volunteer of the Year Award, DGS President 2009-2011
and VP of Education 2008-2009.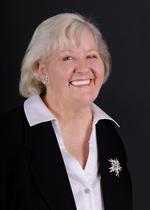 Place: 1st floor Auditorium of the J. Erik Jonsson Central Library (directions).
---
Laura G. Prescott
Keynote Speaker for Spring Lecture
March 22, 2014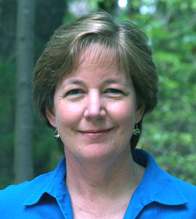 Program

Playing Hide-and-Seek with Ancestors in City Directories
Explore the history and growth of city directories, discover their value to genealogists researching urban and suburban families, and learn tricks and tips in using them to trace family migrations, address changes, careers, and events.

Timelines: Placing Your Heritage in Historical Perspective
Match historical events to an ancestor's life, or synchronize one ancestor's events to another's through timelines. Literally the outlines of our ancestors' lives, timelines lead us to solutions and surprises.

Treasures Within the Ivory Tower: Finding Family In Academic Archives
College and university libraries are historical repositories for their communities and their special collections are overlooked resources. Your ancestors did not have to attend a college for you to find them through this unique town-and-gown connection. Learn where to look, what you can find, and the most efficient techniques to get the information you seek.

The Rest of the Story: Using Manuscripts to Create a Family History
Tap into great repositories of historical treasure! Discover where to find information about your ancestors in special collections and why manuscripts and artifacts are essential to building your family's story.

Registration details and instructions will be available within the week.
Laura Prescott is a professional researcher and writer who worked for the New England Historic Genealogical Society before starting her own research business.

She is a past president of APG and a consultant for Fold3. Her specialties include the use of manuscripts in genealogical research, genealogy on the internet, online military records, and merging history with genealogy.

Her articles have appeared in Ancestry, New England Ancestors, Genealogical Computing, NGS Magazine, and Digital Genealogist.
---
2013 Awards Luncheon
Honorees and Winners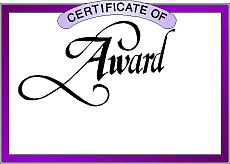 Held December 14, the Luncheon acknowledged several people for the hard work and dedication that contributed so much to a successful 2013 for the Society.

DGS Awards
Janet Khashab and Marianne Szabo - Volunteer of the Year Award.
UT Southwestern Medical Center Library - Heritage Preservation Award.
Helen Leary - Lloyd Bockstruck Distinguished Service Award.
Pat and Jim Stone - Award of Merit.
Tony Hanson, DGS webmaster, accepted the second place award from the TSGS contest Web Site for a Partner Society.
Janine Khashab and Mary Rinaldi - President's Award.

2013 Writing Contest Winners
First Place ($500): "From Kentucky to Texas: the Story of One Pioneer Family" by Jo Archer Arnspiger.
Second Place ($300): "A Double Murder in Mills County" by Charles (Chuck) Curtis.

Details
---
Cash Prizes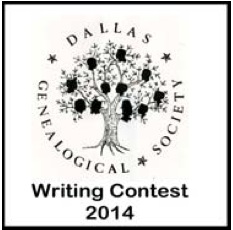 DGS is pleased to announce its 2014 Writing Contest for original material on topics of interest to genealogists and family historians. The contest is open to members and non-members of the DGS. Hobbyists, transitional, and professional genealogists are welcome to submit entries. Submissions may include genealogies, family histories, and case studies that demonstrate use of genealogical methodology, techniques, and sources.

First prize is $500, second prize is $300 and third prize is $150.

Complete Rules and Guidelines

Entry Form
---
Pegasus, Journal of the Dallas Genealogical Society
Volume 1, Issue 2
Records Issue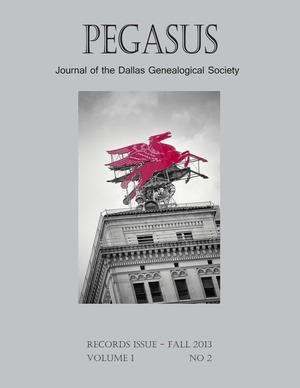 Has Been Mailed to Society Members
---
NGS 2014 Family History Conference Registration Is Open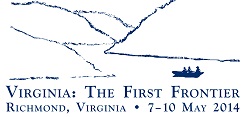 ---